By Patrick J. Chaisson
The four Curtiss P-40 Warhawks plummeted 10,000 feet over NewGuinea's coastline to ambush their quarry. Flight leader 1st Lt. Donald F. Lee, Jr., concentrated intently on his target, a silver-gray Aichi D-3 Type 99 "Val" dive bomber. After centering the Japanese plane in his gunsight reticle, Lee riddled it with a long burst of .50-caliber gunfire.
Just then he heard and felt a loud "thump." One 7.7mm bullet fired by the Val's rear gunner had hit his fighter in the radiator. Banking away, the veteran watched with alarm as his engine temperature gauge began to rise. Lee's wingman next reported seeing a thin stream of white vapor trailing from the disabled Warhawk. That meant it was rapidly losing coolant.
Don Lee realized he would never make it home in this aircraft. As he prepared to bail out, the 23-year-old pilot coolly evaluated his chances of survival in the perilous waters off Cape Ward Hunt. They were not good. Even if he survived the jump, man-eating sharks and enemy patrol boats lurked everywhere. Could friendly rescue craft reach him in time?
Lee put those questions out of his mind as he unbuckled his safety harness and stepped onto the wing of his P-40. The plane suddenly rolled, however, smashing him against its rudder. Stunned, he fell toward the Huon Gulf, only 800 feet below.
This incident, which took place on July 14, 1943, was but one footnote in the saga of the 49th Fighter Group (FG), United States Army Air Forces (USAAF). Hurriedly thrown into the defense of Australia and New Guinea, the "Fighting 49ers" fought relentlessly in a most austere theater of operations against well-trained Japanese adversaries flying modern, maneuverable, and extraordinarily lethal warplanes.
During its 3½ years in combat, the 49th FG claimed 668 enemy aircraft shot down. Notable unit members included Major Richard I. Bong, America's "ace of aces" with 40 victories (21 scored while assigned to the group), and Colonel Gerald R. Johnson, who made all of his 22 kills with the Fighting 49ers.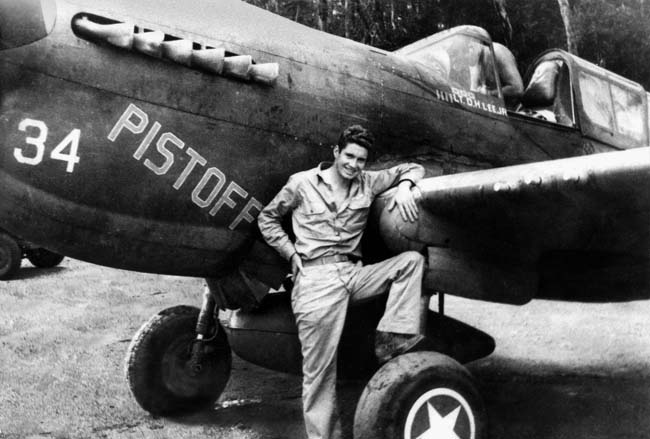 But for every Dick Bong or Gerry Johnson, there were dozens of capable, heroic airmen who day after day flew hazardous missions over inhospitable terrain in worn-out aircraft. One of these aviators was Lieutenant Donald Lee, who served with the 49th FG for 18 grueling months before he had to abandon his plane off New Guinea's northern coast. Present at the start, when green American pilots clashed with battle-tested Japanese pilots flying the vaunted Mitsubishi Zero fighter over the Australian port of Darwin, Lee amassed a solid 600 combat hours in the P-40 Warhawk.
During his year and a half with the 49ers, Lee intercepted Mitsubishi G4M "Betty" bombers, strafed enemy troops, and escorted countless Allied transport planes as they helped advance General Douglas MacArthur's forces toward victory. Along the way, he scored four air-to-air victories. His story is one of courage, perseverance, and luck, both good and bad.
Donald Harwood Lee, Jr., was born in Ypsilanti, Michigan, on June 29, 1920, to Donald and Hazel Estelle Lee. He graduated from Ypsilanti High School in 1938 then attended the University of Michigan for two years to study architecture. Soon, however, his life would undergo a drastic change.
Like many people his age, Don Lee yearned to fly. At the time, young men with two years of college and who met stringent physical standards could volunteer for a seven-month course of instruction called the Aviation Cadet Training Program, which was held at private flying schools and military air bases all across the country. Standards were high—many cadets "washed out"—but those who persevered would earn both their pilot's wings and a commission as a second lieutenant in the Army Air Corps (redesignated the Army Air Forces in June 1941).
Joining these aviation cadets was an idea that appealed to the bright, athletic Lee. Opportunities in Ypsilanti were limited, while anyone who followed current events recognized that the United States would eventually be drawn into the coming war. He entered the U.S. Army on April 28, 1941, in Detroit, Michigan.
Following primary and basic flight training, Don went to Ellington Field near Houston, Texas, for advanced instruction in the North American AT-6A "Texan" two-seat trainer aircraft. There, he polished his night-flying techniques, air navigation, and formation maneuvers, all under the critical gaze of USAAF instructors. While at Ellington Field, Lee "ground-looped" an AT-6A on October 28 when his plane dug a wing into the grass and spun around after a poorly executed landing.
This accident did not prevent him from receiving his wings. On December 12, 1941, four days after the nation declared war on Japan, 2nd Lt. Donald Lee graduated from flight school and received his commission in the USAAF. He did not have much time to celebrate this achievement, though, as orders soon arrived posting Lee to duty at Morrison Field near West Palm Beach, Florida.
On December 21, Lee reported to the 49th Pursuit Group (PG) at Morrison Field. He was assigned to the 7th Pursuit Squadron (PS), one of three flying outfits that made up the 49th PG (the other squadrons were the 8th PS and 9th PS). Don heard his unit was supposed to be shipping out soon; these rumors proved correct when, on December 26, the group received an alert for overseas deployment.
Lee and his squadron mates must have felt lost in the chaos that followed. After hurriedly packing all their personal and organizational equipment, the 49ers boarded a troop train that departed from West Palm Beach at 11:45 pm on January 4, 1942. Four days later, the aviators arrived in San Francisco, where they were billeted at a former livestock pavilion nicknamed the "Cow Palace."
While the men of the 49th PG waited for transport to arrive, their ranks were filled by dozens of officers and more than 500 mechanics, clerks, electricians, cooks, and other enlisted soldiers who would keep the organization running smoothly. On January 12, the airmen at last began boarding a former luxury liner named the SS Mariposa,their transportation to an unknown destination.
After the Mariposapassed underneath the Golden Gate Bridge that afternoon, senior officers finally divulged their destination: Australia. The 49th was the first pursuit group formed in the United States to deploy overseas after Pearl Harbor, yet it did so in a manner indicative of the nation's general unpreparedness for war. Of the outfit's 102 pilots, 95 including Lee, had never flown a fighter before, and no one knew what type of aircraft they would operate once the unit arrived "Down Under."
After nearly three weeks at sea, the Mariposaarrived in Melbourne, Australia, on February 1. The next day, Lee and his companions disembarked. Within a week, the 7th PS had settled in at a training base at Bankstown, New South Wales. There, the airmen immersed themselves in the task of learning how to fly their new mounts, a set of freshly manufactured P-40E Warhawk pursuit planes.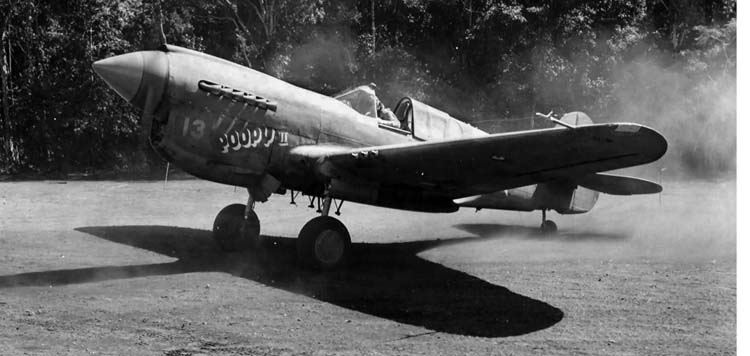 The Curtiss P-40E Warhawk distinguished itself as the USAAF's best fighter available in large numbers when World War II began. An all-metal, low-wing, single-seat interceptor, the E model was powered by a 1,150-horsepower Allison V-1710-39 inline engine driving it to top speeds of over 360 miles per hour. Six Browning M2 .50-caliber machine guns constituted the P-40E's main armament, and it came equipped with shackles that could carry one 500-pound bomb or a drop tank.
Many aircraft were damaged during this training phase. The Warhawk's powerful engine generated considerable torque, causing several rookies to veer off the runway on takeoff. Overheating was always a problem with the P-40's liquid-cooled Allison, while its narrow-track landing gear led to frequent ground loops—just what Don Lee experienced in Texas. The group suffered more than 60 accidents, many of them fatal, while its pilots learned to fly these tricky Curtiss fighters.
While Lee and his fellow 49ers familiarized themselves with the warplanes that would carry them into battle, their aggressive enemy reached ever closer to Australia. By February 1942, Japanese airpower had wrested control of Philippine skies from USAAF and Filipino aviators. The Netherlands East Indies was next. Dutch, British, and American aircraft based on the island of Java proved no match for overwhelming numbers of expertly flown Japanese Zero fighters.
Papua New Guinea, part of a vast landmass sitting directly north of Australia, represented the last natural barrier between approaching Japanese invasion forces and the Australian continent. On February 3, enemy bombers hit Papua's capital city of Port Moresby, preparatory to an amphibious invasion set for later that year.
More alarming to the Allies were two large-scale air raids that struck their advance base at Darwin in Australia's Northern Territory on February 19. Some 242 Imperial Japanese Navy (IJN) carrier- and land-based planes demolished port facilities and airfields there, encountering only feeble resistance from surprised USAAF interceptors and Australian antiaircraft gunners.
Ready or not, the Fighting 49ers were desperately needed to help check Japan's next move. On March 4, the 7th PS sent 12 planes north 3,000 miles from its Bankstown base to Horn Island, Queensland. Lee was among those who lifted off at dawn on March 7 to make this long staging flight. He got as far as the Royal Australian Air Force (RAAF) airdrome at Charters Towers, where his P-40 (serial number 41-5313) was severely damaged. Together with RAAF personnel posted there, Lee eventually repaired the Curtiss—now christened Bitza-Hawk—and flew it to Darwin in late March.
By this point, the Americans had begun pulling mission-essential personnel out of the Philippines and Netherlands East Indies. On March 17, a careworn but defiant General Douglas MacArthur flew into Australia, ordered to organize defenses there while planning his eventual return to the Philippines. That same day, another group of combat veterans arrived to help bolster the 49ers' inexperienced ranks. These 12 pilots, survivors of the Java-based 17th Pursuit Squadron (Provisional), had earlier been evacuated from that doomed garrison. Captain Boyd D. "Buzz" Wagner, the first USAAF ace of World War II, became deputy group commander. Another five-victory "Java Boy" was Lieutenant William J. Hennon, who served with the 7th PS.
Hennon gave the outfit (redesignated the 7th Fighter Squadron on May 15) its new nickname when he painted an image of Bunyap, a fiendish Aboriginal jungle creature, on the tail of his Warhawk. His squadron mates soon adopted this "Screamin' Demon" as their unit emblem.
In April the 7th FS assembled at Batchelor Field near Darwin to provide air defense for that strategic outpost. Lee patrolled with them frequently, but had yet to encounter the G4M "Betty" bombers and their A6M "Zero" escorts that often raided Australia.
That all changed on July 30. Coastwatchers reported a large enemy formation heading toward Port Darwin, causing the Americans to scramble 46 P-40s in response. Lee, flying wingman for Lieutenant Ray Melikian in X Flight, was holding Bitza-Hawkat 25,000 feet over the harbor when he spotted nine Betty bombers heading directly toward him.
Closely following Melikian, Don dove on the target. "We made a head-on attack," he reported, "and the enemy fired at us. As a result of the engagement, one P-40E went down. One enemy bomber probably [hit]." Escorting Zeros then scattered the American interceptors, forcing X Flight's 2nd Lieutenant Gene Drake to ditch his Warhawk off Wagait Beach.
Lee's first combat lasted 90 seconds and failed to put him on the scoreboard. His second encounter with the Japanese, which took place three weeks later, would prove more fruitful. For what would be their final attack on Darwin, the IJN sent up 27 G4M bombers and 15 A6M escorts on August 23. The Screamin' Demons were waiting for them.
Flying again with Ray Melikian, Don roared through the bomber formation to challenge some late-arriving fighters. During the dogfight, he became separated from the rest of his flight, so after regaining some lost altitude, Lee set a course for home. Along the way, he spotted an unwary Zero and flamed it in a stern attack. The 7th FS claimed seven Japanese planes downed that day for the loss of one P-40, inspiring General MacArthur's headquarters to term the action of August 26 "a brilliant tactical interception."
Indeed, Lee and his fellow Screamin' Demons had matured into an efficient, deadly air combat team. But, as the fighting over Darwin subsided, their talents were needed elsewhere. Now part of Maj. Gen. George C. Kenney's Fifth Air Force, the squadron would serve as an aerial spearhead for Allied counterattacks in New Guinea.
On September 14, the 7th FS staged 1,100 miles across the Arafura Sea into 14-Mile Drome, so named for its road distance from the center of Port Moresby. Conditions there were extremely primitive, as General Kenney recollected: "There was no mosquito screening anywhere. Swarms of flies competed with you for the food, and unless you kept one hand busy waving them off as you ate, you were liable to lose the contest." Also awaiting the airmen in New Guinea were clouds of choking dust and a blazing-hot, humid sun.
While at 14-Mile Drome, Lee exchanged his trusty but worn-out Bitza-Hawkfor a newer P-40E (serial number 41-5553) that he nicknamed Pistoff.The provocative moniker may well have been chosen as a reaction to his surroundings, or perhaps the type of missions he was now flying.
By September, Australian infantrymen had managed to halt the enemy's ground offensive on Port Moresby. The "Diggers" then began advancing steadily back up the Kokoda Track toward Japanese bases on New Guinea's northern shore. Lee and his compatriots flew frequent ground attack sorties in support of their allies that season. It was unglamorous but important duty. Everyone wanted another crack at the Zeros, which they could not do with 500-pound bombs hanging from their planes' bellies.
Don's situation began to improve on October 16 when he received promotion to first lieutenant. Also that month, a batch of factory-new P-40K replacement aircraft arrived at 14-Mile Drome. Lee badly wanted one of these K models, which sported 150 more horsepower than his current mount, but he would have to wait several months for one to become available.
Meanwhile, the 7th FS began escorting fighter-bombers against Japanese strongpoints along New Guinea's northern coast. Over Buna on November 30, a flight of 16 Screamin' Demons collided with a large group of A6Ms intent on disrupting the American strike.
Now an element leader in Green Flight, Lee saw the enemy fighters diving in among billowing clouds to strike. "We were about at 7,000 feet when some Zeros were sighted above and behind us," he stated later. "Two Zeros attacked our flight from the rear. The leader dove out and I followed…. I [then] got on the tail of another Zero and shot at him. He pulled up in a stall turn and came head on into me. I fired another burst and he broke into flames, half-rolled and dove in."
The new year brought both a change of base and a new, emerging threat. Beginning in January 1943, Imperial Japanese Army (IJA) fighters began operating over New Guinea to reinforce IJN forces already in-theater. In battle, their nimble Nakajima Ki-43 "Oscars" were easily confused with the Navy's A6M Zeros, and when flown ably, both types represented a serious threat to the Warhawk-equipped 7th FS.
Starting in February, Lee's squadron began staging out of a recently constructed airbase at Dobodura near Buna. While muddy and infested with scorpions, "Dobo" offered some long-forgotten luxuries such as hot, American-style rations, nightly movies, a baseball diamond, and regular mail service, although it took until May 7 for the outfit's Christmas packages to arrive.
That spring, Don Lee finally received his present, a new P-40K-1-CU Warhawk (serial number 42-45979). He put this warplane, again named Pistoff,to good use on March 5 while escorting RAAF Bristol Beaufighters on a strafing run over the Japanese airstrip at Malahang northeast of Lae. Together with Captain Ray Melikian and 2nd Lt. Dave Baker, Lee jumped two tan-colored Ki-43s that were trying to escape into the overcast.
Don wrote: "About this time, another [Oscar] crossed ahead and a little below me from left to right. He pulled up towards the clouds. I followed him, firing, and he pulled on back into a loop. At the top of the loop, I saw two big pieces fall off, and he burst into flames at the wing roots on both sides of the fuselage." This Ki-43 became Lee's third confirmed kill.
As summer neared, the squadron completed its move to Dobodura while flying a full schedule of bomber and transport escort missions. For Lieutenant Lee, the hazards of combat extended well beyond the cockpit of his P-40. On May 10, he wrecked an Australian-built Tiger Moth trainer while attempting to deliver repair parts to a radar site on Oro Bay. His biplane, known to U.S. airmen as a PT-24, struck some unseen oil drums at the end of the runway and nosed into the ground. Neither Lee nor his passenger was hurt in the mishap.
Now leading Orange Flight, Lee took off at 7:30 am on July 14 to escort USAAF C-47 transport planes to the Mubo camp near Salamaua. While flying high cover at 21,000 feet, 14 U.S. fighters under Ray Melikian's steady leadership pounced on a pair of "Val" dive bombers cruising just offshore. Melikian and his three wingmen in Blue Flight crippled one Val before tearing off after its partner, last seen entering a cloudbank.
Orange Flight, with Don Lee in front, then spiraled down to engage. Maneuvering behind the damaged bomber, Don set it aflame in a torrent of machine-gun fire. The Val fought back, though, its gunner putting a lucky slug through Pistoff's coolant system. With his Warhawk mortally wounded, Lee radioed a distress signal and headed for Allied-held Lasanga Island, several miles off mainland New Guinea.
Unable to reach Lasanga, Don bailed out of the stricken P-40 at 800 feet. He broke his left arm on the plane's tail when it suddenly shifted underneath him but managed to deploy his parachute. Upon hitting the water, though, Lee found he could barely stay afloat—both his inflatable raft and Mae West life jacket had malfunctioned. While Melikian circled the area coordinating rescue efforts, Lee's squadron mates all attempted to throw him their own life rafts to no avail.
At this point, wingman Lucius LaCroix noticed a school of sharks beginning to encircle the struggling airman. LaCroix dove down twice to strafe the maneaters but had to head home along with his fellow Demons due to low fuel. Two Douglas A-20 Havoc light bombers then arrived, expertly dropping a large life raft right into Don's hands. Thirty minutes later, he was rescued by the crew of American patrol torpedo boat PT-150.
Returning to Dobodura for medical treatment, Lee received both a transfer to Group HQ and promotion to captain. He also was awarded the Purple Heart medal in a ceremony held August 25. His tour of duty concluded, Lee then went home to recuperate and attend command school.
Advanced to major, he returned to the Southwest Pacific in September 1944. On the 15th of that month he took over another famous fighter squadron, the 67th "Fighting Cocks," then operating out of the Philippines with the Thirteenth Air Force. Lee saw plenty of action with the 67th but never downed another enemy aircraft. He ended the war with four confirmed victories, one shy of making ace status.
Don Lee continued to serve his country as an Air Force reserve officer. Recalled for the Korean conflict, he flew North American F-86 Sabre jets in combat there. Retiring as a lieutenant colonel, his military awards included the Distinguished Flying Cross, Purple Heart, and Bronze Star medal with two oak leaf clusters. In civilian life, he worked in the insurance industry while raising a family of five children and 13 grandchildren.
Donald H. Lee, Jr., passed away on February 20, 2011, at the age of 90 in Edmond, Oklahoma. His boyish face does not appear in any aviation hall of fame—indeed, most historians know more about Don's saucily named P-40 Warhawk than they do the heroic young man who flew Pistoffinto battle. That is a pity, for Don Lee stood proudly with a small number of American pilots who experienced the whole of the Pacific air war from its darkest days over Darwin to ultimate victory against Japan.
---
A retired U.S. Army officer, Patrick J. Chaisson writes on a variety of World War II topics from his home in Scotia, New York.