By Mike Haskew
On October 4, 2013, Nicholas Oresko passed away in an Englewood, New Jersey hospital at the age of 96. He had fallen at the assisted living facility where he lived and was in surgery for a broken femur at the time of his death.
Oresko was the oldest living recipient of the Medal of Honor when he died. He was a platoon sergeant in Company C, 302nd Infantry Regiment, 94th Division. The 94th had come ashore in France three months after the Normandy invasion and been involved in clearing pockets of German resistance in northern France as Allied spearheads pushed eastward toward the German frontier.
In December 1944, the 90th Infantry Division was pulled out of the line and replaced by the 94th in General George S. Patton, Jr.'s Third Army, relieving troops that had been hard pressed during the recent Battle of the Bulge. The division occupied territory in the Saar, west of the fortified Siegfried Line opposite the German 11th Panzer Division. 
On January 23, 1945, just five days after his 28th birthday, Master Sergeant Oresko was leading a platoon of GIs near the town of Tettingen, Germany. When the Americans encountered stiff resistance, Oresko sprang into action. Pinned down by machine-gun fire on both flanks, the patrol could neither advance nor withdraw.  Under heavy fire, Oresko rushed an enemy bunker, tossed in a grenade, and then finished off those enemy soldiers who survived the blast with his M-1 rifle. Immediately, a second machine gun opened fire, wounding Oresko in the hip.
Oresko refused to be evacuated and resumed command of the platoon, advancing at its head.  Again under heavy fire, he ordered his men to halt and moved forward alone against a second German bunker. With another grenade followed up by rifle fire, he silenced the second bunker.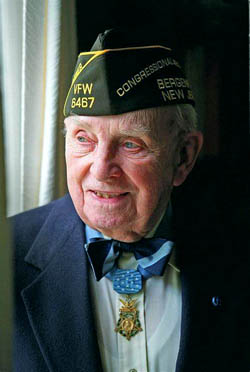 President Harry Truman presented the Medal of Honor to Oresko at the White House on October 30, 1945. His citation read in part: "Although weak from loss of blood, he refused to be evacuated until assured the mission was successfully accomplished. Through quick thinking, indomitable courage, and unswerving devotion to the attack in the face of bitter resistance and while wounded, M/Sgt. Oresko killed 12 Germans, prevented a delay in the assault, and made it possible for Company C to obtain its objective with minimum casualties."
Oresko had been wounded four times in the span of just a few minutes. Years later in an interview with the Philadelphia Inquirer,he said that he and his late wife had returned in 1952 to the place of his heroics. "It was covered with bushes, but it was a good feeling to visit the place," he said. "It felt good, but sad."
His memories of that day long ago remained vivid, and the hip wound reminded him of it regularly. "After a while, you're numb … I just did what I had to do," he commented, noting that instinct had kicked in during the fight. As for the wound, he remarked, "I still sometimes have pain from it."
In recent years, Oresko had become a familiar sight, appearing at veterans events and in numerous parades. He had worked in the claims department of the Veterans Administration and retired in 1978. In 2010, Bayonne School #14 was renamed in his honor.
When Oresko died, he had no immediate family. He lived alone. 
During his last days, current members of the military, local veterans, and friends stayed with him. They had learned of the ailing hero's condition when a friend wrote about it on Facebook.  They came in tribute to Nicholas Oresko's heroism and sacrifice 69 years ago.