By Kevin M. Hymel
In a field hospital in Normandy, France, 1st Lt. Madeline "Del" D'Eletto was watching an Army doctor operate on a soldier's head injury when one of her fellow nurses asked, "What do I do with this?"
D'Eletto turned and saw the woman holding pinkish-white brain tissue. "It's no good," said the doctor. "Throw it away; we can't put it back in."
It was not always the case. "Sometimes you could wash it off and repair the injury if the damage was not too great," explained D'Eletto. The incident drove home the war's gruesomeness.
As a flight nurse with the Ninth Air Force's 814th Medical Air Evacuation Transport Squadron, D'Eletto spent her days caring for wounded soldiers onboard a Douglas C-47 Skytrain transport aircraft, flying them from the battlefields of Europe to hospitals in Great Britain. "It was raw, hard work," she recalled.
D'Eletto's Early Years: Growing Up in the Depression
But it was the job she wanted. D'Eletto had wanted to become a nurse ever since reading an article about nursing as a teenager. Raised in the western Pennsylvania town of New Castle, she grew up the elder daughter of Italian-American parents, with an older brother, Gaitano, and a younger sister, Filomena. D'Eletto decided that as a nurse she could make money and have a permanent career. "The Depression was on," she said. "Everyone lived close to the penny."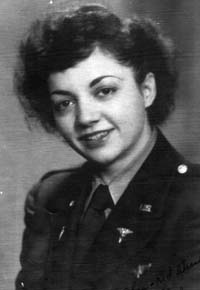 In 1935, D'Eletto graduated from Chestnut Hill Nursing School in an affluent suburb of Philadelphia, having never taken a sick day. "I've never been ill," she explained. When she donned her white nursing uniform ahead of the other graduates, they cheered her. She became a private-duty nurse at Chestnut Hill Hospital, living with two other nurses: Helen Fatula and Mary Chubb, both fellow graduates. "We were establishing ourselves."
When D'Eletto's niece underwent surgery, she took a temporary nursing job back at the New Castle hospital to care for her. She also cared for a teenage boy named Tony who suffered from rheumatic fever. Despite his illness, Tony often danced on his bed, entertaining the other patients. To get him to stop, D'Eletto drew him a chart of his heart's actions while exercising. Tony stopped his dancing.
Once her niece improved, D'Eletto returned to Chestnut Hill. Not long after her return, she heard over the radio that the Japanese had bombed Pearl Harbor. With roommate Helen Fatula getting married and Mary Chubb planning on moving home to Doylestown, 28-year-old D'Eletto decided to join the military, hoping to learn more about nursing and to help the wounded. 
She passed her physical and signed up at the recruiting office in Center City Philadelphia at Market Street Station, across from Wanamaker's Department Store. A few days later, on April 18, 1942, she joined another nurse named Tress for the swearing in. The two then boarded a train headed south to the Key Field Army Hospital in Meridian, Mississippi.
How Madeline D'Eletto Became "Del": Training to Be a Military Nurse
D'Eletto cared for sick and injured soldiers and fliers. She cared for an officer who had suffered a serious head injury when his Lockheed P-38 Lightning fighter plane crashed. "He was so needed that they put two on-duty nurses with him as private nurses," she said. The whole time he lay flat with his room lights dimmed, despite his requests they be turned up. "You will not operate on me," he told her one day, worried that brain surgery would ground him, "because I will continue flying."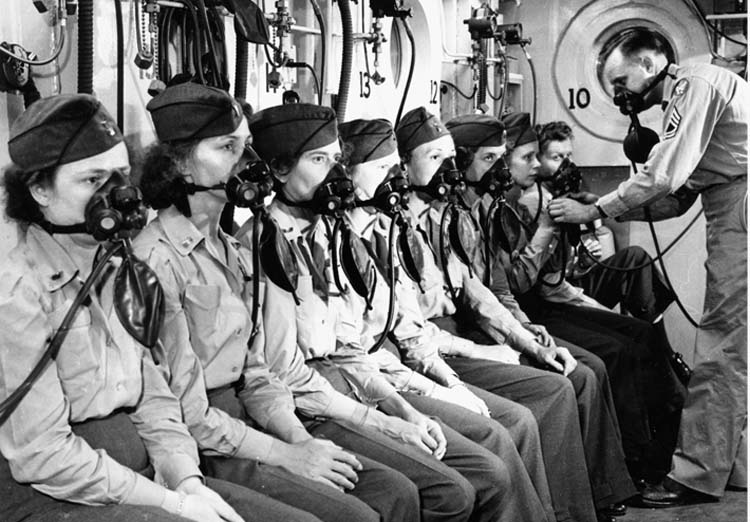 After a few months at the hospital, D'Eletto took some time off to return to Pennsylvania. When she returned, her supervisor asked her if she knew her vacation had been canceled. "Oh no!" she responded. The supervisor had expected Tress to relay the message to D'Eletto. Then she asked D'Eletto an odd question: "Is Tress hard of hearing?" It turned out Tress was, indeed, hard of hearing, yet had managed to pass her physical and work at the hospital without anyone noticing. 
After almost a year and a half in Mississippi, D'Eletto was accepted to the Air Evacuation School at Bowman Field, Kentucky. She trained both as a soldier and flight nurse, running through the basic training courses and taking classes. She learned what modern weapons and high altitudes could do to the human body and drilled in treating patients while the plane climbed steeply or dropped. "Once up there, we got a good field lesson on how the body changes," she said. "That training changed my whole life." Amazingly, through all the rough air training, she never got sick. "That's why I'm here now." 
D'Eletto's final test involved a psychiatrist asking her what she found most difficult in basic training. "Grabbing the rope and jumping over the water," she responded. He then asked her, "What would you do if you fell in the water?" She replied, "I'd ask the boy ahead of me for help. In fact, once he grabbed my belt to pull me in." When the interview ended, she asked the psychiatrist, "Well, do you think I will be all right?" He looked up and slowly nodded.
The next morning, D'Eletto and her fellow graduates rushed to a large board listing their names, assignments, and to see whether they had gotten a gold or silver star next to their name. Most names had a gold star. D'Eletto's had a silver star, but she didn't understand its significance until someone told her she would be a first lieutenant. The women with gold stars would be second lieutenants. When she asked, "Why me?" one of the women told her, "Don't say that—you're supposed to lead us!" D'Eletto would soon be a chief nurse in charge of five nurses.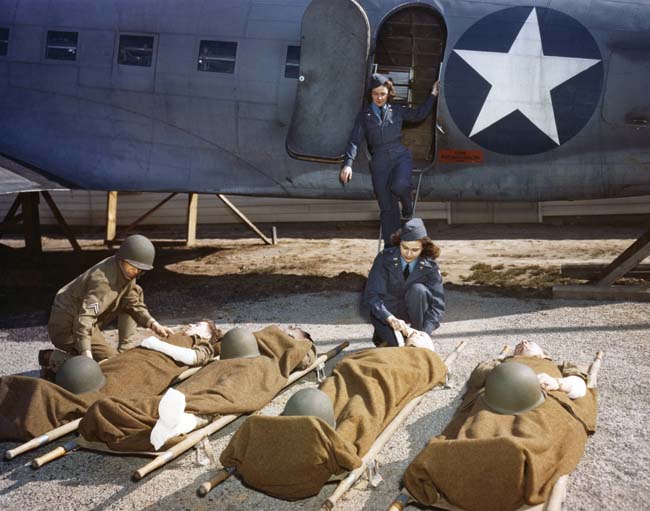 After training, D'Eletto became good friends with a tall Texan girl named Chegnard, who went by the nickname "Shag." One day Shag told D'Eletto, "I'm having a heck of time saying your name, so I'm christening you "Del." The new name was born. "I've been called Del ever since," D'Eletto explained.
Joining the 814th Medical Air Evacuation Transport Squadron
D'Eletto was assigned to the 437th Troop Carrier Group's 814th Medical Air Evacuation Transport Squadron, part of the U.S. Ninth Air Force, flying out of England. The Ninth arrived in October 1943 after supporting Allied forces in North Africa, Sicily, and Italy, and would serve as a tactical air force once Allied troops landed in France.
On February 1, 1943, eight months before the Ninth Air Force's arrival in England, D'Eletto boarded a troop ship for the weeklong trip across the Atlantic. The ship had been a luxury liner converted for war duty. "All the beauty of the ship had been removed," she said, "and replaced with good, substantial seating."
Once at sea, many people succumbed to seasickness. "I saw a lot of individuals leaning over the rail." Walking on deck made her woozy, so she lay down one day and covered herself with her heavy nursing cape. When people told her she looked pale, she would simply respond, "Please keep moving." Once she adjusted to the swaying ship and got her "sea legs," she was able to play cards in the ship's ballroom.
Upon arriving in England on February 9, D'Eletto and the other nurses made their way to their duty station at Royal Air Force Station Ramsbury, which the Americans labeled USAAF Station AAF-4699 to obscure its location from the Germans. On her way there, she stayed at a hotel where she ate shrimp. It was her best meal of the entire war. She also liked the British tradition of drinking tea. "They made delicious tea," she recalled.
D'Eletto and her fellow nurses occupied a restaurant that had been converted into a dormitory. At that time, they attended the Information and Education School, where she learned about the cultural differences between the Americans and British. The only differences she noticed were the uniforms and accents. "Working with the British," she explained, "was like working at home." 
Flight nurses wore brown wool uniforms and shoes, not combat boots. To ward off the high-altitude cold, they donned brass-buttoned jackets or fleece-lined leather jackets and often attached a medical bag to their belts. At their ground stations, they wore skirts but, when transporting patients, pants. D'Eletto kept scissors and forceps in her pockets in case of a medical emergency. 
D'Eletto's Visit to New York as England Prepares for D-Day
The five nurses D'Eletto oversaw, to the best of her memory, were Shag Chegnard, Helen West, June Saunders, Rosie Farley, and a girl they called Shorty. "We all got along," D'Eletto recalled, but she worried about Rosie, who had a weakness for alcohol. When D'Eletto caught Rosie drinking in the cafeteria, she asked her, "Why do you do that?" 
D'Eletto had more reason to worry when Rosie started dating a pilot. One night, D'Eletto found Rosie lying in her bunk and asked her if she had eaten dinner. When Rosie didn't respond, one of the other nurses told her that Rosie's boyfriend had failed to come back from a mission.
Of all the nurses, Helen West stood out. "She was beautiful," D'Eletto recalled, "like a little ivory doll." One day a male officer approached D'Eletto and told her that his supervisor wanted him to get two nurses to accompany him and another officer to a concert.
"May I guess who the first nurse you're going to mention, is it Helen West?" D'Eletto asked. The soldier said, "Yes, the commander wants her." D'Eletto wasn't finished. "Who is the second asked for?" His answer surprised her: "You." "Me?" she asked. "Who is my partner?" The officer raised his hand.  
The two nurses attended the performance and a dance. D'Eletto found herself dancing the tango with her officer, who gave the band leader a knowing nod. "Stay close to me," he told her. As they continued dancing, she noticed the crowd clearing the floor until they were the only ones left.
"The music is still playing," he told her, so they kept dancing. She did not know her dance partner had been a dance teacher before joining the Army. The experience became one of her maxims: "If the music is still playing, keep dancing."
As the unannounced date for the D-Day invasion neared in the summer of 1944, the military cleared patients out of British hospitals to free up bed space for the expected casualties, sending planeloads of casualties, mostly non-combat sick and injured, back to the United States.
D'Eletto and her nurses escorted a flight to New York City. After an uneventful flight, the nurses prepared to fly back when someone told them, "Not today, pilots have priority." The Allies needed more pilots in Europe as the war intensified.
The nurses had to spend the night in New York. D'Eletto worried her girls would celebrate being back home, but they impressed her by not pairing up with any men. "The girls all did very well," she said. "I was surprised how well they acted."
D'Eletto's biggest surprise came when an air raid alarm sounded. While trying to find out if her nurses needed their helmets, she chanced to look out her window and saw people milling around on the sidewalks, ignoring the alarm. "No one cared," she said. She realized that the United States was quite different from war-ravaged England.
D'Eletto's First Evacuation Mission
When D'Eletto's plane touched down in England the next day, she saw soldiers sequestered behind a fence. "There was absolute silence from the soldiers," she said. "We were told not to speak to them." They were preparing for D-Day.
The nurses then attended a lecture on the warning signs for soldiers suffering from depression and anxiety, such as constant fidgeting or holding onto letters. The Army was preparing them for mental injuries. The invasion date crept nearer.
As the Western Allies prepared to cross the English Channel, D'Eletto and her four nurses were given a short respite. They had been invited to a dance at an airbase in northern England. There D'Eletto met a white-haired chaplain who told her he had snuck onto a bomber flight that came under fire.
"When the shooting started," he told her, "my prayers came to screeching halt." He added that when an alarm rang, "I put my head between my arms and didn't move. I could see the firing and couldn't look anymore." He concluded by telling her, "I was scared to death," pointing out that his white hair used to be blond. The incident gave D'Eletto an idea of what she might soon be facing as a flight nurse.
On June 6, 1944, the Western Allies assaulted the beaches of Normandy—D-Day, Operation Overlord. The next day Army aviation engineers began building a small airfield near Omaha Beach. Once completed, they began lengthening it to accommodate large aircraft. On June 10 (D+4), the first C-47 touched down to retrieve the wounded.
Soon thereafter D'Eletto climbed aboard a C-47 for her first evacuation mission. The aircraft contained 24 stretchers, 12 on each side, stacked three high. Since C-47s brought materials into France before being loaded with wounded, they could not bear a Red Cross emblem, even though they were unarmed and could not defend themselves.
Flying over the Channel, she saw ships towing large concrete blocks, the British-made caissons, codenamed Phoenixes, which would be sunk off the Normandy beaches at Arromanches to make a Mulberry harbor to protect ships from storms while men and equipment offloaded. 
As her aircraft crossed the beach, she witnessed a striking vision of combat. "I could see soldiers on the beach, the gold of the sand, the brown of their uniforms, and red blood," she said. "I could see the blood down there. It was really tragic." As the plane came in to land, she saw soldiers making their way through mud on the flooded plains. The plane touched down, and D'Eletto took on her first load of wounded.
50,000 Patients in 3 Months
And so it began. Every morning D'Eletto flew to France, picked up a batch of wounded, and flew them back to England to various hospitals. She rarely flew with the same crew or in the same plane. Nurses were stretched so thin that male medics were often assigned to their planes or stood in for nurses.
"It was work, work, work," she said, but the planes quickly got soldiers to the care they needed. Within three months, air evacuation flights had transported more than 50,000 patients to hospitals in England.
On the ground in France, D'Eletto watched medics strap patients onto their stretchers and sometimes helped. The doctors would tell her each patient's injury and possible treatments. "It was not easy to stand there when the stretchers were readied," she recalled. While she waited for her next batch of wounded, she often observed the first echelon of medical care, where wounded soldiers were brought directly from the front lines. That's where she witnessed the nurse holding brain tissue. 
D'Eletto often worried that her aircraft would be hit by antiaircraft fire as it took off, climbed, and raced away from the combat zone. "There was nothing you could do while climbing," she recalled. "You stay put while the pilot gets in control." The patients were strapped down, but D'Eletto was not. 
Sometimes she talked to her patients but got no response. "That's when you realized they were in terrible pain," she said. She kept busy moving from patient to patient, adjusting tourniquets and keeping patients from bleeding. "Most of them just wanted to sleep."
She could often see men's belly wounds through their dressings. More than once, the men's stitched abdomens swelled as the aircraft rapidly ascended, forcing her to cut the sutures, lest they tear the men's flesh. "You would get to a point where your mind wouldn't work properly, then someone would say, 'Do this!' and you'd come back."
D'Eletto found saving lives in the air, or at least keeping them stable until reaching England, incredibly stressful. "The hard part was holding yourself together and containing yourself," she said. To keep herself calm, she recited Psalm 46, verse 10a: "Be still, and know that I am God."
Once the plane touched down in England, ambulances rushed the patients to the hospital. Every day was different. Sometimes, D'Eletto would suit up and report to her plane only to find out all flights had been canceled due to bad weather. Even during down times there was little respite from the war. At night, D'Eletto and her nurses were often kept awake by the patients' moans and groans. "You could hear them getting off the planes," she said. "We knew this was their first stop before heading home." 
The dangers of her job soon hit home when D'Eletto noticed a board filled with pictures of people killed in action. It contained a photograph of her old roommate, Mary Chubb, who had had died on June 14 (D+8) when a North American AT-6D Harvard trainer aircraft in which she was flying lost a wing and crashed over England.
Chubb had not stayed in her hometown of Doylestown for long, having volunteered for the military a year after Pearl Harbor. "She was very smart," D'Eletto recalled, "She was a happy girl." Nurse Mary Chubb is buried in the Cambridge American Military Cemetery in England, which contains the remains of 3,811 U.S. war dead; 5,127 names are recorded on the Walls of the Missing. 
As the Allied armies pushed the Germans eastward across France and Belgium in August and September, D'Eletto's aircraft took on the additional duty of delivering jerry cans filled with gasoline to the front lines before loading up with casualties. She had to sit on the plastic pouring tubes atop the cans for her flights to France. "There was nothing else to sit on," she said. 
Temperatures dropped across Europe in October and November. On a flight into Belgium late one day, word came over the pilot's radio warning them that they were about to land in a dangerous area and to go back to France where it was safe. D'Eletto's pilot led a wing of C-47s to an austere French field.
Once on the ground, the other flight nurses entered D'Eletto's plane to spend the night. As they brushed their teeth and bedded down on the blood-stained stretchers, the pilot came through. "It's my plane," he told the nurses, and gave them each a kiss goodnight on their foreheads. With no patients to care for, the night was silent. "That was the best sleep I had during the war," she recalled.
Casualties from the Bulge
On December 16, 1944, three German armies attacked Lt. Gen. Courtney Hodges' First Army in Belgium and Luxembourg, driving a huge wedge into the Allied line—the Battle of the Bulge. As snow fell, D'Eletto and her crew continued to retrieve casualties.
"I remember looking over a cold land with lots of snow," she said. At one stop, she saw soldiers' bodies frozen stiff as boards. "Someone picked up a body and it didn't bend," she remembered. "They grabbed the body and threw it on the truck like a log. That was a bad sight for me." She prayed that the fighting would stop, but it continued.  
During another round of flights, a colonel climbed onto D'Eletto's empty plane claiming he needed to get to Belgium. As the flight of C-47s reached the landing field at different altitudes, the air traffic controller started calling in the planes. "Something's out of line," the colonel said. "He should call them in one at a time." 
The colonel went into the cabin and shouted to the pilot, "They're calling them in wrong. Turn this plane around!" The colonel's complaints and demands just added confusion to an already tense situation. Suddenly, D'Eletto heard a loud crash and saw an explosion outside her window. One of the planes had been hit by ground fire, killing the crew and a medic onboard. D'Eletto recognized the plane's tail number. "I knew the medic who was on it," she said. "He was married and had two children." 
When D'Eletto's aircraft finally landed, the colonel reprimanded the controller, but she knew where the fault lay. "He wasn't supposed to be on that plane," she said. "He should have been quiet and let the pilot fly his plane."
The Allies erased the Bulge on January 25, 1945, and even though there would be four more months of fighting before Germany surrendered, the war was already beginning to wind down.
"It's Over! It's Over!" V-E Day Arrives
With fewer evacuation flights, D'Eletto started volunteering at a British military hospital. The nurses and staff learned to laugh once in a while during the intense work. One day the medics brought in a soldier in a body cast that covered his abdomen. The doctors cut off the cast, causing the man's full bladder to release, shooting a stream of urine almost to the ceiling. "We joked about not having an umbrella to deal with the rain," she said.
Another time, D'Eletto learned that a patient was asking about the nurse from New Castle, Pennsylvania. She walked through the ward until she came across Tony, the little boy she had treated for rheumatic fever back in the 1930s. A shocked D'Eletto asked him, "Did you tell them you had rheumatic fever?" "No," he told her. "I wanted to do my part."
When he said he was being sent home, she said, "You shouldn't be here in the first place," and gave him a kiss. Everyone in the ward whistled.
 Not long after, D'Eletto woke up to hear people cheering all over the base, "It's over! It's over!" It was May 9, 1945, and Germany had officially surrendered to the Allies in General Dwight D. Eisenhower's headquarters in Reims, France. Celebrations exploded across Europe and the United States. "There were songs and dances," said D'Eletto. "There was noise on both sides of the Channel." 
While everyone celebrated, one of the ground doctors, who rarely spoke, told a nurse, "Open that narcotic box and bring me that liquor bottle." After downing a shot, he spoke about the war for the first time. "He had one good drink, and then he could talk to us," she explained.
Every morning at breakfast, D'Eletto chatted with a male captain—a dentist. They often discussed a nurse who was keeping her pregnancy a secret. On D'Eletto's last day of work, she told the dentist the nurse had delivered her baby and was putting him up for adoption. "I already have a daughter," the dentist told her, stressing that it was too late for him and his wife to adopt. D'Eletto departed, not knowing the fate of the new mother and son.
Leaving the War Behind
Four months after the surrender, on September 15, 1945, D'Eletto boarded a ship to go home. She had been in Europe for two and a half years. After a four-day journey, she arrived again in New York City and was greeted by her Uncle Ralph and his wife Marion.
"I was surprised to see them there," she said. They offered for her to stay with them for a while. But while D'Eletto accepted, she felt out of sorts and overwhelmed. She found herself standing in downtown Manhattan, saying to herself, "Well here it is, you're home now, what do you want to do with your life?" 
While in New York, a soldier D'Eletto had dated in England contacted her and invited her to his home in Maine. She accepted, but found the reunion unsettling. She worried that his family looked down on her Italian heritage. He followed her back to New York where she grew tired of him.
"I want you to leave and I never want to see you again," she told him. He was surprised and responded, "You don't mean that." She calmly replied, "I mean every word." 
D'Eletto returned to her parents' home in New Castle. They were glad she was home safely and wanted to know what she had done during the war. Once she told them, they repeatedly asked, "How could you do that?" Soon the neighbors arrived for a visit. "You're the children to all the neighbors," she explained about her neighborhood. Everyone asked her about her role in the war, and she soon grew tired of recounting her experiences. 
One of the neighbors, Mary Louise Murphy, who had just returned from the Midwest, pulled D'Eletto aside. "I have something to tell you." She explained how she told a group of people how D'Eletto had inspired her to become a nurse. When one of the men heard the name, he told her, "If you see her again, tell her I adopted the boy." It was the dentist from England. He and his wife had adopted the single nurse's son. 
After a few weeks at home, D'Eletto realized she needed to get a job, but was torn. She loved nursing but she did not want to return to a hospital. "I had seen enough damage to people," she said, "and I didn't want to be around the people I knew because I was sick of talking about the war." Instead, she took a job in farm labor nursing, taking care of immigrant farm laborers across Nebraska. 
During the war, with so many able-bodied men sent overseas, migrant workers, many of them Jamaicans, came to the United States to work on farms. D'Eletto bought a car and headed west where she drove from farm to farm, telling the owners, "If your boys become ill, call me." Sometimes she received pushback. Once, when she brought some Jamaicans to a doctor, he said, "Here comes socialized medicine." "No," she told him. "The boys will be coming home soon and these men will go to their own homes."
After wrecking her car at a train crossing, D'Eletto traveled with Lyle Johnson, another farm labor worker. One day they picked up an accountant, Robert "Bob" Sherrill Jr., and the three became a trio. "I had a wonderful time with those two gentlemen," she recalled.
One night, Bob asked D'Eletto to see a movie. She reluctantly accepted. At the theater, she explained that she learned during the war that modern dating back in the States required women to pay their own way, but Bob treated. They held hands through the entire film. When business called Bob away, he asked her if he could write her and, more importantly, if she would write back. She agreed.
Madeline "Del" D'Eletto's Legacy
Bob married D'Eletto in December of 1946 and, four years later, on January 28, 1950, she gave birth to their daughter Lynda in Fort Worth, Texas. Bob passed away on March 2, 1994, at the age of 76. In 2012, D'Eletto moved to Shreveport, Louisiana, where Lynda and her husband William Hicks care for her today.
At the age of 105 in 2019, D'Eletto gets around with the help of a Hoveround powered wheelchair. She enjoys watching the news and vintage TV shows like Columbo, although her hearing and vision are not what they used to be.
Looking back on World War II, D'Eletto admits that it changed her life. It provided her with a different way of looking at others and a way to evaluate herself. "You got to know people in a down-to-earth way, where good qualities were brought out," she said. "You got to know others deeply."
The friendships she made give her a wonderful feeling. She recalls her fellow nurses, the doctors, and the little boy with rheumatic fever who fought for his country. "When I go to sleep at night, I think it over, and I think I would do it the same way," she said.
She also has all the letters Bob wrote her over the years. "I received a letter from Bob every day he was away from me, all my life," she said. "They're going to put them in my casket."