By Mike Phifer
British Army officer John Graves Simcoe wanted to command a corps of irregular troops. He believed that there were opportunities in "the service of a partisan" that taught a man habits of self-dependence and prompt decision making rarely found in the duties of a subordinate officer. In the winter of 1776-1777, just such an opportunity presented itself. Leaving Brunswick, New Jersey, where his unit, the 40th Regiment, was in winter quarters, Simcoe set out to see Sir William Howe in New York City about taking the command of the Queen's Rangers, which was vacant. Bad weather delayed Simcoe, and the command went to someone else. Undeterred, he wrote to Maj. Gen. James Grant, his 2nd Brigade commander, asking his help in attaining another command. Simcoe did not have to wait for long.
Taking Command of the Queen's Rangers
By 1777, Simcoe had been a soldier of the king for seven years. Born in Cotterstock, England, in 1752, he was the son of a naval officer who had died on the Quebec expedition in 1759. After receiving a good education, Simcoe at the age of 18 purchased an ensign's commission in the 35th Regiment. In 1775, he headed with his regiment across the Atlantic to the rebellious colonies. Arriving in Boston that June, the new lieutenant barely missed out on the bloodletting at Bunker Hill—he was still aboard a transport ship in the harbor.
In December 1775, Simcoe purchased a captaincy in the 40th Regiment, remaining with that unit for almost two years. After being wounded at Brandywine on September 11, 1777, he was offered command of the Queen's Rangers on October 15. With the provisional rank of major, Simcoe took over command of the Queen's Rangers near Germantown on October 16. Three days later, the rangers were posted at Kensington, outside Philadelphia, on the right flank of the outpost line.
Simcoe's first responsibility in his new role was to reorganize the rangers and bring them back up to strength. A Highland company was added to the rangers, giving them 11 companies in all. Simcoe had been offered the assistance of dragoons, but as they wore red coats, he declined. Simcoe preferred to mount a dozen of his green-coated rangers instead. Green, he said, was "without comparison the best color for light troops with dark accoutrements; and if put on in the spring, by autumn it nearly fades with leaves, preserving its characteristic of being scarcely discernable at a distance."
The rangers patrolled and skirmished against the Patriots. In early December Howe moved out of Philadelphia to engage George Washington's army at Whitemarsh. Simcoe's rangers attacked Daniel Morgan's rifle corps and the Maryland militia under Colonel Mordecai Gist, forcing them to retire. In May 1778, Howe was replaced by Sir Henry Clinton, who evacuated Philadelphia and marched overland to New York City. Newly promoted Lt. Col. Simcoe and his green-coated rangers acted as the advance guard for Clinton's left column.
Three Wounds
On June 25, Clinton and his army reached Monmouth, New Jersey. While the army rested and scoured for supplies, Simcoe and his men were ordered to cut off an enemy patrol. They discovered and drove off a large body of the enemy behind a fence, but Simcoe received a painful wound in the arm. By the time the Queen's Rangers arrived at Staten Island, he was back in command. Positioned at the outpost near Kingsbridge on the Harlem River, Simcoe and his rangers continued to patrol and raid, working often in conjunction with Lt. Col. Banastre Tarleton and his recently formed British Legion.
In early August, Simcoe was nearly captured, along with Tarleton and Lt. Col. Andreas Emmerich, commander of Emmerich's Chasseurs. Warned in time, the three officers barely missed being taken by a group of Stockbridge Indians fighting for the Patriots. On August 20, the Indians were part of a force that defeated Emmerich's men. Word reached Simcoe that the Indians were elated at their success. Simcoe marched out the following day, August 31, and set up an ambush with Emmerich. A detachment of enemy light infantry and Stockbridge Indians pushed forward to investigate. The Indians spotted Emmerich's troops and attacked, but soon found themselves attacked in turn by Simcoe's grenadiers and mounted troops under Tarleton. When the fighting ended, 40 Indians lay dead or wounded. The Loyalist forces had a handful of casualties, including Simcoe, who suffered his third wound of the war.
Captured by Patriots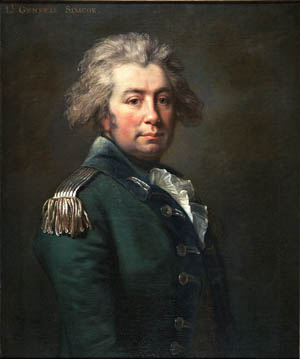 With 300 rangers and other mounted Loyalist forces, Simcoe set out at 8 pm on October 25. After crossing from Staten Island to New Jersey by boats, Simcoe divided his command. While his infantry was sent to set up an ambush at the South River Bridge, Simcoe and 80 men rode off toward Middlebrook. He intended to destroy the boats there; after that he planned to draw the enemy into an ambush at the South River Bridge. Along the way, Simcoe encountered enemy militia at Quibbletown, but the Loyalists represented themselves as Patriots looking for escaped Tories. The ruse did not deceive everyone. One of the townspeople recognized Simcoe, and a messenger rode off to warn New Jersey's governor, William Livingston.
At Middlebrook, Simcoe found and destroyed 18 boats, then pushed on to Hillsborough to free three captured Loyalists. One of them looked as if he had been chained to a floor. Outraged at his condition, the troops torched the courthouse. Alarm guns were sounded and Patriot militia began gathering. Simcoe ran into the enemy near Brunswick. Pushing forward with the advance guard, he attempted to cut through a partially broken fence to avoid them. The Americans opened fire, spilling Simcoe and his bullet-ridden horse to the ground. Thinking their commander dead, the mounted Loyalists fought their way out and continued on.
After barely avoiding being bayoneted and shot, Simcoe was taken to Brunswick and held there. The local population was out for blood, seeking revenge for a popular Patriot officer who had been killed in the raid. Simcoe, however, was protected by Governor Livingston, who restrained the local residents from abusing him. Along with his regimental surgeon, who had come in under a white flag to see to his commander's condition, Simcoe was moved to Borden Town. For the next six months, he remained in American custody before being exchanged on December 27.
John Simcoe With Benedict Arnold
In the spring of 1780, Simcoe and his rangers headed south to join Clinton in besieging Charleston, South Carolina. After the Patriot forces surrendered, the rangers returned to Staten Island on June 21. That fall, Simcoe was mortified to hear that his friend, Major John Andre, had been captured shortly after meeting with Benedict Arnold about the surrender of West Point. At Arnold's urging, Andre had changed into civilian clothing on his return to New York City and was captured wearing his disguise, tried, and hanged as a spy. Simcoe ordered his men to wear black and white feathers in their hats in mourning for his friend.
If Simcoe had any hard feelings toward Arnold for playing a role in Andre's death, he did not reveal them. In December 1780, Simcoe accompanied Arnold on an expedition to Virginia to prevent Maj. Gen. Nathanael Greene from confronting Lord Cornwallis in the Carolinas. After enduring a battering gale, Arnold's armada reached Hampton Roads on December 30, minus four vessels that had become separated during the storm. With his reduced force, Arnold and his men headed up the James River in smaller vessels, reaching Westover on January 4, 1781. The following day, Richmond fell. At Westham, Simcoe and his men destroyed a foundry, mills, warehouses, and military stores.
Arnold and his men headed back toward Westover, which they reached on the 7th. From there, Simcoe led a patrol of 40 mounted troops toward Long Bridge, where he learned that about 200 American militia were at Charles City Court House. Not wasting time, Simcoe attacked the Patriots. While he attacked on the left, he sent two buglers to the right. In a loud voice Simcoe called out for his nonexistent light infantry to advance. The bugles rang out and the ruse worked, causing the militia to take off.
Continental Army on the Run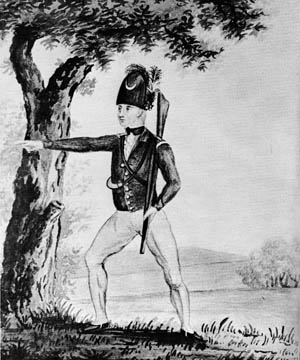 Arnold moved on to Portsmouth, where he stayed for the rest of the winter. Simcoe and his men did what they always did: patrol, forage, and skirmish against the enemy. On March 27, Maj. Gen. William Phillips arrived with reinforcements and took over command. On April 18, Simcoe and his men embarked for Williamsburg, where Patriot troops were stationed. Landing at Burrell's Ferry on the James River, the red- and green-coated soldiers quickly occupied Williamsburg while Simcoe and 40 cavalrymen rode toward Yorktown, capturing it as well.
Pushing back American resistance and destroying enemy mills and supplies, Phillips's force, with Simcoe in the thick of the action, moved on Petersburg, capturing it on May 9. It was none too soon—the Marquis de Lafayette and 1,200 Continentals were at Richmond, soon to be reinforced by 2,000 American militia. Two days later, Simcoe headed south to find Cornwallis's army and lead them back to Petersburg. On May 20, Cornwallis arrived at Petersburg, uniting with Arnold, who had replaced the now-dead Phillips.
With his combined force of roughly 7,200 men, Cornwallis set out to dislodge Lafayette before he could be reinforced. Lafayette retreated to the Rapidan River, and Cornwallis turned his attention elsewhere. On June 1, Simcoe and his rangers and the 71st Regiment headed toward Point of Forks, where the Fluvanna and Rivanna Rivers unite with the James. There, Baron von Steuben guarded a depot of military supplies with 500 to 600 troops. Simcoe deceived von Steuben into believing he was Cornwallis's vanguard, forcing the German to withdraw and abandon his stores.
Siege of Yorktown: The War Ends for John Graves Simcoe
After Tarleton returned from raiding Charlottesville, Cornwallis began his march toward Williamsburg. Simcoe followed two days behind as a rear guard, keeping watch for Lafayette and General Anthony Wayne, who had reinforced the Frenchman with 750 Pennsylvania Continentals. In all, the Americans numbered around 4,500 troops. After foraging for cattle and provisions, Simcoe's force stopped at Spencer's Ordinary, a tavern at a fork in the road, on June 26. Two shots rang out. Simcoe routed the Patriot cavalry, but prisoners led him to believe that they were the advance guard of Lafayette's force.
Believing a large Patriot force was close by, Simcoe withdrew hurriedly, leaving his wounded behind. Two miles into their march, they met up with Cornwallis, who positioned Simcoe across the York River at Gloucester with other units while Cornwallis continued on to Yorktown with the bulk of his troops. As the Patriots and the French began to tighten their relentless siege of Yorktown, Simcoe came up with a plan to mount his rangers and break through enemy lines, but Cornwallis denied permission for the daring exploit.
Hearing rumors that surrender was near, Simcoe wanted to evacuate his men by boat and head across the Chesapeake to Maryland. Cornwallis refused, stating that the entire army must share the same fate. The game was up. On October 19, the British surrendered. Simcoe, who was ill and bedridden, was allowed to leave by sloop for New York City. After arriving in New York, he was granted permission to sail to England to regain his health. For Simcoe, the war was over. After a brief stint in Parliament, Simcoe was selected to be the first lieutenant governor of Upper Canada and eventually was appointed commander in chief in India. John Graves Simcoe died in 1806 before he could take his new post.