By Nathan N. Prefer
He was an unknown junior lieutenant colonel when Japan attacked Pearl Harbor, yet by the end of that war he was the youngest major general commanding one of the most famous divisions in the European Theater. He had fought on two continents, created and led into battle one of the most famous military units in American history, and had been wounded no less than eight times. He also had earned two Distinguished Service Crosses, two Distinguished Service Medals, a Silver Star, and two Bronze Stars. His name was Robert Tyron Frederick.
Frederick was born March 14, 1907, in San Francisco and grew up next to that city's famous military installation, the Presidio. As a child he played often among the streets and buildings of that base. In school, he opted for the Junior ROTC rather than wearing the baggy gym uniform. He found himself on the rifle team, firing at the range at the Presidio weekly.
Determined to get out from under his strict parents' supervision, he lied about his age and at 14 reported himself as 18, he tried joining the National Guard. Next, again lying about his age, he joined the Maritime Union and with this, his father threw up his hands and announced that he had given up hope for his only son.
Returning to his parents, Robert decided that he wanted to attend the U. S. Military Academy at West Point and wrangled a transfer to the Army's Enlisted Reserve Corps. He was sent to Staunton Military Academy in Virginia to finish high school. After graduating in June 1923, he was off to West Point. In his second year there he fell in love with Ruth Adelaide Harloe, a surgeon's daughter from Brooklyn. They married a few hours after his graduation in June 1928. In his time at West Point, he had been the editor of the yearbook, was on the fencing team, earned rifle sharpshooter and pistol expert medals, and had been promoted to cadet company commander. He was commissioned into the Coast Artillery Corps upon graduation.
After the usual postings around the country, Frederick headed to another posting in the Panama Canal Zone. When the Army took over the Civilian Conservation Corps (CCC) during the Depression, 2nd Lieutenant Frederick was given command of one of the camps in California. In 1934 he received promotion to 1st lieutenant.
His skills having been recognized by several of his superiors, Lieutenant Frederick attended Coast Artillerymen's school, followed the prestigious Command and General Staff School at Fort Leavenworth.
He was promoted to major on February 4, 1941, while on duty in Hawaii and was assigned to the War Department in Washington. At a desk in the War Plans Division, working for the new chief of the division, General Dwight D. Eisenhower, he had barely settled in when the Japanese attacked Pearl Harbor.
At the age of 34, Frederick was promoted to lieutenant colonel but feared that his staff duties might keep him chained to a desk for the duration. But overseas things were developing that would change his career. British Prime Minister Winston S. Churchill had pushed an idea on the U. S. Army Chief of Staff, General George C Marshall. This idea involved a small number of highly trained troops conducting sabotage raids behind enemy lines on motorized snow sleds in Norway or other Northern areas of operation. Colonel Frederick was ordered by General Eisenhower to evaluate the project.
The resulting 14-page analysis submitted by Lieutenant Colonel Frederick argued that while the mission had some value, it would likely be suicide as there was no way to retrieve the troops once they had completed their mission. However, while General Eisenhower was in England, he agreed to the plan, and assigned Frederick to follow through on the project he had called "suicidal."
The British, impressed with Lieutenant Colonel Frederick's knowledge of the project and its needs, suggested him as the commander. Frederick quickly got over his surprise and began to build his new unit. Ordered to include Canadian troops as well, he had to create, train, and make them combat-ready in six months. Originally designed as a unit of saboteurs, the outfit would have three small combat regiments and a separate service battalion. About 2,400 officers and men would form the new unit.
A derelict military base, Fort William Henry Harrison outside Helena, Montana, was chosen as the training base. Arctic experts were consulted on clothing, climbing gear and other necessities for arctic survival. To gain entry behind enemy lines, the unit would also have to be parachute-qualified. Lieutenant Colonel Frederick made his first of only two parachute jumps during this early training phase. Skiing was also required. Throughout 1942 the project slowly took shape, and the unit was now the First Special Service Force (FSSF).
By the middle of September 1942, the FSSF was nearing readiness for battle. The question now was where and when. Prime Minister Churchill still supported the project, although no longer believing it should be used in Norway or other northern areas of operation. General Eisenhower, now in command of U. S. forces in North Africa, wanted the FSSF for the invasion of Sicily, but as an amphibious force rather than a sabotage or airborne raiding force.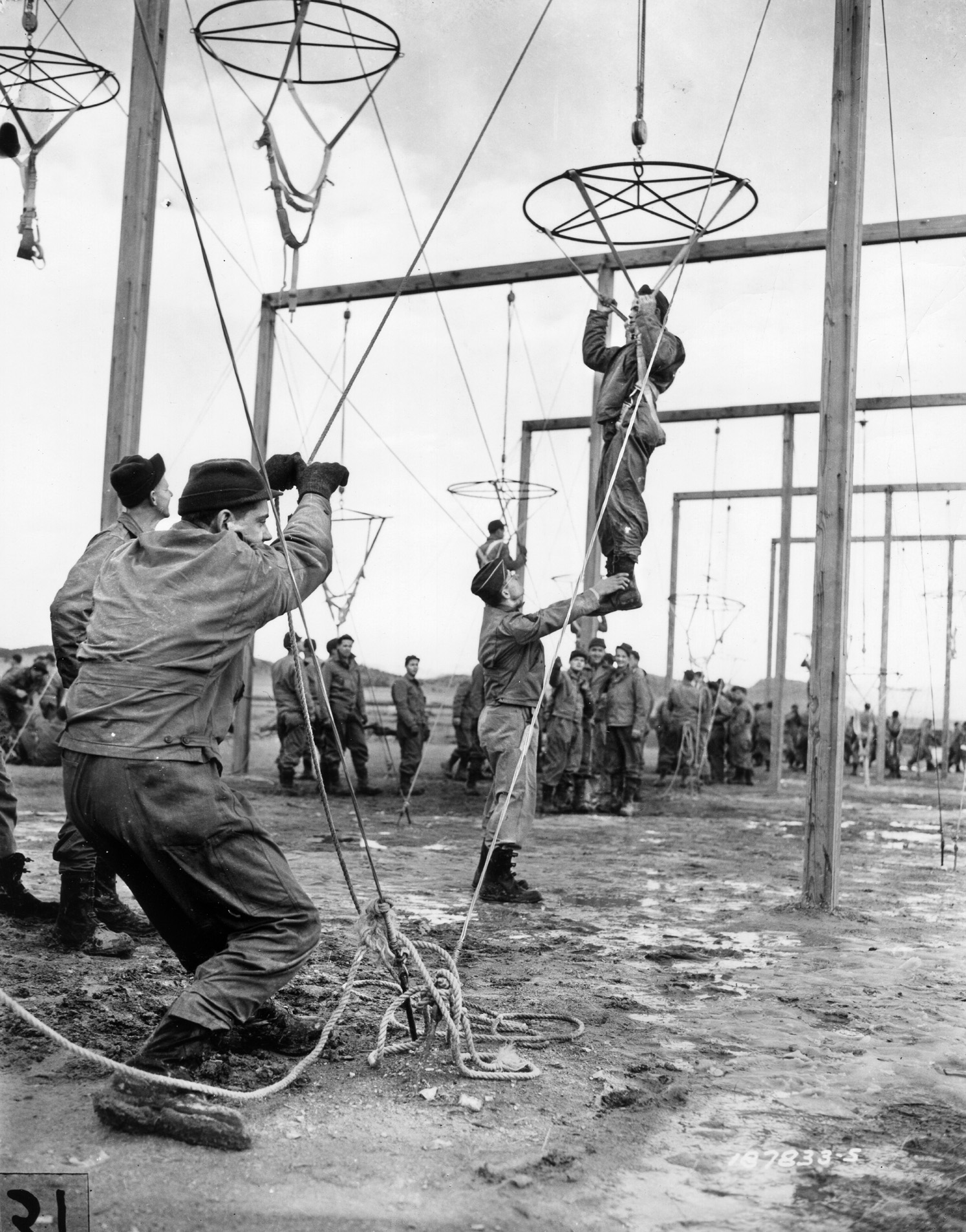 In the end the FSSF was ordered to the last place anyone had originally imagined, the Aleutian Islands. The Army was about to invade Kiska, the last of two islands seized by the Japanese in 1942. Here Colonel Frederick earned the respect of his troops when he rejected the landing force commander's plans for the FSSF to land ahead of the main force. Seeking to minimize the risk to his men, Colonel Frederick developed his own plan and was in the first wave landing by rubber boats on Kiska. Fortunately for all concerned, the Japanese had evacuated Kiska a few days before, and no opposition was encountered.
Frederick's FSSF stay in the Aleutians was brief. Within days orders arrived directing it to report to San Francisco and then to the Mediterranean. After a brief layover—and more training—in the United States, the FSSF arrived in Italy and reported to Major General Geoffrey Keyes' II U. S. Corps, Fifth Army.
The FSSF was assigned to seize Monte la Difensa and Monte le Remetanea, previously invincible and blocking the way to the Liri Valley, the gateway to Rome. Colonel Frederick immediately flew over the targets in intense rain and wind in a small piper cub and then personally reconnoitered the best routes to approach the targets. He decided to attack at night, climbing the sheer cliff face of Monte la Difensa. Fifth Army staff thought such an attack would take three days to succeed, if it did. They also believed that the FSSF would be decimated during the attack. Nevertheless, Colonel Frederick went ahead with his plans.
Led personally by Colonel Frederick, the FSSF marched 10 miles on December 1, 1943, and then climbed halfway up the mountain in the dark. Resting in hidden locales during the next day, the FSSF emerged on the night of December 2. Led again by Colonel Frederick, the force stealthily climbed to the top, and, using only knives and bayonets, eliminated German sentries.
Colonel Frederick established his command post on a ledge wide enough for one man to sit and waited for the moment to strike. The attack was to begin at 06:00 am hours, but a falling rock alerted a sentry, and the battle was on. After just two hours of vicious combat, Colonel Frederick was on the radio atop Monte la Difensa telling Fifth Army headquarters, "La Difensa is ours."
It was here that Frederick earned his reputation as a fearless leader. One of his officers later reported, "With bullets raking the air, Frederick moved from unit to unit, sending out patrols and placing men in outposts, to gradually widen the piece of territory we held. His casual indifference to enemy fire is hard to explain, for there were times when barrages of mortar sent us all scurrying for cover, only to come back and find him sitting in the same position and place we had vacated in a hurry."
Another officer recalled, "I will never forget him walking by my position and telling me to keep my head down, while he was in full view of the enemy. I then saw him sit down and, dirty and grimy, his water bottle split in two by a bullet, he took it like the rest of us."
Despite severe winter conditions, Colonel Frederick held onto his conquest against increasing German artillery and infantry fire. Then, leaving one regiment behind to hold Monte la Difensa, he led the remaining FSSF troops, with himself as lead scout, toward the second objective. As he did so, an enemy mortar round exploded nearby and sent a rock slamming into his spine. Despite severe pain and damage to his shoulder blade, he covered with his own body another wounded soldier until stretcher bearers could remove him. That same night he led the attack on Monte la Remetanea, catching the Germans amid a retreat and chasing them completely off the mountain.
After a week's rest, some hot food, and showers, the FSSF was sent against Monte Sammucro, with Colonel Frederick again in the lead. After another fierce but brief battle, this objective was also secured. Reports on progress in Italy were received by Prime Minister Churchill, and on learning that Colonel Frederick and his FSSF were leading the way to Rome, the Prime Minister replied, "If we had a dozen men like him we would have smashed Hitler in nineteen fourty-two (sic)." Meanwhile, in Italy Colonel Frederick was on his way back to his command post when enemy shelling wounded him in the right eye. Undeterred, he had his eye bandaged and resumed command of the FSSF.
The FSSF would continue fighting for hill after hill in southern Italy until January 1944, when they were included in the invasion forces destined for the port town of Anzio. Here the FSSF would earn their fiercest reputation, including the label of "Devil's Brigade" when they took over a section of the perimeter and so harassed and cowed the opposing Germans that they never made any serious attempt to overwhelm the vastly outnumbered FSSF, and in fact pulled their lines back a half a mile from the nearest FSSF lines.
The success of the FSSF at Anzio earned Frederick a brigadier general's star in January 1944. But the fighting continued until the breakout from the Anzio beachhead and the advance on Rome. Once again, General Frederick and his FSSF were among the first troops to enter the enemy capital. Reinforced with U. S. Army Rangers from destroyed battalions to replace increasing losses, the FSSF was still below authorized strength but nevertheless given an infantry-division's role in the capture of Rome.
During this advance, General Frederick was nearly captured. Once again leading his troops forward, he was coming over a hill when in front of his small party appeared 30 German soldiers. One of his companions was killed, and General Frederick and the others "ran like the devil" into a nearby wheat field where they remained concealed until the leading unit of the FSSF came up and chased off the enemy. During the battle for Rome, Frederick received two additional wounds on June 3 and 4, one of which required 256 stitches in his thigh. He snuck out of the hospital to rejoin his FSSF. Rome was to be his last battle with "his" FSSF.
Shortly after the fall of Rome, General Frederick was given a new assignment as part of the invasion of southern France. Lieutenant General Jacob L. Devers, the top commander of that operation, told him he was to command the airborne forces of the invasion. When General Frederick asked where his airborne troops were located, General Devers replied, "So far, you are the only one."
Promoted to major general, Frederick, who still had that sole parachute jump to his credit, was once again ordered to form a new unit from scratch. Given a free hand, Frederick picked his staff from officers he trusted and named his new command the First Airborne Task Force (FABTF). Gathering 16 separate units from Italy and the Mediterranean Theater, barely one month was available to organize, train, and prepare for the assault.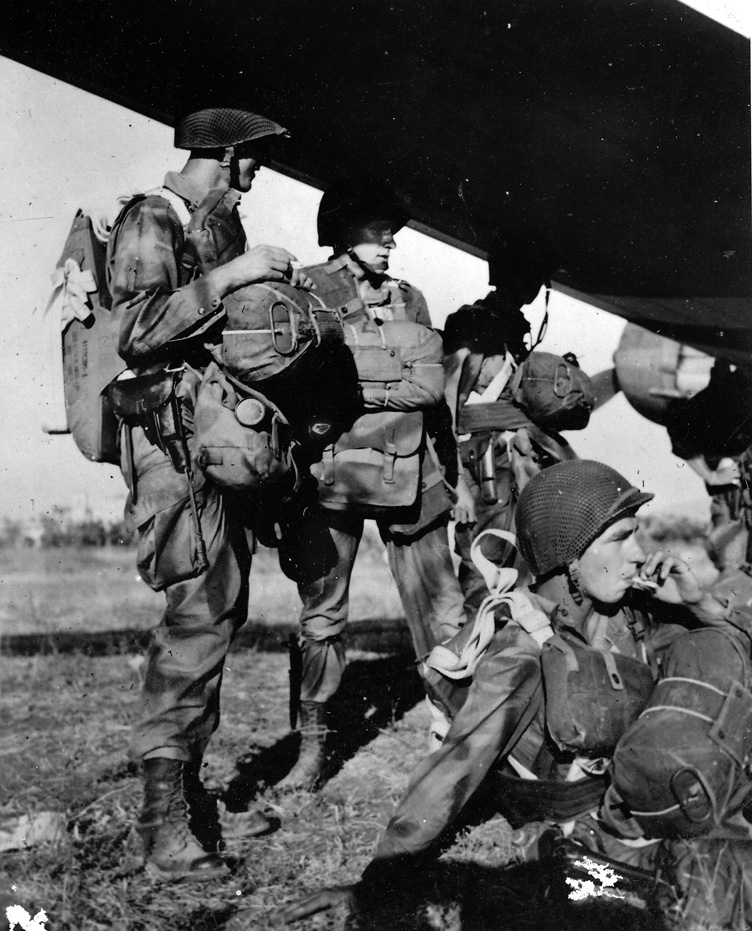 The FABTF was under the command of the Seventh Army, led by Major General Alexander M. Patch, who had been one of General Frederick's instructors at the Staunton Military Academy. In a repeat of forming the FSSF, Frederick once again had to scrounge up equipment, vehicles, and a myriad of supplies to prepare his new command for battle. And as before, he made himself accessible to his men, moving among them with the usual questions about their hometown, checking their equipment, and wishing them well.
General Frederick's second parachute jump occurred in darkness and fog over the Argens Valley of southern France. From the lead aircraft he jumped into a thick fog bank, which kept the pilots from identifying the landmarks of the planned landing zones. As a result, the FABTF was scattered over a wide area of southern France. Frederick landed on a rock, which opened his thigh wound. Ignoring the blood running down his pants leg, he immediately set about reorganizing his forces. Cutting a cord off his parachute as a tourniquet, he set off to find his planned command post.
Not unlike the Normandy airborne landing of two months earlier, General Frederick's well trained and motivated soldiers set about cutting telephone cables, blowing up enemy supply dumps, and setting up roadblocks to disrupt the German defenders. French underground fighters joined in and directed many mis-dropped parachutists to Frederick's headquarters, where he was constantly adjusting plans to meet reality on the ground. He directed his airborne, glider-borne, and British paratroopers to their objectives or sent them against new ones. By the next evening, when his forces contacted the seaborne invasion troops, his men had cleared La Motte, Le Mitan, Castron, and Les Serres and controlled all coastal roads.
At the end of D+1, the FABTF had cleared far more area than originally planned, captured 1,350 prisoners, and eliminated enemy defenses inland from the beach. The American corps commander, Lieutenant General Lucian K. Truscott, remarked about this accomplishment, "Frederick's feat in organizing and training this composite force and perfecting the operation in a period of less than five weeks is the most remarkable exploit of the war."
General Frederick's next assignment was to use his FABTF, now joined by the FSSF, to protect the right flank of the entire Seventh Army as it raced toward Germany. So began what some call "The Champagne Campaign," where the FABTF stood along the border waiting for a German attack from Italy that never came. To command such a wide area, Frederick used planes, jeeps, and radio to keep in contact with his widely separated units.
General Frederick flew home for a brief visit when his father-in-law died, but within five days he was back in France. On November 22, 1944, the FABTF was disbanded and once again General Frederick bid a sad farewell to the FSSF. Frederick and his immediate staff received orders to assume command of the 45th Infantry Division.
As the youngest ground forces division commander in the U.S. Army, General Frederick took command of the veteran 45th Infantry "Thunderbirds" Division after its previous commander was wounded by a German mine. It took these veterans a few weeks to accept the newcomer, but in the end, General Frederick proved himself to his command and was highly regarded.
Frederick continued his habit of being up front during attacks and was often seen encouraging the leading infantry companies preparing to make an attack. The division entered Germany on December 15, in the vanguard of Seventh Army. But the German attack on the First Army to the north halted operations for several weeks, during which the "Thunderbirds" had to cover a wide front with insufficient forces. Then, on New Year's Day, another German counterattack hit the Seventh Army.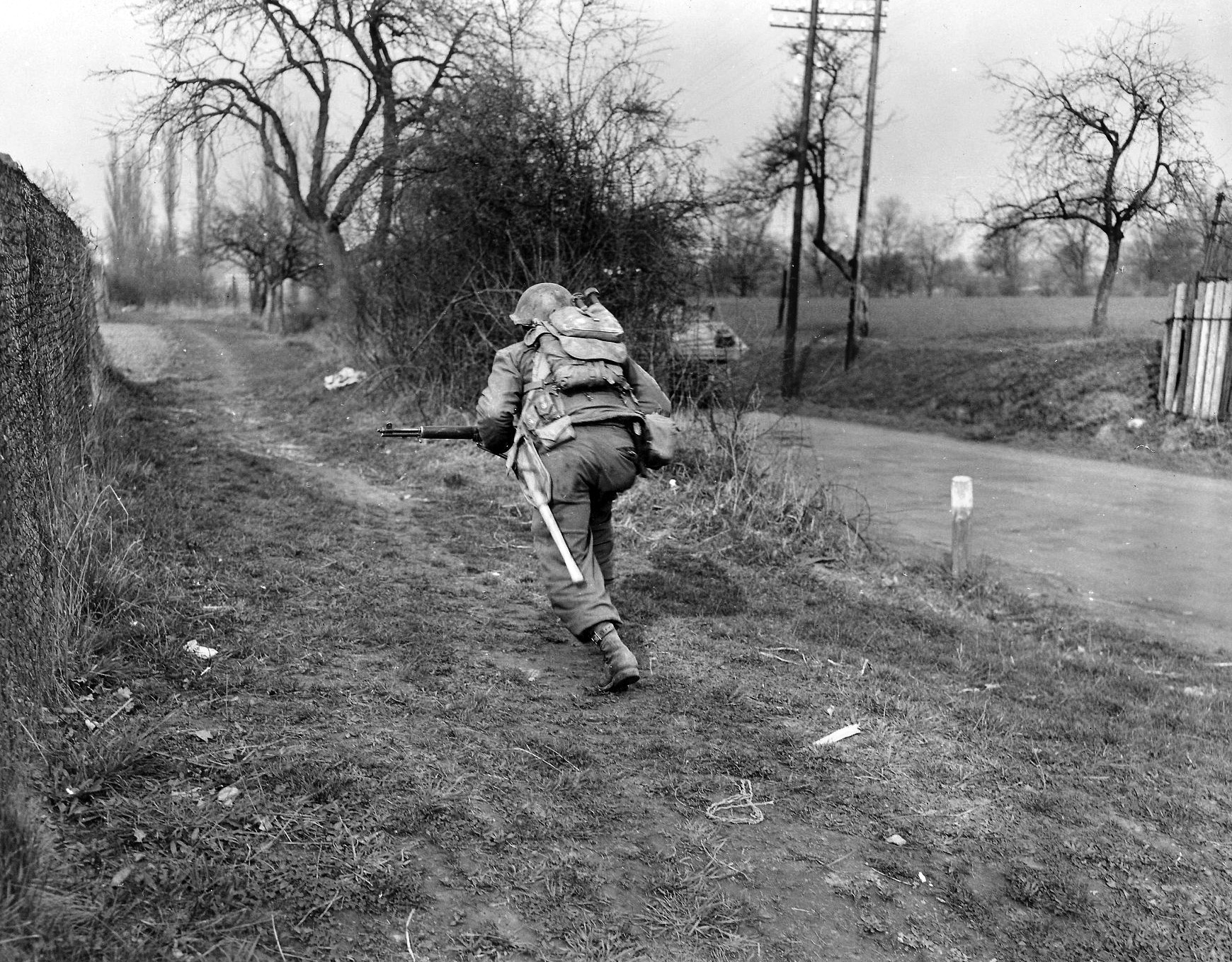 For the next two months, Frederick maintained an aggressive posture against the attacking Germans, then counterattacked whenever the opportunity arose. Fighting conditions were miserable, similar to those at Monte la Difensa a year before. Winter cold, snow, damp conditions, and a fiercely defending enemy cost the Thunderbirds many casualties as they slowly fought their way into Germany.
On March 25, 1945, the 45th Infantry Division crossed the Rhine and entered Germany's heartland. Crossing the Main River, the 45th Division was stopped at Aschaffenburg, with thousands of German troops and civilians opposing the Thunderbirds' entry into the city.
General Frederick flanked the opposition and poured all his artillery, tank, and mortar fire into it. Soon the German commander suggested that General Frederick come to his headquarters to negotiate terms of surrender, but Frederick replied, "There is absolutely nothing to be negotiated. You can keep defending to the last man, or it will be a total surrender."
The destroyed city surrendered two days later, on April 3. In the previous two weeks, Frederick's men had crashed through the vaunted West Wall Defenses, made three river crossings, and captured more than 10,000 prisoners. But they were only beginning. Soon Nuremberg and Munich fell to the rampaging Thunderbirds. At the latter location the Americans liberated the infamous concentration camp at Dachau.
General Frederick was ordered to garrison Munich, feeding and housing over 124,000 enemy prisoners and former concentration camp inmates. He was dealing successfully with this problem when the war ended. When there was time to review what had been accomplished, it was found that Frederick had spent 551 days in combat, with the FSSF, the FABTF, and the 45th Infantry Division. He had been awarded 28 American medals for valor and another six foreign medals. He had graduated just 17 years earlier from West Point and was now a major general commanding a veteran infantry division, occupying enemy territory. He had just passed his 38th birthday.
Over the next six years he served as the commander of the Coast Artillery School at Fort Monroe, Virginia. When the Coast Artillery School was disbanded in 1947, General Frederick was assigned to the new Air University at Maxwell Field, Alabama, to assist in its organization. This assignment was followed with command of American occupation forces in Vienna, Austria.
Next, General Frederick took command of the 4th Infantry Division at Fort Ord, California, where, irony of ironies, he was headquartered at the Presidio. Here he developed and put into practice what he called the "Division Faculty Training" system, whereby realistic infantry and armored training was introduced to the troops. This system would later be adopted by the entire Army. Although he had hoped for a division command in Korea, he instead was appointed Chief of the Joint U. S. Military Aid Group to Greece.
Returning to the U. S., Frederick spent a month at Walter Reed Army Hospital undergoing a battery of tests. It was finally determined that the carbon monoxide poisoning he had experienced at Anzio was seriously affecting his health. His heart was enlarged. He was deaf in his left ear, and there was damage to his right ear. His right leg had never fully recovered from the repeated injuries suffered in Italy and France.
As a result of these findings and his own desire to leave the military at age 44, Frederick was granted a disability retirement. He eventually retired to his family's farm in Palo Alto, California, and died at the age of 63 on November 29, 1970.
---
Nathan Prefer is the author of several books and articles on World War II. His latest book is titled Leyte 1944, The Soldier's Battle. He received his Ph.D. in Military History from the City University of New York and is a former Marine Corps Reservist. Dr. Prefer is now retired and resides in Fort Myers, Florida.