By Richard A. Beranty
For 33 months beginning in 1942, the U.S. Eighth Air Force and its precision daylight bombing strikes against German targets in Europe tried to pound the Third Reich into submission.
Attacking the enemy's transportation networks, arms factories, cities, fuel depots, ball bearing plants, and power stations with Consolidated B-24 Liberator and Boeing B-17 Flying Fortress heavy bombers, the air assault seriously crippled Germany's industrial capabilities, making the job for Allied ground forces considerably easier when the country was finally overrun and the Nazis surrendered in May 1945.
But the air effort came with a staggering cost to the Americans who flew those missions. German fighter planes such as the Messerschmitt Me-109 and Focke-Wulf Fw-190, along with the ever present nemesis called flak, killed some 20,000 airmen, wounded another 9,300, and resulted in 26,000 being taken prisoners of war. As one historian noted, "pinpoint daylight bombing was a high-stakes crapshoot," but it did alter the course of the war against Germany.
Unlike their infantry counterparts, Allied airmen experienced a somewhat normal existence once they returned from a flight: hot food, showers, and a bed to sleep in. On a mission, however, they faced the sobering reality that death could come at any moment, five miles above the ground where temperatures reach 40 degrees below zero Farenheit. It was akin to a throw of the dice whether they would return to base safely or spiral earthward because a wing or an engine had been blown to pieces.
Wilbur Bowers: A 19-Year-Old Tail Gunner on a B-17
Wilbur M. "Bib" Bowers of Kittanning, Pennsylvania, took part in the air campaign over Europe with the Eighth Air Force. As a 19-year-old tail gunner, he flew 30 missions with the 306th Bombardment Group, 368th Bomb Squadron in a B-17. With his flights originating out of southeastern England, Bowers would become an inadvertent witness to history, seeing firsthand the start of the D-Day invasion, taking part in the controversial fire bombing of the ancient city of Dresden, and feeling the effects of Hitler's vengeance weapons, the V-1 buzz bomb and V-2 ballistic missile. But his most frightening memories of the war are those involving flak, the indiscriminate metal shrapnel that flew outward in all directions from exploding shells the enemy sent skyward against the Allied air armadas.
"Flak was the worst thing in the world," Bowers says. "We faced it on every flight. Once it started, all you could see was this black stuff. Of course, that black stuff has been expanded. What gets you are the ones that have a red dot in the middle. That's where the explosion takes place. You can see the red and then it just turns to gunpowder. It was scary because you knew the flak was there and you knew you had to fly through it. And the Germans knew we were going to fly through it, too. They knew we weren't going to change air speed, and they knew we weren't going to change altitude. So they would get their shells up there at the right height and the right time, and you just had to fly through it. There was no way we could turn back. We never took evasive action. Once we started the bomb run and the pilot turned the plane over to the bombardier, he was flying the plane. And in the history of the Eighth Air Force, no one ever turned back from a mission because of enemy fire. As far as I was concerned, flak was worse than fighters."
Volunteering as a Gunner
Bowers' ride through the skies over Europe began shortly after America entered its second year of the war. Giving up a scholarship to play football at Duquesne University in Pittsburgh, he ended his deferment after one semester of college and was drafted in the spring of 1943. He was accepted into the Army Air Corps and volunteered for gunnery school.
"They wouldn't draft you as a gunner," Bowers says. "It was voluntary." His decision was made in part during basic training in Florida after watching an Army propaganda film starring actor Burgess Meredith, whose plane is shot down by a Japanese Zero fighter. In what Bowers laughingly describes as Hollywood imagination, Meredith grabs a .50-caliber machine gun, takes aim at the strafing plane, and shoots it out of the sky.
To be part of a bomber crew during World War II, the Army Air Corps required men to undergo three levels of specialized training: airplane mechanic school in Gulf Port, Mississippi, gunnery school in Kingman, Arizona, and overseas training in Ardmore, Oklahoma. This last level of training consisted of night flights, day flights, and practice bomb runs, training that forged each crew into a cohesive 10-man unit. They were then sent to Kansas to be assigned a bomber and fly it to England.
Off to England
"Once we started overseas training in Ardmore, we were a crew for the rest of the war," Bowers explains. "When we got to Kansas a terrible storm broke out. It lasted for days. Planes couldn't go, and more crews kept coming in and there was no place for them. So they put us on a troop train and sent us to the East Coast."
Along with a host of others, Bowers' crew left for England on May 10, 1944, arriving there seven days later aboard the troopship Andes.
"It was an ocean liner before the war and it was pretty speedy, so we went over alone," Bowers says. "We sailed north and went across the North Atlantic. They told us that as fast as that ship was, we could probably outrun any submarine. So we went over without an escort or convoy."
Once in England, which was now teeming with Americans preparatory to the Allied invasion of Europe, bomber crews were distributed to various bases around the country and assigned to squadrons. Bowers was a staff sergeant.
"When we went in the service, we made private first class real quick," he explains. "Then we made corporal in gunnery school. When we finished gunnery school, we were sergeants. When we arrived overseas, we made staff sergeant. All the gunners on a B-17 were staff sergeants except for the upper turret gunner, who was a tech sergeant."
"What a Helluva Training Mission!"
His crew was ordered to an air base near the small town of Bedford, just north of London. On the way there, Bowers witnessed the most pivotal event of the war. The date was June 5, 1944.
"As we were going down to Bedford on the train, we saw all of these C-47s going over us pulling gliders. The sky was full of them! We thought, 'Holy hell! What a helluva training mission!' When we arrived at the base we were assigned to our barracks. The next morning a mater sergeant  came in about 5 o'clock. He blew his whistle and yelled, 'D-Day! D-Day!' We had no idea at first what he meant. It was the first time we ever heard of D-Day. But then it finally dawned on us what the hell he was talking about. We thought it was a training mission when we saw C-47s pulling those gliders. It was actually the D-Day invasion."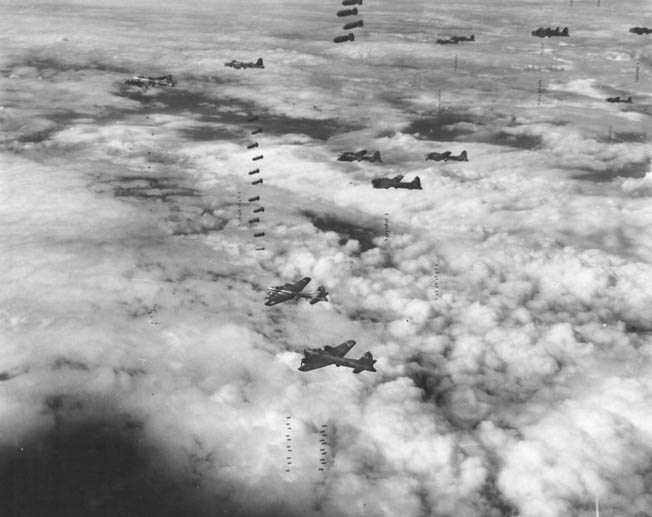 "Begin, the Beguine"
A short while later, the crew was assigned to fly Begin, the Beguine, a name given to the Flying Fortress by its former crew.
"Begin, the Beguine was the name of a song," Bowers says. "It was a very popular song at the time. They used to play it a lot. It was quite a dance tune. Why its first crew named it that, why they picked it, I'm not too sure. And what happened to that crew? They must have finished up because the plane didn't get shot down. They got their 25 missions."
Raising the Mission Quota
The 25-mission quota, which was enough to qualify an airman for tour completion, was altered in 1944. The appalling number of lost planes and crews dictated a command directive, and the 25 was upped to 30. Later in the war, it was increased to 35. The disappointment the airmen felt, of almost attaining their mission quota and seeing it evaporate before their eyes, was disheartening to say the least.
"When they raised the requirement to 30, we all thought, 'Damn,'" Bowers says. "At the time they changed it, we were well on our way to reaching 25 missions. Also, a strange pattern seemed to develop. Either you got shot down on your first mission or on your last. So it was disappointing in that respect."
Considering the fact that an airman did not know beforehand on which days he would fly, his anxiety level was doubly increased. Down time might be three days, a week, or even months. When bad weather grounded Allied planes during Germany's last offensive in the West through the Ardennes Forest in Belgium in December 1944, planes from the 368th Bomb Squadron did not fly for more than two months—from November 13, 1944, to January 20, 1945.
"You never knew when you were going to fly until someone woke you up, announced captain so-and-so's crew, and called your name. You'd answer, and then you knew you were flying," Bowers remembers. "So every night when we went to sleep, we thought about flying the next day, but we never knew until that day. And it's a strange thing. You didn't necessarily want to fly because you could get killed. On the other hand, if you did go you could get your flights in and be able to go home."
"Sometimes, when we weren't flying, they would send us to airplane recognition school," he continues. "I also played for the base football team. We played a regular schedule. If I didn't happen to be flying that day, we might have a game. Other times they would give us leave, a three-day pass, then we knew that for three days we could go to London or into Bedford. A lot of times we didn't go into town. On base were two Quonset huts set up in the shape of a T. One Quonset hut was a bar heated by three 55-gallon drums. The other hut held a library and recreation area for NCOs. Everything we needed was right there. But otherwise, every night we went to sleep, and when the sergeant blew that whistle, we woke up. If he called your name, you flew. And if he didn't call your name, you went back to sleep."
Bowers Meets Hitler's Revenge Weapons
When airmen did find their way into Bedford, the pubs were a common gathering place. Although most men were not used to the warm beer served there, Bowers says with a laugh that it was potent.
"It would do the job," he says.
London, on the other hand, despite its allure, was a more dangerous place to visit than smalltown Bedford because of Hitler's obsession with leveling the British capital. Bowers says he was in London when he experienced the terror of Germany's V-1 flying bomb and its V-2 rocket.
Called a "buzz bomb" by the British because of its distinctive noise, the V-1 was a pilotless craft comparable to today's cruise missile. It was loaded with explosives and traveled through the air at 400 miles per hour. During the war, approximately 8,000 were sent toward London. Since a V-1 flight was both visible and audible, antiaircraft crews and RAF fighter pilots became somewhat proficient at knocking them out of the sky, but an estimated 2,400 did reach their targets. Although they killed some 6,000 Londoners and wounded another 40,000, they did not wreak the havoc or cause the panic that Hitler hoped they would. Seeing one in flight remains fixed in Bowers' memory.
"I was at the Red Cross Building in London. It was morning, and I was shaving. I had an outside window, and I looked out and there it was. I could see it! It made this strange 'putt, putt, putt' noise and then it quit. Well, when they quit they either drop straight down or they glide down. I'm looking at this thing and it quit, and it was gliding. Fortunately, it went on past us and hit somewhere else."
The V-2 rocket, however, was quite a different weapon. The forerunner of today's long-range ballistic missile, it was fueled by liquid oxygen which allowed it to fly at extremely high altitude. Since there was no way to defend against it, the V-2 was a much more menacing weapon to Londoners than the V-1. At 46 feet long and weighing 14 tons (one ton of which was a high-explosive warhead), the V-2 smashed into its target from 60 miles high and hit the ground at over four times the speed of sound. Although they destroyed hundreds of buildings and caused thousands of casualties, they did not alter the course of the war either. Feeling its impact left a lasting impression on Bowers.
"I happened to be in London another time when a V-2 hit. You can't hear or see anything. Again I was going into the Red Cross, which was a rather large building, and I had just gotten hold of the door when a V-2 hit. Because the rocket was so large, the whole building shook. And I mean it shook! I'm not too sure how far away it hit, it could've been quite a ways away. So London," he laughs, "wasn't the best place to go for leave."
Preparing For 10-Hour Missions
Aside from London, a far deadlier place for men of the Eighth Air Force was in the air on a 10-hour mission deep inside enemy territory. To be a gunner on a B-17, to be awakened with a blow of a whistle and have your name called, meant that a long and dangerous day was in store.
The first thing a gunner did was head to the mess hall for breakfast. A typical meal, Bowers says, was pancakes, scrambled eggs, sausage, toast, and coffee. It was followed by a morning briefing; pilots had their own, as did navigators, bombardiers, radiomen, and gunners.
"We would assemble in a room. There was a drape over a map and an officer would pull off the drape. On the map was a red tape connected to the target for the day. The longer the tape, the longer the mission. He explained the type of flak guns we could expect, the kind of fighters, the weather, what we were going to bomb and why, the takeoff time and ETA to bomb target."
The Gear of the B-17 Bomber Crews
Following this briefing, a gunner assembled his gear. Since the planes were not pressurized and flew at such high altitudes, airmen wore electrically heated suits because of the sub-zero temperatures.
"Everybody had their own bag, which held our wool socks, underwear, and a heated electrical suit," Bowers says. "Our shoes would hook to the legs. Everything on this suit hooked together, even the gloves, and we plugged it into an outlet on the plane. When we flew at high altitudes, you couldn't take your gloves off to touch the guns because your hands would stick to them. We always took along K-rations or C-rations on missions, but we couldn't eat them until we dropped down low enough and they thawed out."
Also in the airman's bag were a parachute, parachute harness, flak helmet, life preserver, goggles, throat microphone, oxygen mask, and a .45-caliber semiautomatic pistol. It also held an escape kit that contained a silk scarf imprinted with a map of the plane's destination, money that corresponded to the country the plane flew over, and an escape picture to aid friendly forces that forged identification papers in case the plane was shot down and the airman survived.
"The escape picture was similar to those you'd have taken at an arcade booth; the same size," he says. "They gave us a shirt, tie, and coat and took our picture. The Underground in France could manufacture a lot of fake documents, but they didn't have the ability to take a picture. So we carried this escape picture in case we were shot down."
For obvious reasons the flak helmet was a valuable asset to airmen, but often the men found another use for it.
"I puked in it more than once," Bowers says. "Of course up there it froze. That was okay. But when you came down and landed, that stuff thawed out. Then it was bad. When you're in the tail, it's going up and down, up and down. It's not the smoothest spot to be in because you're right at the end of that damn plane and every time there's a maneuver or turbulence you feel it pretty quick."
Maximizing on Firepower
With his gear assembled, a gunner's next stop was the weapons tent. Bowers says the working parts of a gun were never left on the plane after a mission because they had to be cleaned and serviced. For every person in the air, it took seven on the ground to support him. Maintenance of the bombers was a big challenge.
"The mounts were all still in the plane," he explains, "but the guts were in the armament tent. We didn't have to clean them or anything, the armorer took care of that. We would get our guns, put them together into the mounts, set the head space and put the back plate on."
Cartridges for his twin .50-caliber Browning machine guns were housed in two plywood boxes located on both sides of him on the floor of the plane. For safety purposes, guns were not armed until the plane was airborne.
"Once we were in the air, the pilot would say, 'Okay, test your guns,' and we would fire five or six rounds."
The position of guns on a B-17 and the flying formation itself were designed to provide the maximum amount of firepower possible. Ten men manned the plane: pilot, co-pilot, navigator, bombardier, upper turret gunner, radioman, ball turret gunner, two waist gunners, and a tail gunner. This made a total of 13 manned machine guns (three were located in the nose of the plane where the navigator and bombardier sat).
The B-17 Box Formation
Bowers explains that four B-17s routinely flew in a box formation. The lead plane was first. Just to the rear and underneath was another bomber. This was called "flying in the hole." There was another bomber situated high right (the right wing man) and another low left (the left wing man). This formation was repeated for eight other bombers. So in a group, there were three sets of four bombers. Each group was stacked high, lead, and low. And one group was joined by many others on a typical raid. Toward war's end, it wasn't unusual to have 1,000 bombers flying missions into Germany.
"On some raids there were bombers as far as I could see, and I could see far being in the tail and being with the lead plane," he says. "When we flew a box formation, we were so tight that it really discouraged fighters from hitting us. They really kept away. The tighter the box, the better our fighter protection. And the tighter the formation, the more concentrated our firepower. We flew a very tight formation. You could almost make out the people in the other planes. That's how close we flew."
In addition to their devastating firepower, some B-17s were equipped with the Norden bombsight, a top secret invention of the time that enabled a plane, as some put it, "to drop a bomb inside a pickle barrel." Begin, the Beguine was equipped with one.
"We were the lead crew, and the lead plane always had a Norden bombsight," Bowers explains. "The right wing man had a Norden bombsight, and the other planes may not have had any bombsight at all. They didn't have enough for every plane. When the lead plane opened up its bomb bay doors, all the other 11 planes in the formation did the same. When the lead plane dropped its bombs, all the others dropped their bombs. And if the lead plane got shot down, the right wing man would move in and lead. That's why we'd have two planes with bombsights."
As the air war over Europe progressed and tactics were fine tuned, a directive was issued reducing the number of men on a B-17 from 10 to nine. This was mainly due to the box formation. The close proximity of one bomber to another and the possibility of the inside waist gunner (called waist gunner mechanic) hitting another bomber with his bullets was considered too dangerous. To avoid this, the waist gunner mechanics were taken off and put into a pool where they were used to form new crews to replace those that were lost.
"I'll Fly the Tail"
"We had two waist gunners: waist gunner mechanic and waist gunner armor. I happened to be the waist gunner mechanic on our crew and I was taken off. So I was off for a few raids, and then our tail gunner quit. He wouldn't fly anymore. He decided that he had it and wouldn't fly.
"If you wanted out," Bowers continues, "you could go to the infirmary, see the doctors, talk to them and tell them that you couldn't take it anymore. That would be it. They'd move them somewhere, preferably off the base. So our tail gunner quit us. Well, I didn't want to be flying with a lot of strange crews. I wanted back on the crew because I knew all the guys and I knew the pilot. We were the lead crew, and the lead crew had to be above average. We all got along great, even though we didn't associate with each other after a raid. When we came down from a mission, the officers would go that way and we'd go this way. We'd never see them again. But when the mission would start, we'd all be back together, and we got along fine. We never had a bad word. We just didn't associate with each other like some of the other crews did. They would go to London together, and they were tight. But we never did that. It wasn't because we didn't get along; we got along great when we were flying.
"So I didn't want to be off that one because it was a good crew. I went to the captain and I said, 'I'll fly the tail.' He said, 'You'll fly back there?' I said, 'If it means I get back on the crew, yes.' So he went to headquarters and talked to them. He came back and said, 'Look, if you want to fly the tail, it's yours. You're back on the crew.'"
Friendly Fire Catastrophe at St. Lo
Flying in a lead bomber on every mission that he flew, Bowers experienced his first raid into enemy territory on June 11, 1944, five days after the Normandy landings. His log shows that Begin, the Beguine's first few missions were against targets just across the English Channel, including the Pas de Calais, where many German officers, Hitler included, thought the cross-Channel invasion would take place.
"A lot of our earlier raids were on submarine pens on the coast of France," he says. "We called them milk runs. We loved those. We were over to France and back in a matter of hours."
Little damage was done to the German sub bases despite a B-17's potent short-run maximum bomb load of 12,800 pounds (a 4,000-pound load was typical for the longer raids into Germany). These missions proved mostly ineffective because of the reinforced roofs covering the submarine pens, some of which were constructed with 12 feet or more of concrete. One early mission on which Bowers flew that did gain a lot of notoriety was against St. Lo in Normandy. Three days prior to the Allied breakout in July, the Eighth Air Force was ordered to carpet bomb the German garrison at St. Lo, so on July 24 three waves of bombers set out to do just that.
Poor visibility caused the attack to be canceled, but not in time for the planes to be called back. The first wave of 500 heavy bombers did not drop its bombs because of bad weather. Of the second wave, 35 planes dropped ordnance but only after three passes were made to identify the target. In the third wave, 300 bombers released 135 tons of fragmentation bombs and 550 tons of high explosives. Not only were St. Lo and the German garrison decimated, but 25 American ground troopers were killed and 131 wounded. As a result, General Dwight D. Eisenhower ordered that Allied bombers would no longer be used for close ground support. They never were again.
"We went in support of ground forces which we had never done before," Bowers explains. "Engineers had put out cloth markers on the ground in front of the troops. When we came over at low altitude, we saw those markers and knew where to bomb. The night before, though, the Germans moved the markers back toward the American lines, and some of the bombs fell short and hit our troops. That was one of the reasons why it happened. But then another thing, some guys just bombed short."
Bowers in the Dresden Raid
Another notorious raid that Bowers flew was the bombing of Dresden in the final months of the air war. Located 100 miles south of Berlin, the city ranked near the bottom of the Allied hit list since it held no military significance. But at the time, it was the largest German city to have escaped full-scale bombing, and with the Big Three soon to meet at Yalta, President Franklin Roosevelt and British Prime Minister Winston Churchill wanted to impress upon Soviet Premier Josef Stalin that no target was off limits.
Known as both a cultural center and historical city because of its opera house, parks, and museums, Dresden boasted buildings that dated to the 13th century. It offered Allied bombers no opposition because the city's antiaircraft batteries had been moved to the Eastern Front weeks before and fuel shortages had grounded German fighters.
With perfect visibility, two British raids and one by the Americans comprised of planes armed with incendiary bombs attacked Dresden on February 13-14, 1945, burning the city and thousands of its war-weary residents. Ironically, it was Ash Wednesday. The resulting firestorm touched off by the incendiaries generated winds of tornado force, claiming an estimated 35,000 lives. As a result, Dresden burned for a week. To some it was terror bombing; to others it was punishment long overdue. To Bowers it was just another mission in his quest to get home.
"We carried fire bombs that day," he says. "We all knew it. All you had to do was look in the bomb bay. There were huge racks of them. The bombs were big and round and in bundles. When they dropped they would open up, spin out, and all these little ones would come flying out."
Early Leave For Flying Lead
The Dresden raid was the last that Bowers would fly with his crew on Begin, the Beguine. The other members had flown their required 30 missions, but he was short four. Although the mission total by that time had been raised to 35, Bowers says that 30 missions still qualified an airman for tour completion if his crew had flown lead.
"If you were flying lead, or most of your flights were lead, you only had to fly 30 missions. So when my crew finished up, they had done their 30, but I was still short four missions. Well, they were very nice about it at headquarters. Since I had all these leads, the last four raids that I flew with different crews I always flew with the lead plane, so I was able to get in my leads and I only had to fly 30 missions. It was pretty nice of them to do that."
A Half Kill For Bowers
It was with one of these new crews, one of the last missions that Bowers flew, that he registered his only kill of the war.
"I saw these fighters. Of course I called up right away and alerted the crew: 'Unidentified aircraft coming in at 7 o'clock low.' So I'm sitting back there in the tail watching them come in and the pilot said, 'Keep your eye on them.' At first I wasn't too sure whether they were our own P-47s coming at me, because a Focke-Wulf 190 and a P-47 look a helluva lot alike. They both have a round engine. But pretty soon I saw these red spots coming out of the wings. I yelled 'Bandits!' to alert the rest of the crew. One of the fighters was flying a little farther out than the others, and when he got within range I started firing. I could hear the guys of the crew on my headset yell, 'Keep firing! Keep firing! You're getting hits! Your getting hits! Keep firing!' So this one plane burst into flames. It was a Focke-Wulf 190, and it was burning just like a torch. It was completely engulfed, just about ready to blow up. It went right by us, and I could look into the cockpit. That's how close it was."
Bowers says he nearly emptied his two boxes of shells in the engagement.
"I was so busy at the time that I didn't even think of being scared," he explains. "It was an automatic thing. He's shooting at me and I'm shooting at him. You're concentrating and so damn busy on what you're doing that you're not even thinking about being scared. After we landed, instead of going to be debriefed, for some reason I went straight to the mess hall. Here, someone tapped me on the shoulder and said, 'You've got to get over to debriefing.' So I went and they asked what happened, and I explained the whole thing to them, and they said, 'We're going to give you half a kill because when that plane went past you, a P-51 picked it up and blew it up.' So I ended up with half of a Focke-Wulf 190."
The Death of a Friend
At some point prior to this action, Bowers learned that his good friend Jimmy Burns of Yatesboro, Pennsylvania, had been lost over Europe. The two had undergone training together, and Burns had served as best man in Bowers' wedding following gunnery school. Although Bowers heard that his friend's plane had been shot down, it was not until after the war that he learned Burns had died. Downed personnel were carried as missing for at least one year, and it was not until 1946 when the War Department administratively labeled these men FOD, or Finding of Death under Public Law 490, following an investigation of each case.
"It was one of his last missions," recalls Bowers. "His plane was shot down over the Netherlands. The whole crew was lost. He wrote to my wife one time and told her he was going to beat me home, that he was ahead of me in missions. He and I would write to each other, and I pretty much knew how many flights he had and he knew how many I had. He was ahead of me because I was flying leads and he wasn't, so he was flying more often."
Devastation at Frankfurt
The fate of U.S. airmen such as Burns was a more common occurrence on the 10-hour deep penetration raids into Germany. It was on one such flight to Frankfurt on August 15, 1944, his 12th of the war, that Bowers saw such devastation unleashed on American bombers that it sickens him to describe it.
"On that particular mission we were flying at a really high altitude, and there was another group of bombers below us returning from a raid. I looked down and saw this group of Me-109s, there must have been six or seven of them, coming in at 6 o'clock and lined up in a straight line, like the line on a football team. They went right through that formation, and B-17s were catching on fire and going down. So these fighters go through—I never saw them do this before—and they lined up again. They got ahead of the bombers and made a line again, like the line of a football team, and went back through this formation again. But this time they went in from 12 o'clock. They hit them first from 6 o'clock, went out and reformed, and went right through them again at 12 o'clock. I forget how many planes I saw go down, something like 10, which would probably be 90 men, or if they were flying 10-man crews, it would have been 100 guys. That was the worst thing I ever saw on a mission. And it all happened so fast."
Speed is essential in aerial combat. The top speed of a Focke-Wulf Fw-190 was 408 miles per hour at high altitude. The top speed of a B-17 was 303 miles per hour at high altitude. But these air speeds paled in comparison to that of a Messerschmitt Me-262, the war's first operational jet aircraft, whose top speed was 540 miles per hour. When the plane was first developed and put into production, German designers knew they had an aircraft that could alter the war. And it might have, but Hitler ordered it redesigned as a bomber, then reversed himself so late that only a handful operated in the closing months of the war. To airmen on a B-17 flying at cruising speed and seeing one pass by, it seemed as though they were standing still.
"I saw one of the first ones," Bowers says. "We were going in on a raid and our pilot said, 'Here it comes.' And I can remember looking to my left. I looked over and … it was gone. But it wasn't firing at us. I think it was giving antiaircraft gunners our air speed and our altitude so they could adjust their guns. He didn't fire at us, but he went through the formation like nothing. That was the first time I had ever seen one, and the last. Thank God they didn't have too many of those."
Keeping Begin, the Beguine in the War
Bowers was never injured during the war, although Begin, the Beguine did receive damage from flak at different times. He says maintenance crews never failed to have the plane ready to fly when it was assigned a mission. It was during a raid over Merckwiller, France, on August 3, 1944, when flak not only ripped a healthy hole in the plane but seriously injured one of its crew.
"Our radioman, Urdolph, got hit. Flak took his shoulder off. It came right through the skin of the plane, hit him, tore his shoulder off, blew him the whole way across the radio room, and knocked him up against the other side of the room. So our waist gunner was taking care of him. He put him down in the radio room and gave him a shot of morphine and got him going. He called back to me and said, 'Bib, how about coming up and taking over. I'm getting sick.' So I went up and took care of Urdolph while the waist gunner went back to the tail. I stayed with him, kept his oxygen mask on, and kept him from bleeding to death, and we were just going in on the target. When we got back to base, the medics came out and took him. They told both of us that we'd saved his life. One said, 'If it hadn't been for you two, he would have died.'"
Debriefings After Raids
When bombers returned from a raid, the crews were debriefed so intelligence officers could glean any noteworthy information such as what kind of fighters they encountered and whether an enemy plane was shot down.
"That had to be confirmed," Bowers says of a kill. "Somebody else had to see you do it."
Intelligence was also interested in what airmen might have seen happen to Allied planes.
"They wanted to know where a plane got hit, how many fighters there were, how many chutes you saw going out and how many chutes you saw going down. Sometimes when a plane went down, you would see parachutes and sometimes you didn't. Once the plane starts a dive, people inside of it can't move. It's centrifugal force. You're stuck wherever you are, and you can't move. If you're going to bail out, you've got to get out real quick."
"They always had a nice thing for us when we were finished being debriefed," he continues. "We went to the mess hall afterward, which was a combat mess, meaning nobody was allowed in there but combat men. Even the guys serving the meals were combat. When we were done eating and going out, we gave them our name, and they poured a big double-header of whiskey. You would pop it down, they would check your name off, then you would head back to the barracks."
Returning to the USA For Leave
Bowers reached his 30-mission quota in February 1945. He left England on April 2 aboard a hospital ship in a convoy.
"Being a staff sergeant, I was kind of a guard," he explains. "They had some prisoners on the boat, and I had to guard them. Two days out of England, German subs attacked. Our ship wasn't hit, but some in the convoy were. I couldn't tell you how many were hit or how bad because at that time I was so damn seasick I couldn't even see."
The ships arrived in New York harbor on April 12, the day President Roosevelt died.
"His death meant a lot to us. He was our leader, the whole way through the Depression, the whole way through the war," says Bowers. "It was a pretty dramatic moment, it really was. The war wasn't over yet. We were still fighting and then we lose our leader."
Back on U.S. soil, Bowers was given leave and ultimately ordered to Miami.
"In the meantime, they were processing us," he says. "I didn't know whether I would have to go back and train and go to the Pacific. Plus, the war in Europe was still on. So I signed up for Instrument Specialist School. I figured I'd go that route and try it, so I signed up. Well, we were down in Miami Beach and the war in Germany ended. I had enough points to get out, so I thought, 'Great! I'm going to get out!' I went down to see them and they said, 'Oh, no. You can't get out because you already signed up for this school and you've got to go through this school.'"
Bowers attended and graduated Instrument Specialist School at the University of Illinois in Urbana. By that time, Japan had surrendered and the war was over. He was discharged on September 16, 1945, at Fort Sheridan, Illinois.
"I Would Take the Air Corps Over the Infantry Any Day"
Looking back, Bowers has no regrets about serving in the Air Corps or flying as a tail gunner. He does admit to having reservations today about getting into an airplane and attributes his coming home from the war to the strength of prayer.
"I would take the Air Corps over the infantry any day," he says. "We fought at the most for 10 hours and came home to showers and hot food. The living conditions were better. If I had to do it over again, I'd enlist in the Air Corps. No question about it. A tail gunner sits on a wooden bicycle seat and you're on your knees the whole time. Maybe that's why my knees are so bad today. It gets to you, especially when you're sitting in that tail all by yourself, like the ball turret gunner is. He's down there by himself, too. There's nobody to see or talk to. At least the waist gunner can talk to the radioman. But the tail gunner or ball turret gunner can't see or talk to anybody. All I could see was where we had been. And it wasn't like the movies, where everybody is talking to everybody else on their throat microphones. We only spoke to each other when it was absolutely necessary."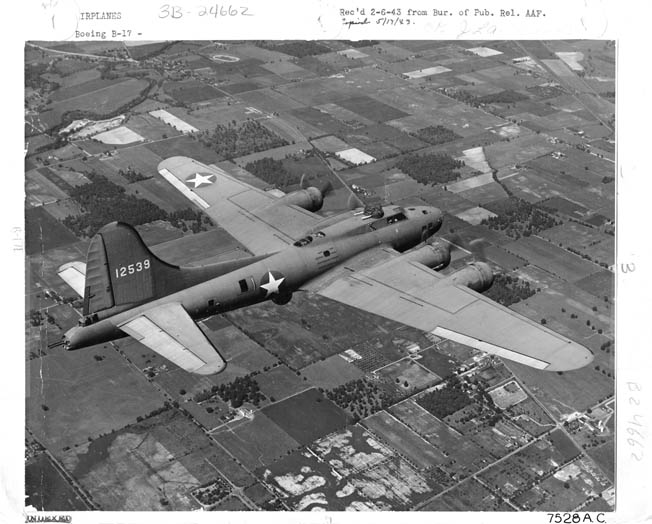 "I've only been up in the air twice since the service," he continues. "Both times I flew to Florida to visit my sister. I was a little nervous, but I couldn't say anything because my grandson was sitting beside me. So I had to put on a really good show. But actually I was a little bit tense.
"When we were flying, we naturally didn't know the extent of the bombing. But seeing pictures of it today, especially films of it on television, I realize how devastating it really was. I think it had a lot to do with the way we live today and the freedoms we have. I always think of how many people gave their lives so we can do what we want to do, and have the things that we have.
"When you figure that there were 55,000 American airmen killed, wounded or captured, it's absolutely amazing to me that I came home okay. I credit my wife and her prayers and the hours she spent in church praying. That's what I really do attribute to me coming back: her prayers. I swear that's what got me through the war."