By Peter Kross
In the long history of American military intelligence, the names that come to mind most often are those of Nathan Hale, Benedict Arnold, Herbert Yardley, and William Donovan. But one man's exploits in the field of military espionage have been given little coverage by historians. He was Maj. Gen. Ralph Van Deman, considered by many to be "the father of military intelligence."
An Early Start in Asia
Van Deman was born in Delaware, Ohio, in 1865. He graduated from Harvard University in 1889 and went on to law school before enrolling in medical school at Miami University in Cincinnati, Ohio. He entered the Army in 1891, attending the Infantry and Cavalry School at Fort Leavenworth and serving for a time as an Army surgeon. While stationed at Fort Leavenworth, he came under the tutelage of Major Arthur L. Wagner, a visionary in the field of military intelligence. In 1897, Van Deman joined Wagner, who had become head of the War Department's Military Information Division in Washington, D.C. His first assignment was with the mapping section of the MID.
During the ensuing Spanish-American War, Van Deman was considered too valuable to be sent into the field. Instead, he remained at the MID's Washington headquarters, helping update maps at the White House. Wanting to get into action, Van Deman went to the Philippines in 1899, serving in the military information section there under the direction of Maj. Gen. R.P. Hughes. In July 1901, then-Captain Van Deman was sent to Manila along with two other men, Lt. Col. Joseph Dickman and Captain John Taylor. The three were assigned by Maj. Gen. Arthur MacArthur to organize a military information division for the Philippines. Van Deman and his colleagues soon made the Manila MID a well-tooled intelligence-gathering agency. They collected valuable information on the growing threat of Japan, which was trying to extend its influence in the Far East, as well as compiling information on the various home-grown guerrilla groups operating throughout the Philippine archipelago. Not incidentally, they were also able to foil an assassination plot on General MacArthur's life.
In 1904, Van Deman was one of nine officers chosen for the elite first class of the Army War College. After graduating from the AWC, he undertook an intelligence mission to China for the War Department, surveying and mapping the rail lines and roads leading to China's major seaports. Six years earlier, the Western powers had found it necessary to intervene during the so-called Boxer Rebellion to rescue their nationals, and Van Deman's mission was to map out escape routes if and when American citizens had to be evacuated again. While in China, one of Van Deman's house workers turned the tables on him, sending the contents of Van Deman's mail directly to Peking.
Returning to Washington in 1907, Van Deman took over the map section of the MID as part of a general reorganization of the service under President Theodore Roosevelt. The MID's first order of business was to send its agents into Latin America, where they initiated a large-scale clandestine communications and intelligence-gathering operation. One of Van Deman's agents in Guatemala was then-Lieutenant Joseph Stilwell, who later would become a famous general during World War II in the China-Burma-India Theater.
Knowing Van Deman's background in the Philippines and China, Roosevelt ordered the captain to supply him, on a weekly basis, with all intelligence regarding Japan's movements. It was this priceless intelligence that allowed Roosevelt to send the Great White Fleet around the world in December 1907 to demonstrate American naval strength. Just when Van Deman thought he was positioned to play an important role in the future development of American intelligence, however, the rug was pulled out from under him. He was transferred to the War College Division of the War Department's General Staff, which had taken over the MID's intelligence functions.
A Campaign to Reorganize Army Intelligence
Van Deman immediately ran into trouble with Maj. Gen. Franklin Bell, the chief of staff, whom he'd known in the Philippines. The two men disliked each other, and Bell got his revenge on Van Deman by cutting him out of the espionage loop in Washington. On June 24, 1908, the MID was shut down and the War College redesignated G-2, or Military Intelligence. The Army was left without a way to collect foreign intelligence at a time when the United States was beginning the process of becoming a world power in its own right.
For the next seven years, Van Deman conducted a number of covert missions in the Far East before returning to Washington in July 1915 with the rank of major. He rejoined the War College Division of the War Department's General Staff and immediately undertook a one-man campaign to have MID restored as a separate division and reactivated as the Army's intelligence-gathering wing. World War I had broken out in Europe, and the United States, while still neutral, was receiving a large number of intelligence reports, which were going unread and unanalyzed. From his desk at G-2, Van Deman took matters into his own hands to correct this appalling situation, writing a "Historical Sketch" of intelligence-gathering efforts for the Army Chief of Staff, Maj. Gen. Hugh Scott, and urging the reestablishment of the MID.
"The most necessary and essential kind of information, the information without which no war plan can be made that is worth the paper it is written on, does not come in of its own accord or a matter of routine," Van Deman wrote. "It must be actively sought, traced out and proved out. To sum up the matter in a single sentence, we are no better prepared, insofar as organization for intelligence duties in the field are concerned, than we were the day the General Staff was created, and as far as military information is concerned we are not so well prepared since much of the information on hand at that time has not since been corrected or added to and is now so old as to be practically worthless."
Scott, a West Point graduate who had spent much of his career fighting Indians out West, was not impressed with Van Deman's suggestions. "Our allies would provide all the intelligence we would need about our German adversaries," Scott told the major. Undeterred, Van Deman continued his one-man crusade to reorganize the Army's intelligence wing. The new chief of the War College Division, Brig. Gen. Joseph Kuhn, supported Van Deman—with one simple stipulation. Van Deman was on his own and would get no official help from the Army's powers-that-be. Working strictly on his own, Van Deman toiled in the bowels of the War College, single-handedly remaking the Army's intelligence apparatus from the ground up. Top officials in President Woodrow Wilson's administration knew nothing of Van Deman's work, and Kuhn kept the secret to himself.
Creation of the Military Intelligence Section
Following the American entry into World War I, Kuhn decided that it was time to inform his superiors of Van Deman's sub rosa efforts. On April 11, 1917, he wrote a letter to Scott laying out his subordinate's work. "As a master of fact, the Intelligence section (under the direction of Major Van Deman), has been engaged in secret intelligence work for the past year in close cooperation with the various secret organizations of the various departments of the civil branch of the government—the State Department, the Department of Justice, the Treasury Department, etc.," Kuhn wrote. "This work has necessarily been accomplished with practically no funds and with such a limited personnel as to make effective work of any kind almost an impossibility. The officer personnel has consisted of a single General Staff officer and one retired officer, as assistant."
In a gutsy move, Van Deman took his case directly to Scott. Three times he asked the general to read his reports, but to his deep disappointment Scott did not want to hear anything about the Army's role in creating a separate intelligence section of its own. "No amount of talking or argument could change the Chief of Staff's opinion," Van Deman recalled, "and after two or three interviews he became exasperated and ordered the writer to cease his efforts with the organization of a military information service."
As a career military officer, Van Deman knew the chain of command as well as anyone, but he still endeavored to bypass Scott, and despite the general's orders to go no further with the matter, Van Deman appealed indirectly to his fellow Ohioan, Secretary of War Newton Baker, for a hearing. The two met for a private chat on April 30 in the secretary's office. Whatever Van Deman told Baker worked, and less than a month later Van Deman was promoted to lieutenant colonel and ordered to establish a Military Intelligence Section as its head. Congress chipped with a $1 million appropriation earmarked "Contingencies—Military Intelligence." Van Deman now had the money and the political backing to create a new organization that would put American intelligence on the right track. The new agency was broad in scope and included an Administration Branch; an Information Branch, which included espionage and counterespionage duties; and a Censorship Branch. In the new pecking order, the MIS would have wide powers in the field of intelligence collection and coordination.
The Black Chamber
Van Deman set to work organizing the flow of information coming in from the battlefields of Europe, making sure that it made it to the proper governmental authorities. Realizing that he still had a lot to learn about organizing a secret intelligence unit, Van Deman contacted British Lt. Col. Claude Dansey, an experienced 41-year-old intelligence officer stationed at the British Embassy in Washington. If anyone knew how to develop a modern system of spying, Van Deman reasoned, it was the British. As their friendship deepened, Dansey gave Van Deman advice on everything from how to catch enemy spies to how to organize his headquarters. In time, Dansey even set up shop inside Van Deman's office to be on hand whenever he was needed.
After its modest start on a balcony overlooking the War College Division library, MIS rapidly expanded, going from two officers and two clerks to a staff by war's end of 282 officers and 1,159 civilian employees. The scope of the service expanded as well. It was obvious to Van Deman that the United States needed the means of reading Germany's secret codes. Accordingly, he set up a code-breaking group called MI-8 and tasked a young first lieutenant named Herbert Yardley to head the efforts. Yardley's brilliant organization, known as the Black Chamber, played a huge role in cracking German and Japanese codes during and after World War I, and proved indispensable in aiding American foreign policy for years to come.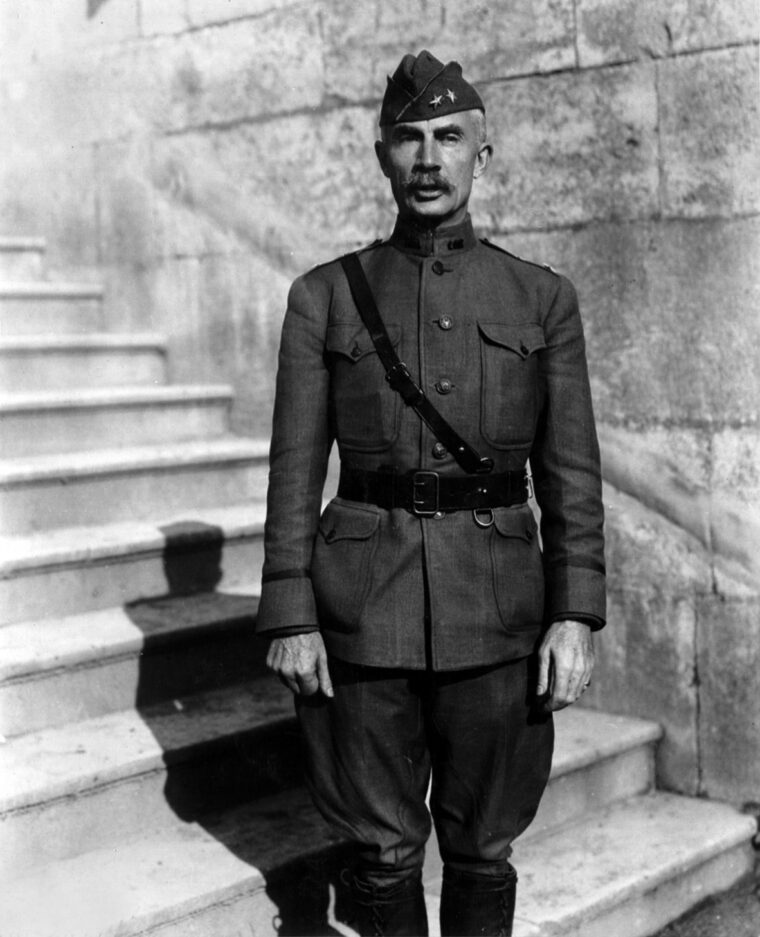 Van Deman's "Secret Watchers"
Under Van Deman, MIS also undertook a somewhat less creditable mission: spying on American citizens. During the war, the threat of a so-called German "fifth column" in the United States took on a life of its own. Across the country, vigilante groups sprang up with the sole objective of rooting out real or imagined German spies. One of the largest of these groups was the American Protective League, founded in Chicago by advertising executive Albert M. Briggs. With its headquarters in Chicago, the APL soon grew to include branches in all major American cities (movie mogul Cecil B. DeMille organized a branch in Hollywood). A quarter of a million volunteers flocked to the APL banner, and league members in telephone and telegraph offices, banks, and businesses facilitated illegal snooping of citizens' private records.
Although Van Deman understood that the rights of individuals had to be protected, he nevertheless tasked the MIS to create a unit of "secret watchers" who would report any suspicious activities by members of the military. He also organized a number of security checkpoints at important government buildings around the nation and created a huge file on suspected German agents, including a large data base on American citizens who posed no threat to national security. And while he considered the growth of the APL "an extremely dangerous development," Van Deman secured a captain's commission in the Army for one of its national directors, Charles D. Frey, and put him to work in the MIS.
This quasi-official liaison was problematical from the start. "In the beginning," recalled Van Deman, "there was a little trouble in getting some of the members to understand exactly what orders meant, and some of the smaller groups did make more or less trouble in questioning the loyalty of persons in their communities. However, that was dealt with a pretty strong hand and within a short time such activities ceased." The APL link was of little practical use to the Army. Of some six million estimated investigations, the league failed to turn up a single German spy.
As part of his own efforts to locate enemy spies, Van Deman set up separate police units in eight American cities to look for potential troublemakers. These civilian investigators, drawn from the ranks of the New York City Police Department's Neutrality and Bomb Squad, worked out of a private office building designated the Personnel Improvement Bureau. Although intended originally as a guard force, the unit soon began screening military personnel and applicants for federal jobs. In addition, Van Deman organized an extensive counterespionage unit within the Army itself, with agents reporting directly to the MIS on suspected disloyalty and subversion in the ranks. To supplement this work, Van Deman created a new military organization, the Corps of Intelligence Police, which soon grew to 250 agents, including 23 former policemen from the New York field office of the Personnel Improvement Bureau.
More problematically, Van Deman established a parallel branch, MI-4, to conduct what he termed "counterespionage among the civilian population." The legality of the Army investigating civilians was dubious at best, and Van Deman commissioned a prominent New York attorney, George S. Hornblower, into the ranks to serve as general counsel for the MIS domestic spying program. Operating under the questionable premise that "the misbehavior, disloyalty, or indifference of native Americans is as important a material of military intelligence as any other," MI-4 was tasked with investigating labor unrest in the West, racial disturbances in the South and Southwest, and supposed foreign agitation in eastern cities with large immigrant populations. Field offices were established in New York City, Philadelphia, St. Louis, Seattle, Pittsburgh, and New Orleans. To help with the investigations, Van Deman turned to the American Protective League and its brother organization, the Plant Protective Service. Another special unit, MI-10, dealt with censorship of prisoner of war mail, telegraph and telephone lines, radio activities, books, newspapers, and motion pictures.
Van Deman's very success in expanding MIS proved to be his undoing. In August 1918, the new Army Chief of Staff, Maj. Gen. Peyton C. March, ended MIS's subordinate role as a section of the War College Division and made it a separate division of the General Staff. Army policy required the director of a General Staff division to be a brigadier general, and Van Deman was still a colonel. He was relieved of his command and transferred to the American Expeditionary Force in France, where he was given the job of roving consultant for American and Allied intelligence officers. The grandiloquently named Brig. Gen. Marlborough Churchill was appointed his successor.
After the First World War
After handling security for the American delegation at the Paris Peace Conference in 1919, Van Deman returned to the Philippines as commander of the 31st Infantry Division. He held various other commands before retiring from the Army in 1929 at the rank of major general. Settling in San Diego, he started a private counterespionage organization staffed by a number of men from the old APL. In time he was able to gather private information on almost 100,000 people, information he shared with both the FBI and the Office of Naval Intelligence. He also assisted the Los Angeles Police Department in rooting out suspected communist sympathizers among the general populace.
During World War II, Van Deman returned to Army intelligence, working with the War Department in a still-classified position. For his unpublicized services, he was awarded the Legion of Merit in 1946. The "father of military intelligence" died in 1952 at the age of 81, his legacy shrouded in secrecy and tainted by civil-rights abuses stemming from his investigation of private citizens during World War I.