By Peter Suciu
For centuries, battalions of enthralled boys—and not a few grown men—have enjoyed playing with toy soldiers. By the end of the Victorian era, these toys included highly detailed three-dimensional soldiers made of lead and accurately painted in the colors of the various armies that would soon engage each other in a European War that engulfed the entire world. In the years between World Wars I and II, toys became cheaper to make. Consequently, more and more children could enjoy playing war with small soldiers.
The introduction of plastics changed forever the imaginary battlefields of play. In 1962 an American icon was born. Conceived originally as a tie-in for the television show The Lieutenant, a self-described "doll for boys" was the brainchild of Stanley Weston, who went on to sell the idea to Hasbro for a lump sum of $100,000—giving up untold millions of dollars in royalties in the process. Based on an artist's multijointed mannequin, the gender-delicate issue of a boy's doll had to be addressed, and Hasbro executives decided to market Weston's idea as a "movable soldier" or action figure. Since it wasn't possible to trademark the human body, the figure was given an identifying scar down the right cheek. The figure stood 111/2 inches tall (1/6th human scale), in part because Mattel's wildly popular Barbie was the same height and it just seemed right. The name "GI Joe" was already in the common lexicon as a synonym for an American soldier, and a famous brand name was born.
Hasbro consulted military manuals and produced almost every existing uniform for the four branches of service before GI Joe made his debut in 1964. Joe signed up for the Army, Navy, Marine Corps, and Air Force, with each branch represented by an action figure. Joe came complete with uniform, hat, dog tag, patches, and even a field training manual. Soon the new toy was sweeping America.
Originally selling for $4, today an original GI Joe complete with the packaging can fetch a hundred times that much. Numerous accessories, including everything from uniforms and equipment to a cot so that Joe could catch some sack time, sold from $1 to $5 and today remain highly sought after by collectors. "A whole generation of kids played with GI Joe for their military and backyard adventures," says Tom Bartsch, editor of Toy Shop magazine. "I liken it to an old blanket. Many of us like to hang onto old, familiar things."
GI Joe may have stood about a foot tall, but he didn't stand still—the line continually evolved. The first African American GI Joe was introduced in 1965, along with the popular GI Joe Footlocker, an item as prized today as the actual figures. In 1966 the fun really began as GI Joe went international. First, a Green Beret Action Soldier was introduced, allowing Joe to join the elite special forces. That same year, Hasbro also introduced a new line, Action Soldiers of the World.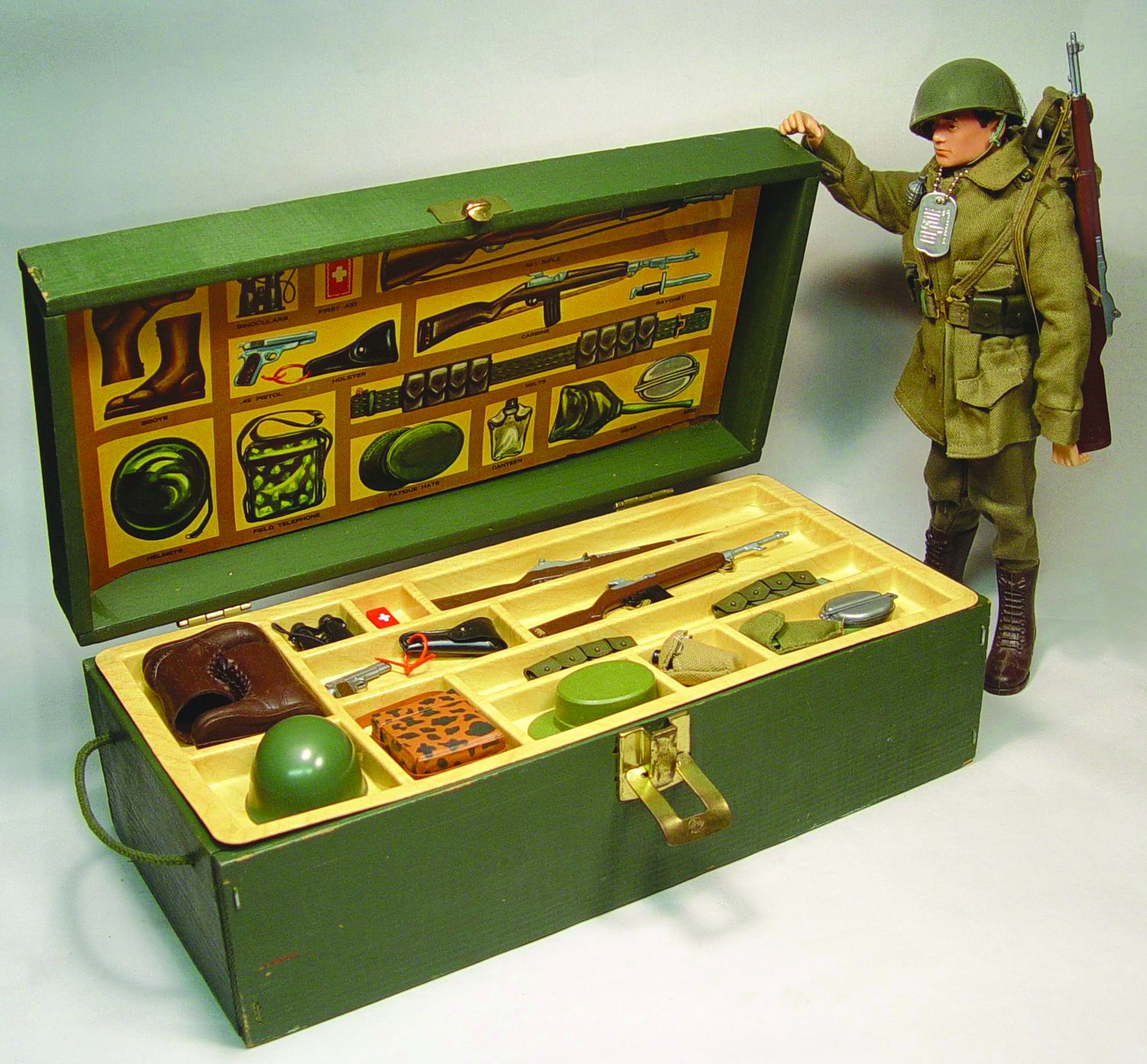 Throughout most of the 1960s, GI Joe was a real American hero, but he didn't have an easily recognizable enemy to confront. That changed when Hasbro introduced the GI Joe Combat Series, with figures sporting World War II uniforms. There were six figures in all, including soldiers from Germany, Japan, Russia, France, England and Australia. None of the uniforms were as accurate as Joe's American garb, but for its time the gear was fairly detailed and authentic. Today these are among the most desirable and hard to obtain figures in the GI Joe line.
Ironically, while GI Joe would continue to remain popular, his days as a soldier were actually limited. The series saw a number of updates, including the release of numerous accessories including a jeep, helicopter, and even a space capsule during the late 1960s. The one flop, however, was the GI Nurse. Popular with neither boys nor girls, the figure originally sold for $8. It has since gone on to become worth more than $3,000 in the original packaging.
By the 1970s, GI Joe was no longer a member of the U.S. military. He still sported military-style uniforms, carried a rifle, and looked like a soldier, but with the unpopular Vietnam War waging, it didn't make good marketing sense to continue to keep Joe in the Army. Thus the GI Joe Adventure Team, or A-Team, was born. This is also when Joe went from plastic painted hair to fuzzy "lifelike" hair. These figures, while less desired by collectors, have still jumped in price when offered in their original, unopened packaging. Large-scale accessories and some of the biggest vehicles arrived at this time. "GI Joe came with some great play sets and accessories for the time," notes Bartsch. "Having a vehicle is very powerful with action figures. A lot of the figures today are extremely detailed, articulated, and hold enough accessories to field their own army. But can they ride in anything? Do they battle sharks? That's why GI Joe still endures."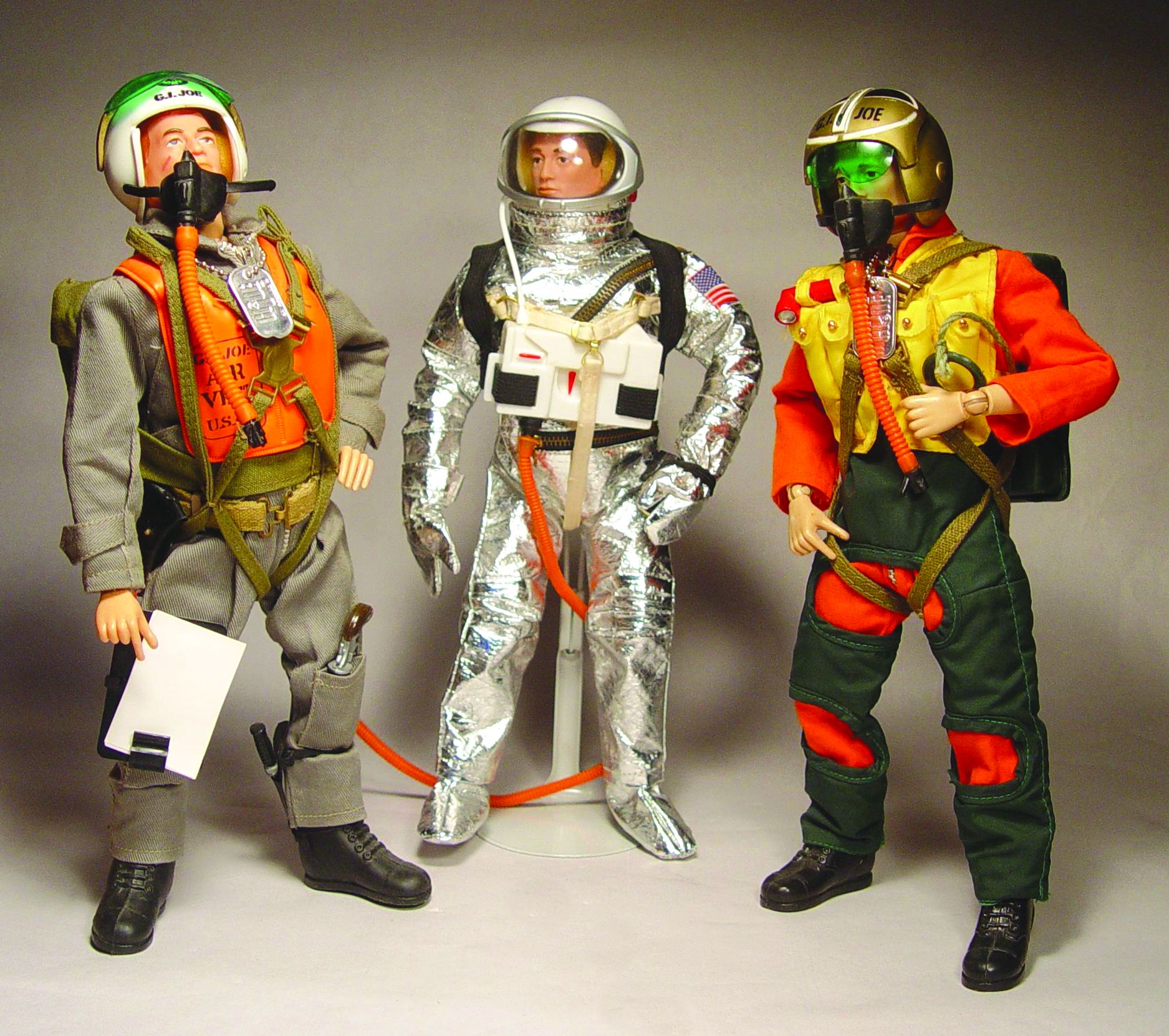 Anyone growing up in the 1970s will likely remember the "Kung Fu Grip" that was also added to Joe. Flexible rubber fingers on his hands allowed for more realistic gripping of weapons and objects—at least until the fingers eventually snapped off. A number of accessories were introduced throughout the early 1970s, including more vehicles and play sets. Joe even acquired "invader from space" rivals known as the Intruders. These caveman-like figures were a little hokey, but it was an attempt to offer new challenges to Joe when there was no ongoing war to fight. Hasbro tried to keep pace with other action figures, including such strange superheroes as Bulletman, the human bullet, and Atomic Man, no doubt to cash in on the popularity of TV's Six Million Dollar Man.
But even these superheroes couldn't counter the biggest threat to the 12-inch action figure, namely the energy crisis. As petroleum was the main raw material for plastics, the sudden increase in prices made it almost impossible for Hasbro to continue to produce large-scale figures and still make a profit. The result in 1977 was a new line of smaller figures, called the Super Joe Adventure Team, which stood 81/2 inches tall. The line only lasted two years, as fans weren't too excited about these replacements. It was also the year that a little film called Star Wars hit the box office and changed action figures forever. The success of Star Wars as a movie was only surpassed by Star Wars as a cultural (and marketing) phenomenon. And while there was an attempt to launch a 12-inch line of Star Wars figures, the real popularity was the 33/4-inch figures, which set a new standard for action figures. It allowed kids to have more figures, more vehicles, and more play sets.
In 1981, after a four-year break, GI Joe was back with the support of a comic book and eventually a 30-minute animated series that was essentially little more than an extended commercial for new toys. A feature-length film in the late 1980s reaffirmed that GI Joe was not only an American hero but also an American icon. Like other, smaller scale figures, Joe had an enemy to fight in the form of terrorist organization Cobra, and plenty of new vehicles and play sets. Most of these figures and accessories were true kid's stuff, with little interest for serious collectors. While there is a slight market for the smaller figures today, the hardcore collectors still gravitate to the larger Joes.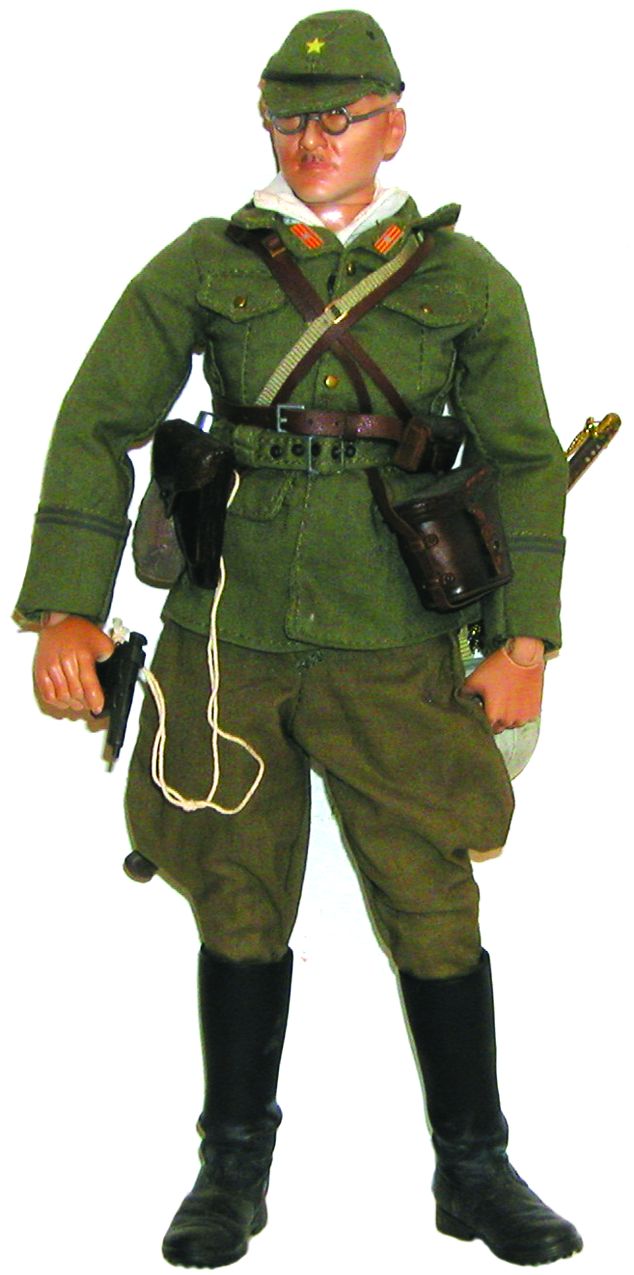 In 1991, GI Joe was again ready for action as a full-size, 12-inch figure, and Hasbro continues to produce both large and small-scale figures. Throughout the 1990s, these included special editions of World War II figures such as the Tuskegee Airmen and a D-Day Ranger. But GI Joe soon found himself facing a new enemy, and after this Hasbro's line would truly be deemed kid's stuff.
Hasbro had always had competition from rival action figure manufacturers. By 1998, these rivals included such new players as 21st Century Toys and Dragon Models of Hong Kong. GI Joe's enemy remained the fictional Cobra, and Hasbro shied away from introducing any German or Japanese figures aside from a few "classic" figures such as a Luftwaffe pilot. Several new companies decided to fill that void. Among the first was 21st Century Toys, which produced a line of World War II action figures that included American, German, Russian, and British figures, later adding Japanese soldiers and eventually covering the Vietnam War and modern conflicts. These 12-inch figures were available in both boxes and blister packs, with the boxed versions being the most popular with collectors. Compared to the previous international offerings from Hasbro, these were a major leap forward, with the soldiers featuring authentic details of insignia and weapons. Like Hasbro, 21st Century Toys removed any actual swastikas from the German insignia and vehicles, no doubt to make the product more appealing to mass retailers, such as Toys R Us, who might have otherwise refused to carry the toys. While an improvement over the more generic GI Joe, these were still more toys than collectibles, although some of the early offerings such as the British paratrooper have become sought after by collectors.
It was the introduction of Cotswold's Elite Brigade that really moved the 1/6-scale action figures forward. These figures featured even more detailed and authentic uniforms than those from 21st Century Toys, but unfortunately some of the figures had the look of mannequins rather than fighting men. However, the range of Cotswold's figures was impressive, extending from the Napoleonic Wars and the American Civil War to World War II. Since 1997 the company has released dozens of figures, while also selling uniforms separately. Cotswold actually began by selling vintage GI Joes, before realizing that collectors were interested in new figures that were more detailed and realistic. Several new companies would soon fill this void.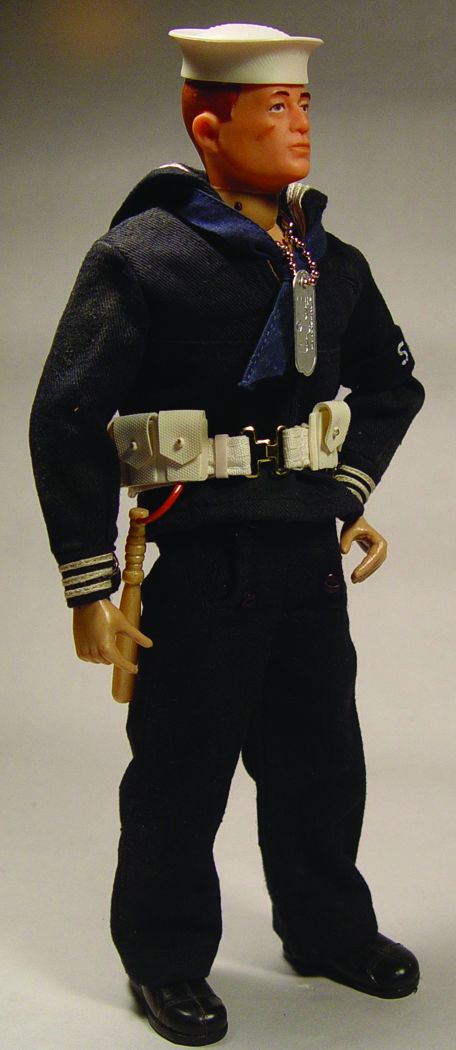 For serious collectors, the definitive military action figures come from Dragon Models of Hong Kong. This company, which had been producing scale models, entered the action-figure competition in the late 1990s, and from the beginning it was clear that these weren't your father's GI Joes. Dragon's figures took sculpture up a notch, providing better facial details and even haircuts appropriate to specific nations. Overall, the figures were improved, and the details in equipment and insignia (including medals and awards) were a major leap forward. For collectors, these remain an excellent alternative to finding unique uniforms, even if only in 1/6 scale.
Since its introduction almost 10 years ago, Dragon has released more than a hundred figures, with an emphasis on the main forces of World War II, including the German Army as well as the SS, along with a few Luftwaffe and naval troops as well. Dragon Models made sure to represent the British, Americans, and Russians, with a range of troops filling their ranks. Likewise, the company branched out with modern forces from the Korean War and Vietnam. One area in which Dragon has led the way is by producing historical figures. Notables include German Field Marshal Erwin Rommel and SS Commando Otto Skorzeny. Likewise, a line of unofficial movie tie-ins has featured the likenesses of characters from such classics as Kelly's Heroes, Cross of Iron, and Hart's War. These figures are never out long—in part to avoid legal entanglements—and as a result are among the most desirable of any of Dragon's 1/6-scale figures.
With each passing year, Dragon has managed to introduce figures from more diverse units and improve existing items. The helmets now feature miniature liners, while the weapons often have removable magazines, and wood has begun to replace plastic in the stocks. All of these details are designed to appeal to the collector, but Dragon isn't alone in that market, either.
Several other companies—Blue Box/bbi (also of Hong Kong), Sideshow Toys, From the Past Toys, and Drastic Plastic—have released lines of historically accurate 12-inch figures. While WWII remains the most crowded era, many other periods are also being covered. Sideshow Toys, for example, has steered away from World War II and focused instead on American Civil War and World War I figures. The craftsmanship of each has been well received by collectors.
From the Past Toys went a different direction, releasing a line of figures that some might consider to be in bad taste. These include War Criminals of the 20th Century, with notables like Adolf Hitler, Heinrich Himmler, and Reinhard Heydrich available in figure form, as well as a range of SS figures, complete with early black uniforms and the special ultra-formal SS figures. No longer available on the mass market, these figures have become almost impossible to find.
Rival Drastic Plastic also released a Hitler figure, but as part of a Leaders of World War II series that included Franklin Delano Roosevelt, complete with wheelchair. The series was to have included Winston Churchill, Josef Stalin, Hedeki Tojo, and Benito Mussolini—which might have given Dragon's Otto Skorzeny someone to rescue during playtime—but unfortunately the company changed direction, and only Hitler and FDR were actually released. As a result, these figures have become extremely rare among collectors, who consider the Drastic Plastic version of Germany's dictator the most authentic.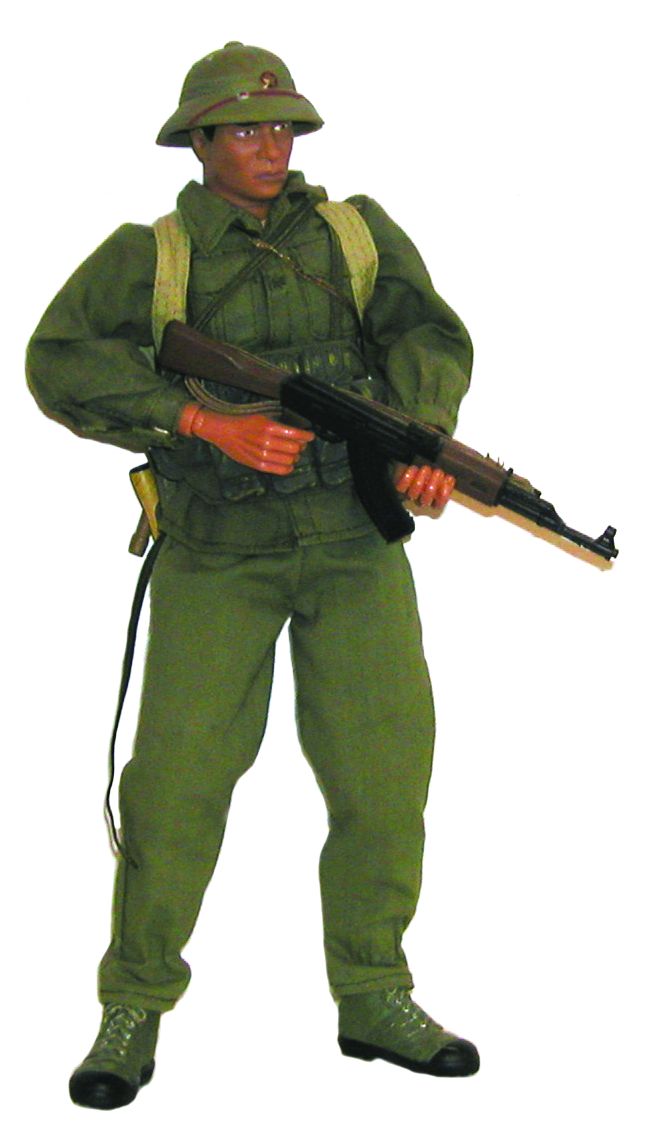 With the continued "recruitment" of unique figures, it seems that collectors will always have something new. Many of these are from units whose real uniforms would be a pipe dream, even for advanced collectors. At this year's New York North American International Toy Fair, Dragon Models and Blue Box Imports unveiled the next wave of troops for collectors. These include a Russian Cossack volunteer to the SS, and even Italian paratroopers to join their German allies.
It remains to be seen if the various companies can continue to turn out high-quality products. After nearly a decade, the 12-inch space is beginning to show a little bit of a downturn, possibly due to the ongoing conflict in Iraq. "War is not a good time for war toys," says Tina Windeler, president of Cotswold Collectibles, whose company has released its own Elite Brigade as well as selling vintage GI Joes. She agrees that this mirrors how GI Joe changed from soldier to adventurer during the Vietnam War, adding, "We always heard from Hasbro that was why GI Joe changed."
Windeler doesn't see a major shift, just a slowdown even as new players continue to enter the market. And like GI Joe, this could be the beginning of smaller scales, with 1/18 and 1/12 varieties coming on strong. Numerous smaller products continue to come from 21st Century, Dragon, and Plan B Toys (which has introduced figures tied to the World War II video game Call of Duty), but collectors will likely continue to be drawn to more detailed, larger scale figures. Whether it is GI Joe or one of the hundreds of Dragon figures, the 1/6 scale trooper is still ready for duty with collectors. "The quality is so much better," says Rick Berry of the Michigan Toy Soldier Company, whose store has carried the 12-inch figures for years. He notes that many baby boomers owned the old GI Joe figures as kids, and with the renewed interest in WWII over the last decade, this has fueled the interest in the figures. "I deal with collectors of one kind or another almost exclusively and it seems to always hold true," says Berry. "We collect what we had when we were kids."