By Christopher Miskimon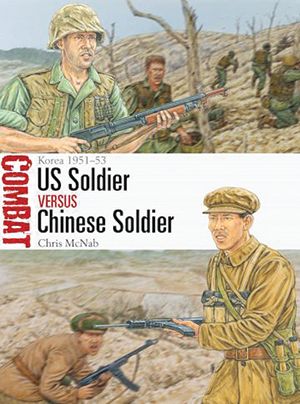 The entry of Chinese troops into the Korean War took UN forces by surprise. Hundreds of thousands of Chinese soldiers attacked American units, pushing them back and in some cases encircling them. This happened at the Battle of Chipyong-ni, known to historians as the "Gettysburg of Korea" dues to its importance to the course of the war. Once the lines stabilized, battles such as Triangle Hill and Pork Chop Hill tested each side's ability to take and hold ground as peace negotiation dragged on. Each army possessed experienced, skilled leaders and while the Americans could mass firepower, Chinese troops were disciplined and could endure hardships both in and out of combat.
Osprey excels at producing compact volumes which nevertheless inform the readers of the essentials of their topic. This new work is in their Combat Series, comparing historical opponents in various conflicts, and reveals the reality of these two combatants of the Korean War. The author deftly reveals both side's strengths and weaknesses and show the Chinese were capable of more than simple human wave attacks while their American opponents learned to fight in difficult terrain, often without armored support. The book has several pieces of original artwork and is liberally illustrated. Good maps accompany the accounts of the three battles chosen to show how each side fought.
U.S. Soldier Versus Chinese Soldier: Korea 1951-53 (Chris McNab, Osprey Books, Oxford UK, 2022, 80 pp., maps, photographs, bibliography, index, $22, softcover)