By Flint Whitlock
Whenever I look at names on a war memorial, I can't help but wonder about who those people were, what they looked like, what kinds of lives they led, and the circumstances of their deaths. Almost always, however, the memorial gives me none of that. The fallen are just anonymous names carved in stone.
In early 2013, while visiting family in Ithaca, New York, I took the opportunity to visit Cornell University. I had heard that the school has a breathtaking, Gothic-style memorial in Anabel Taylor Hall dedicated to the over 500 Cornell students and graduates who died during World War II. Moreover, I had heard that the Cornell library had all the records pertaining to the creation of the Roll of Honor and information about the people whose names are on the memorial. These records are contained in several large file boxes, and I obtained permission to go through them. I decided to pull out one file at random and share with you what I learned.
John Harding "Jack" Coyne, Class of '42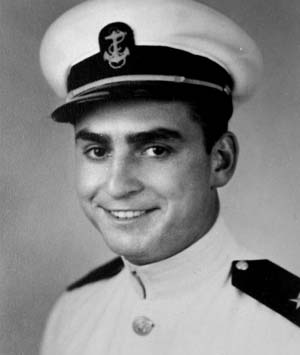 The file I studied was that of John Harding "Jack" Coyne, Class of 1942. Born in 1920 in Evanston, Illinois, Jack Coyne was quite the well-rounded Cornell student. He majored in hotel administration, played junior varsity football, and managed the freshman baseball team, and was a member of the Chi Phi fraternity. From his Navy photo, Coyne had a broad face with an engaging smile.
Jack Coyne did not wait to graduate. In October 1941 (his senior year), he left college and joined the Navy, where, in November 1942, he entered flight training and earned his pilot's wings and ensign's bars. He was promoted to lieutenant (junior grade) on January 1, 1944, and assigned to the Naval Auxiliary Air Station, Green Cove Springs, Florida, and later trained in fighter squadron operations at the Norfolk (Virginia) Naval Air Station. He then became an instructor at the U.S. Naval Air Station in Miami, Florida, before being assigned to the escort carrier USS Tulagi operating in the Mediterranean Sea in support of Operation Dragoon––the invasion of southern France.
Hellcats Toward Nimes
Doing further research about Coyne on the American Veterans Center website, I learned that he served with Squadron VOF-1 as a pilot and wing leader. During the week following the start of Operation Dragoon, VOF-1 flew 68 missions and 276 sorties and inflicted considerable damage on German targets ashore, including gun emplacements and railway facilities.
The history said that on August 21, 1944, Tulagi's last day in support of Dragoon, "German forces were in retreat before the Allied thrust. Strafing Flight #63, consisting of eight F6F-5 Hellcats, took off at 13:15 from the deck of the USS Tulagi and were successful in their assigned attack on a fleet of four barges on the Rhône River."
Six Hellcats, including Coyne's, then headed toward Nimes, France, strafing several convoys of German trucks along the way. The planes then turned north in the direction of Sainte-Anastaise and hit another 100 trucks on the highways; the attacks snarled the roads for miles in every direction.
The history continued, "Northwest of Nimes they strafed a train and left its locomotive disabled with clouds of steam escaping," and Coyne's men "crowned their achievements of the day by downing three Junkers Ju-52 transports."
The weather started to close in and Coyne's wing turned south, toward the Mediterranean and the Tulagi. But Coyne never made it back.
At about 2:20 pm, while strafing another convoy, Coyne's Hellcat was hit by groundfire and exploded in the air, and he bailed out at about 600 feet above the Panissieres Woods, near the town of Sainte-Gervasy. His parachute opened but he did not survive the fall; his body was found by a French hunter nine days later. Lt. (j.g.) Jack Coyne was buried with full honors at épinal American Cemetery, in the Vosges region of northeastern France, Plot A, Row 27, Grave 60.
Building the Cornell War Memorial
(Fifty-six years later, on September 14, 2002, another memorial—this one specifically for Jack Coyne—was dedicated in the town square of Cabrières, France. Attending the ceremony were members of his family, an American delegation, a French general, and the townfolk of Cabrières. The family was presented with a part from Coyne's downed plane, a fragment of his cockpit windshield, and a piece of his parachute cord.)
When the idea of creating the memorial began immediately after the war (there is also a memorial to 264 deceased Cornellians from World War I on the West Campus), the school administration sent letters to the families of those who had died, requesting a photo of the deceased and asking for pertinent personal information.
On October 15, 1945, Edmund E. Day, Cornell's president from 1937 to 1949, wrote to Lieutenant (j.g.) Coyne's father:
"It is with a profound sense of gratitude and humility that we realize how much we owe men like him….
"We have not yet decided upon the form that our War Memorial will take, but we shall see to it that the names of Cornellians who gave their lives in the war will be preserved for all time on this campus, in order that future generations of our students may be reminded of the things these men stood for."
May I suggest, dear reader, that if you have the chance to learn more about the identities of the "anonymous" names on war memorials, you avail yourself of that opportunity. It can be an instructive, sobering exercise, one that truly personalizes the cost of war and the measure of heroism.