By Michael D. Hull
No Allied field commander in World War II shouldered such heavy burdens, with so few resources and over such a wide area, as did British General Archibald P. Wavell in the winter of 1940-41.
The 57-year-old Black Watch Regiment veteran of the South African War and World War I led all British land forces in Egypt, the Sudan, Palestine, Trans-Jordan, Cyprus, Aden, Iraq, British Somaliland, and on the shores of the Persian Gulf. His Middle East Command was responsible for an area measuring 1,800 miles by 2,000 miles that included nine countries and two continents.
When Italy entered the war in June 1940, "Archie" Wavell's 40,000 British and African troops found themselves vastly outnumbered—sandwiched between almost 200,000 Italians and Libyans on the western side and 250,000 on the eastern.
With the loss of 260 men, the British inflicted an estimated 2,052 casualties on the Italians in Somaliland but withdrew. When Prime Minister Winston Churchill protested, Wavell replied that Major General Alfred R. Godwin-Austen's troops there had fought well and hard, adding, "A big butcher's bill is not necessarily evidence of good tactics." Churchill was almost dumb with fury, and Wavell was assured of a frosty relationship with him.
General Wavell retained an aggressive instinct and proved adept at moving forces from one front to another. After stalling Italian advances, he went on to direct stunning victories during the winter of 1940-41—first in the Western Desert where, Lieutenant General Richard O'Connor's "five-day raid" led to the virtual destruction of the Italian Tenth Army in Cyrenaica, and then in Ethiopia and Eritrea, where regular and irregular forces under Major General Alan Cunningham, Lieutenant General William Platt, and Major Orde Wingate forced the Italians to capitulate. With no more than two divisions at any given time in Cyrenaica, O'Connor had advanced 500 miles, routed 10 enemy divisions, and captured 130,000 prisoners, 400 tanks, and 1,200 guns.
One of the best British generals in the Western Desert before his capture, the bantam-sized O'Connor defeated the Italians at Sidi Barrani in December 1940, stormed Bardia and Tobruk in January 1941, and destroyed the remains of the Italian forces at Beda Fomm the following month. Wavell's "Operation Compass," a large-scale raid on the rear of the Italian positions along the Sidi Barrani line, when O'Connor's 30,000 men faced 80,000 of the enemy, was lauded by military observers.
The desert actions from December 7, 1940, to February 7, 1941, revealed Wavell's outstanding generalship, revived British confidence in the aftermath of Dunkirk, and facilitated the passage of Lend-Lease legislation in the U.S. House of Representatives on February 8, 1941. The Middle East Command gained worldwide fame, but it was afforded little time to rest on its laurels.
The area of responsibility grew even wider and more critical when Wavell reluctantly supported the dispatch of a large contingent of his best British and Commonwealth troops to the ill-fated Greek campaign. This prevented him from exploiting the gains made by O'Connor.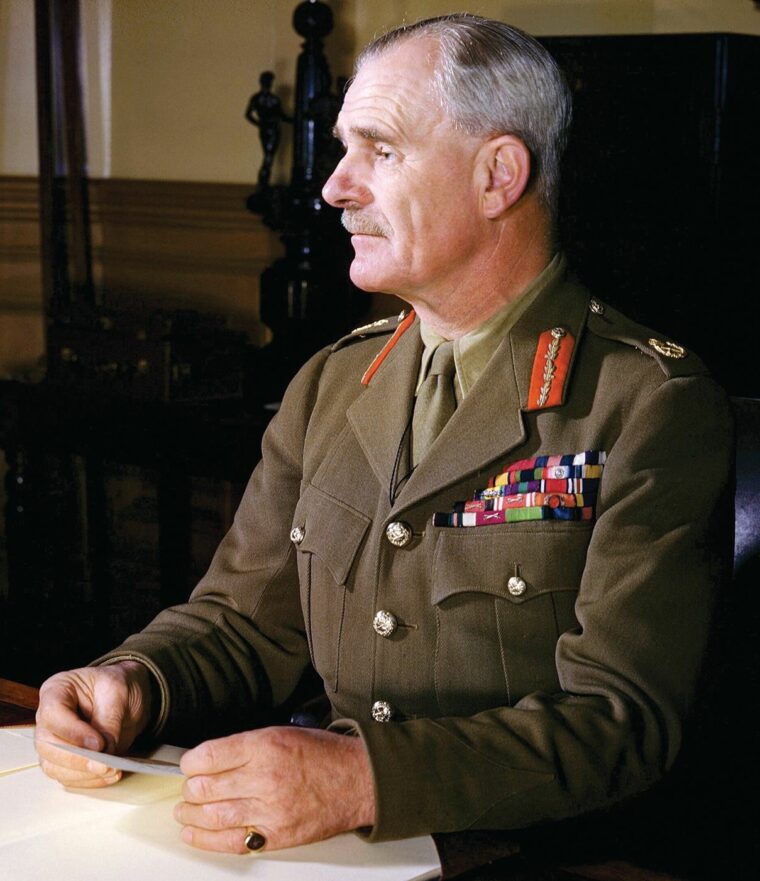 As General Erwin Rommel's Afrika Korps seized the initiative in the Western Desert, British forces were bundled back to the Egyptian frontier and three generals were taken prisoner. In two months, Rommel captured most of the territory taken in Wavell's first campaigns. The evacuation from Greece was carried out successfully, but the battle for neighboring Crete, led by New Zealand's Major General Sir Bernard Freyberg, developed into a costly series of failures and mishaps.
Meanwhile, on Churchill's orders and much against his will, Wavell was obliged to send forces into Iraq and Syria. Amid these distractions, which were "too major to be dismissed as mere sideshows," Wavell had to plan his own offensive in the desert. Few generals in history have faced more daunting challenges.
Throughout his years in command, Wavell never had adequate resources for what he was called upon to do. His situation from March to June 1941, with simultaneous crises on his western, northern, and eastern fronts, and with no reserves in hand, was undoubtedly the most challenging ever faced by a higher commander. At one point, he was conducting five campaigns simultaneously.
The prime minister had grown increasingly impatient with British defeats in the early years of the war—from France to Norway to the Middle East—and he pressed for victories to shore up morale on the home front.
With Churchill continuing to badger him, he received some reinforcements, including new Matilda and Cruiser tanks, and launched the ambitious "Operation Battleaxe" in June 1941. The aim was to relieve the besieged port of Tobruk and destroy Rommel's forces. But neither objective was achieved. While many Italian units had fought gallantly, the Afrika Korps was a more formidable foe, able to devastate the British with its superior armor and deadly 88mm flak guns.
When he received word of the failure of Operation Battleaxe, Churchill roamed disconsolately at his home in Chartwell, Kent, and the hapless Wavell was inevitably sacked. On June 22, the day that German armies invaded the Soviet Union, the officer who had built a reputation as the British Army's "most inspiring tactical leader" was dismissed as Middle East commander. Awarded the GCB (Knight Grand Cross of the Order of the Bath), he was denied a requested leave and ordered to replace General Claude J. Auchinleck as commander-in-chief of the Indian Army. While Wavell flew to India to "sit under the pagoda tree," Auchinleck took command in the Middle East.
A brave soldier and enlightened commander, Wavell provided early victories when Britain desperately needed them, but he was then overwhelmed by circumstances far beyond his control. He had resoundingly defeated the Italians in the Western Desert but simply did not have the manpower, weapons, and supplies needed to overcome Rommel's vaunted Afrika Korps.
Born May 5, 1883, in Colchester, Essex, Archibald Percival Wavell was the son, grandson, and great grandson of generals. After attending the Summer Fields preparatory school at Oxford, he won a scholarship to the army class at historic Winchester (Hampshire) College in 1896.
The studious Archie developed an abiding love for literature and the classics. He would one day become the only general known to have compiled a best-selling anthology of poetry, Other Men's Flowers.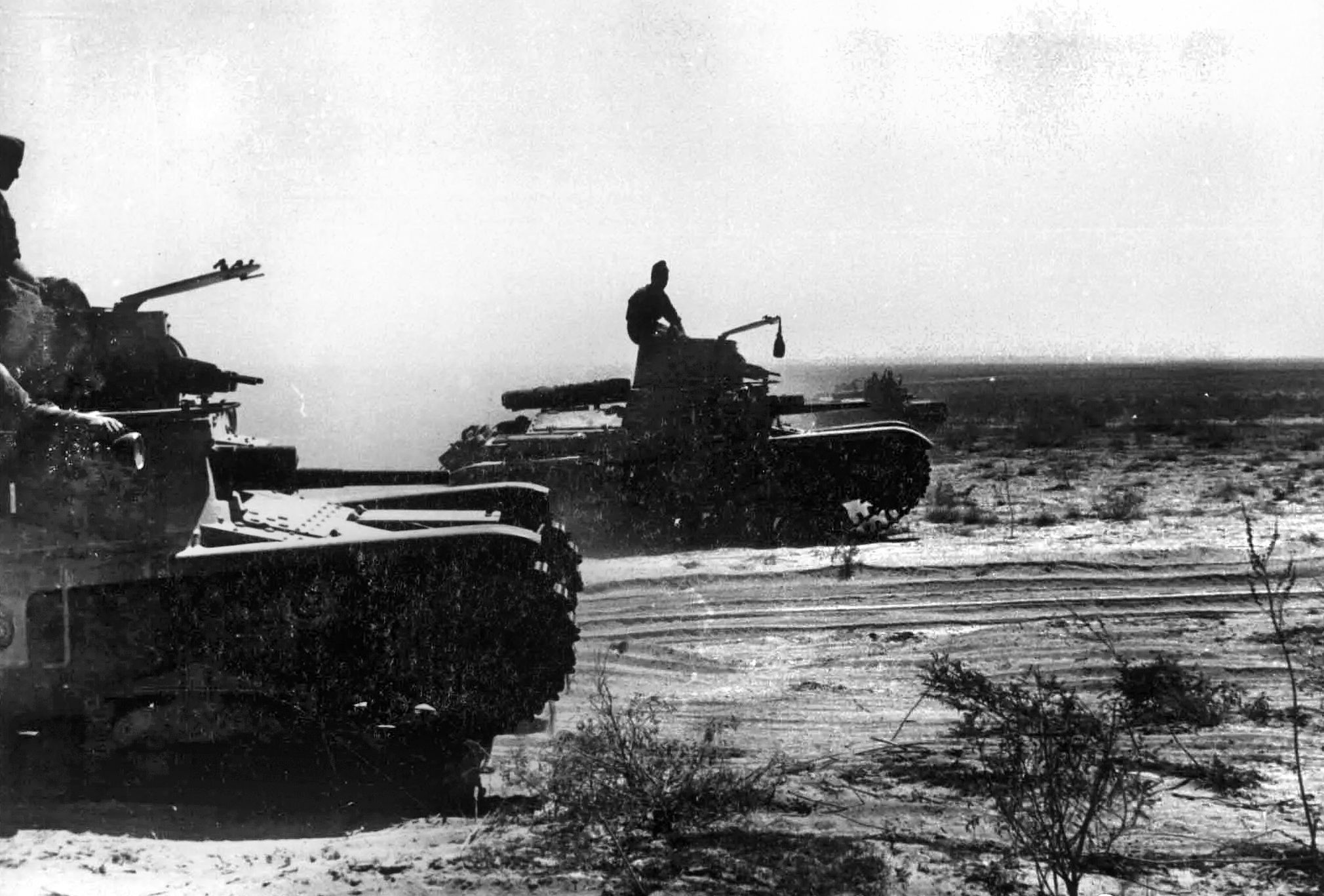 In August 1900, Archie passed fourth into the Royal Military College (later the Royal Military Academy) at Sandhurst and passed out at the top of his class on May 8, 1901, three days after his 18th birthday. His course was shortened dramatically because of the demands of the Boer War. Archie was commissioned a second lieutenant in the famed Black Watch, his father's regiment, and sailed four months later to South Africa. He joined the 2nd Battalion that September, just in time to see service in the waning Boer War.
Wavell was posted to India in 1903, took part in skirmishes against fierce Pathan tribesmen on the rugged North-West Frontier, and was promoted to lieutenant in April 1904. He soldiered in India until January 1909 when he entered the Staff College at Camberley, Surrey.
Two months after leaving Camberley, the subaltern was posted to Russia as a language student. He lived in Moscow, was attached to military units, and observed maneuvers during his year in Russia. On returning to England, he was irritated to find himself assigned to the Russian section at the War Office. Wavell waited for an opportunity to escape and was promoted to captain in March 1913.
The fateful following year saw the outbreak of World War I and the ambitious officer's chance to flee from the War Office confines. In November 1914, three months after the British Expeditionary Force crossed the English Channel, Archie Wavell followed and was appointed a brigade major in the 3rd Infantry (Iron) Division. He was assigned to the general headquarters staff in France and Belgium.
Wavell was a popular and respected officer. His subordinates and fellow staff officers adored him, and, because he had no airs or graces, was able to "get through" to the enlisted men. He shunned "chateau generalship" and spent as much time as he could in the front lines.
On the Western Front, and throughout his career, Wavell emphasized the importance of discipline and ceremonial drill while caring deeply for the welfare of the men under him.
Wavell married Eugenie Marie Quirk, a colonel's daughter, during a leave in April 1915, and soon returned to the front. In the grim, muddy trenches of the Ypres Salient in Flanders, he tried to improve conditions for the troops. He was calm under fire and refused to be rattled in any situation. Wavell made many reconnaissance sorties and tried to strengthen his brigade's position. Late on June 16, after a divisional attack on Belwaarde Ridge, the officer was making his way back to brigade headquarters through a German barrage when he was wounded, losing his left eye to a shell splinter. He was immediately awarded the newly created Military Cross for gallantry. After recovering from his wounds, Wavell went back to GHQ in France and Flanders.
The major served for 10 months in the Caucasus as a liaison officer to Grand Duke Nicholas and left Russia in April 1917. Wavell was promoted to brevet lieutenant colonel that June and then was posted to the Middle East as liaison officer between the War Office and the Egyptian Expeditionary Force. He later served as chief staff officer to Lieutenant General Sir Philip Chetwode's 20th Corps during General Sir Edmund Allenby's successful campaign against the Turks in Palestine in 1917-18. Wavell entered Jerusalem and advanced to Damascus at the side of Colonel T.E. Lawrence, the legendary leader of Allenby's irregular Arab forces. Wavell stood up to Allenby and admired him. He adopted the "Bull" as his career model and eventually wrote three books about him.
After serving briefly on the staff of the Allied Supreme War Council at Versailles early in 1918, Wavell rejoined the 20th Corps general staff in Palestine. He reached the rank of brigadier general by the end of the war but reverted to colonel after the armistice. After serving with the 2nd Battalion of the Black Watch in the Rhineland in 1920-21, Wavell spent five years in the adjutant general's and operations sections at the War Office.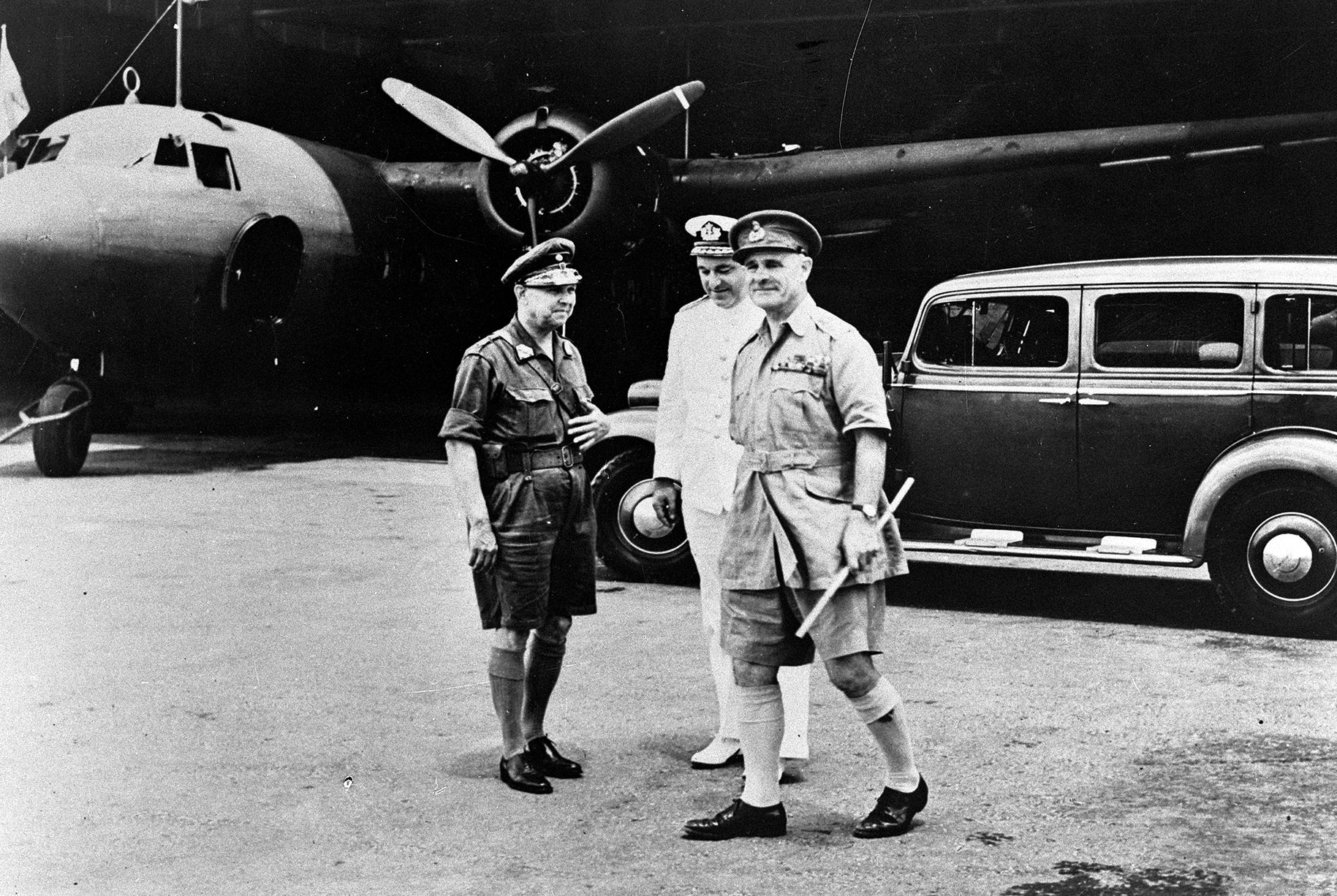 After serving on the staff of the 3rd Infantry Division on sprawling Salisbury Plain in Wiltshire, Wavell received a series of progressively more responsible assignments. While commanding the 6th Infantry Brigade at Aldershot, Hampshire, from 1930 to 1934, he reached major general rank and again went on half pay. He assumed command of the 2nd Infantry Division in March 1935 and was awarded the CB (Commander of the Order of the Bath).
As the British Army struggled under threadbare budgets to modernize during the early 1930s, Archie Wavell turned away from the War Office diehards who still saw a future for horse-drawn transport and cavalry. Though hesitant at first, he became a staunch advocate of mechanization, particularly armor, along with such visionaries as Sir Basil Liddell Hart, Major J.F.C. Fuller, and Major General Percy C. Hobart.
After attending Soviet Army maneuvers in 1936, General Wavell was ordered to a Middle East hot spot. In August 1937, he took command of British troops trying to keep order in Palestine and Trans-Jordan during an Arab rebellion.
After six months' service, Wavell returned to England early in 1938, was promoted to lieutenant general, and was appointed COG of the key Southern Command. Wavell's tour of duty in Southern Command was brief, and he was off to the Middle East again shortly before the outbreak of World War II. He was promoted general, awarded the KCB (Knight Commander of the Order of the Bath), and appointed to the new post of GOC Middle East in July 1939. He arrived in Cairo on August 2. His post was upgraded to Middle Eastern commander-in-chief the following February.
Less than two years later, after he had struggled—with some brilliant initial success—against overwhelming odds and with scant resources to prevail against the Axis forces in the Middle East, Archie Wavell was ousted. He was Churchill's scapegoat and a victim of one of his own weaknesses; he had not been ruthless enough with underperforming subordinates. Before breakfast at his house in Cairo one June morning in 1941, his devoted chief of staff, Lieutenant General Sir Arthur Smith, brought in a telegram announcing that Wavell was to exchange appointments with Auchinleck.
Wavell set off for India on July 7, visiting Iraq on the way. Another hopeless situation faced him as war clouds were gathering in the Far East. He was appalled at the state of defenses in India, where there were only obsolete fighter planes, no modern tanks or armored cars, and only 30 antiaircraft guns. Meanwhile, he set about expanding the Indian Army, which grew to 2.5 million in 1945, and sending trained units to combat theaters. During 10 days of talks in London, Wavell pointed out the extreme weakness and urged vainly that Burma's defense should be tied to India rather than Singapore.
Wasting no time in assessing the imminent Japanese threat and calling for resources to meet it, he reported that Singapore was "very far from being keyed up to war pitch." He appealed for armor and antiaircraft guns, and for Burma to be placed under his command. He received a half-hearted promise of tanks. Wavell's question about Burma's defense was not acknowledged. It was not until a December 12 signal from Churchill that Wavell was given responsibility for Burma. By then, Japanese forces had struck without warning at British and American bases from Pearl Harbor to Malaya to the Philippines.
On December 30, Wavell learned from Churchill, then on a three-week stay in Washington, of the formation of ABDA, a supreme Allied command in the Southwest Pacific comprising all American, British, Dutch, and Australian forces. Told that the Americans had proposed him as its commander, Wavell cabled ruefully to Field Marshal Sir John Dill, new head of the British military mission in Washington, "I have heard of being handed the baby, but this is quadruplets."
The six-week life of the ABDA was described as a "nasty, brutish, and short" nightmare, with news of fresh disasters each day. Headquartered at Lembang in western Java, General Wavell traveled far, and at considerable personal risk, to inspect and encourage frontline brigades. At Singapore, he did his best to inspire the defenders with his presence. On the night of February 10, while waiting for his flying boat four days before the fortress fell, he tumbled from a jetty and fell heavily on the rocks below. Wavell broke several bones and was flown back to Java in great pain, but he refused to let it interfere with his duties.
ABDA was doomed from the start. Although Wavell worked hard to put heart into the Allied defense, despite a lack of reserves and clear direction from the Joint Chiefs of Staff, he knew little of the Far East and consistently underestimated the Japanese. Although far from being solely to blame, he had presided over the loss of Malaya, Singapore, and Burma. ABDA was disbanded on February 22 with the enemy poised to overrun the East Indies.
Wavell reverted immediately to his command in New Delhi. Fearing a Japanese invasion, he strove to shore up the defense of India. In September 1942, he began planning an offensive in Burma, which started with an advance through the Arakan the following December. But no breakthrough was achieved because of Wavell's reliance on a frontal assault strategy, and by March 1943, Japanese counter attacks had eliminated all gains.
Wavell was not at his best in the China-Burma-India theater, and his quiet, stoical personality was not conducive to dealing with politicians or difficult allies, such as Chinese President Chiang Kai-shek and cantankerous U.S. Lieutenant General Joseph W. Stilwell. But, after initial disasters and epic retreats, Wavell's forces were able to challenge the Japanese in the fetid Burma jungles.
Despite lingering doubts about his capabilities, Churchill appointed Wavell a field marshal in January 1943. He was offered the viceroyalty of India the following June. The political post was widely viewed as a demotion engineered by the prime minister. Wavell was sworn in on October 20 and was raised to the peerage as Viscount Wavell.
As in Cairo, Java, and Rangoon, he faced an immense challenge, but he went to work with customary vigor. His major problems were famine, riots, and looting in Bengal and strident nationalist demands for Indian independence. Within a week of being sworn in, Wavell spent three days in Calcutta, visiting destitutes on the squalid streets by night and prodding officials by day. He took immediate steps by introducing food rationing. An estimated million people had died, but chaos gradually gave way to order.
With earnestness and honesty, Viscount Wavell strove to lessen the antagonism between Hindus and Muslims. He met many times with the nationalist leaders, released Mahatma Gandhi from prison, and at the same time tried to maintain authority while realizing that the days of the British Raj were numbered. Wavell found Churchill, the devout imperialist, still difficult to serve, but the more liberal viceroy saw it as his duty to plan for a lasting and peaceful future for the 400 million people entrusted to him. He exercised "limitless patience" in India until he was replaced in February 1947 by Lord Louis Mountbatten.
Returning home, Wavell felt at loose ends and did not enjoy living in London, but he kept busy. He published several well-received books, played golf, received honorary degrees from four universities, and served as Colonel of the Black Watch, High Steward of Colchester, Constable of the Tower of London, and Lord Lieutenant of London. He and his devoted wife had three daughters, Pamela, Felicity, and Joan, and a son, Archie John, a major in the Black Watch during World War II who was killed by Mau Mau terrorists in Kenya in 1953.
Wavell planned to visit his regiment in Berlin in April 1950, but an operation for gallstones was scheduled. His malady proved to be cancer, and he died in a hospital at the age of 67 on May 24. At his funeral service in Westminster Abbey, General Smith, his former chief of staff, accompanied the coffin. The pallbearers included Field Marshal Sir Alan Brooke, former Chief of the Imperial General Staff, Lord Mountbatten, Field Marshal Bernard Montgomery, Field Marshal Sir Henry M. Wilson, and brothers, General Alan Cunningham and Admiral Sir Andrew Cunningham.
Archibald Wavell possessed all the qualities to ensure greatness, but it eluded him. He struggled against insurmountable odds, and some of his campaigns, such as Greece and Crete, were abject failures. Yet he also managed to secure spectacular victories in the Western Desert when his country–fighting alone against the Axis powers–needed them most. Rommel said of the British desert generals, "The only one who showed a touch of genius was Wavell." His accomplishments during the "lean years" of World War II were overshadowed by those of later generals who could call on a superiority of manpower, weapons, and logistical services—and unrestrained political support.
---
The late Michael D. Hull wrote for WWII History on a variety of military subjects. He resided in Enfield, Connecticut.