As many World War II enthusiasts know, many battles in the war were fought in places that held no prior historical significance. Rather, they were accidents of geography, imbuing importance to some otherwise insignificant piece of real estate.
And so it was with a place called La Fière, a mile west of Sainte-Mère-Église.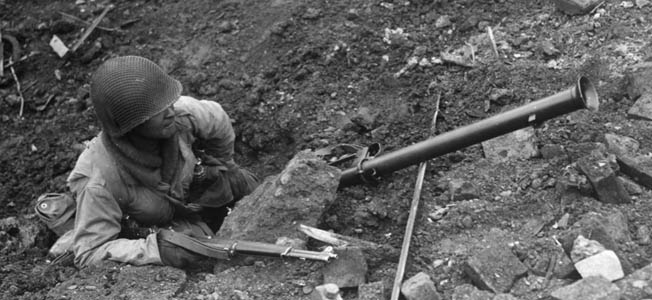 As you'll discover in "Slugfest in Normandy," Flint Whitlock's in-depth feature in the June issue of WWII History Magazine, La Fière was at the time (and still remains today) not so much a village as it was a collection of buildings—the Manoir de la Fière, then owned by the Leroux family—and a small stone bridge over the Merderet River. The bridge itself is unassuming; in fact, it could be a miniature replica of the stone bridge over Antietam Creek. But, great events often imbue ordinary-looking places with historic importance.
So what happened here just hours prior to the D-Day invasion? Inside, you'll read all about the men of the 82nd Airborne Division and their crucial role in helping the Allies move inward from the beaches at Normandy.
"Slugfest at Normandy" is but one of the many insightful and riveting features you'll find inside our June issue. Other stories include:
"Path of Heroism"
Michael J. Daly received the Medal of Honor for action during the often overlooked campaign in the Colmar Pocket in early 1945.
"Shootout at Kula Gulf"
John J. Domagalski takes you alongside the light cruiser Helena, as it gets lost in an inconclusive 1943 sea battle.
"To Take Kiev"
In 1943, the Soviet Red Army repulsed a brutal Nazi offensive to recapture the capital of Ukraine.
You'll also find profiles of Field Marshal Sir John Dill and Prime Minister Winston Churchill inside the June issue, so don't delay; order your copy today and get a piece of the action.