By Don Troiani & William E. Welsh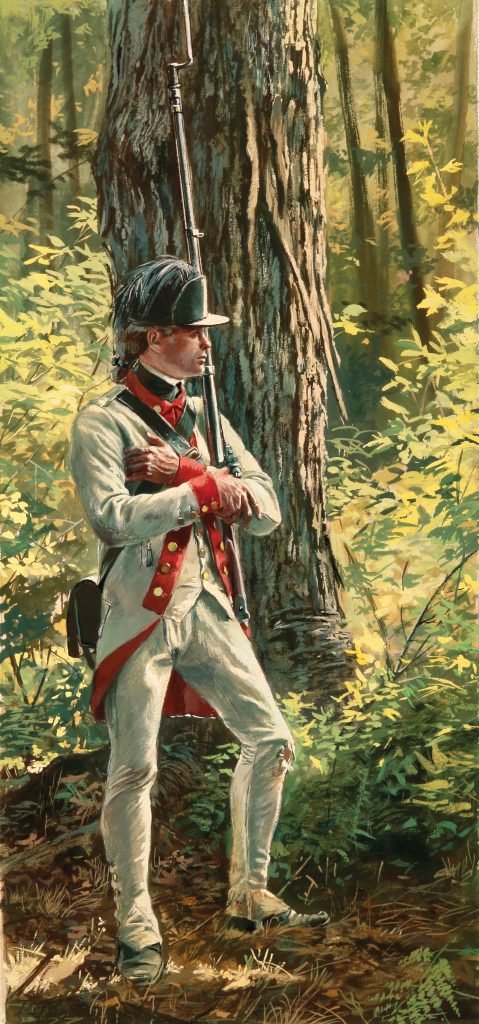 Headgear: Since leather caps were unavailable, the regiment was outfitted with felt hats trimmed with hair crests.
Uniform: The soldier wears a distinctive white wool coat with scarlet facings and brass buttons, unique to the regiment. His uniform includes a waistcoat, gaitered trousers, and a black neckstock over his shirt collar.
Cartridge Box: The soldier carries an American-made, leather cartridge box with a large flap, hung from a black strap. Inside was a wood block, with holes drilled to secure 29 paper-wrapped cartridges. An iron swivel closure secured the black-powder cartridges.
Musket: The entire regiment received the reliable French Model 1766 Charleville musket in June 1777. The barrel was secured to the stock with iron bands and steel springs, allowing it to be easily removed for cleaning. The musket with its iron ramrod fired a .65-caliber ball.
Bayonet: Muskets supplied by France included a socket bayonet with triangle-shaped blade. The bayonet hangs from a black leather strap on the soldier's left side.
Canteen: Soldiers carried either tin or wooden-staved canteens.
The Continental Congress authorized the creation of the 4th New York Regiment in November 1776. That winter it was posted in the Albany-Lake George region to protect American supply lines.
The regiment fought as part of Brig. Gen. Enoch Poor's New Hampshire brigade at Saratoga, coming to the aid of Colonel Daniel Morgan's riflemen at Freeman's Farm on September 19 during the Battle of Saratoga.
Afterwards, the regiment continued to serve in Poor's brigade, which was absorbed into the main Continental Army under General George Washington. It again fought with distinction in the main line of defense at the Battle of Monmouth on June 28, 1778. The regiment remained in service until January 1781, when it was disbanded.