By Al Hemingway
Harry Dexter White was an unassuming man. His metal-framed glasses, child-like appearance, and mild demeanor endeared him to people. He was also a crackerjack economist and Treasury Department Secretary Henry Morgenthau's righthand man when it came to financial matters and policymaking within the organization. But beneath that scholarly exterior lay a dark secret. White was a Soviet sympathizer. Although never a card-carrying member of the Communist Party, he channeled information to Russian spies.
Eager to see hostilities between Japan and the United States erupt to keep the Japanese Army occupied so as not to pose a threat to the Soviet Union, Russian agents initiated Operation Snow to provoke a war between the two nations. By writing memoranda that irritated the Japanese during negotiations and forcing them to "lose face," White single-handedly shaped the events that eventually led to the Japanese assault on Pearl Harbor, plunging the United States into World War II.
In Operation Snow: How a Soviet Mole in FDR's White House Triggered Pearl Harbor (Regnery Publishing, Inc. Washington, D.C., 2012, 256 pp., photographs, bibliography, notes, index, $27.95, hardcover), journalist John Koster has written a provocative book that is sure to ignite debate from historians and World War II buffs alike. He pulls no punches when discussing White's nefarious activities and how government officials allowed White to continue in his role despite warnings from Kilsoo Haan, a Korean active in the Korean Underground movement, who loved both Korea and the United States and despised Japan. His letters, warning of an impending attack on the U.S. naval base in Hawaii were dismissed or ignored.
Soviet dictator Josef Stalin was extremely nervous with Japanese troops near his borders. Although Russia had signed the infamous non-aggression pact with Nazi Germany in August 1939 and had fought the Japanese prior to that at Nomonhan in Manchuria, resulting in thousands of casualties, he still was uneasy about having his nemesis so close. If the United States could be prodded into a war with Japan, it would resolve the problem.
Enter Harry Dexter White. His memoranda written in May and November 1941, signed by Morgenthau and given to President Franklin D. Roosevelt, were highly influential in thwarting the peace process and leading to the eventual breakdown of the talks between American and Japanese diplomats just prior to Pearl Harbor in December 1941.
In his May note, White wrote that Japan should lease 50 percent of her naval and air forces to America. Koster writes, "If [it were] made public, [the notion] would have sparked riots in Tokyo and rebellion in Korea." But it was the November memo that sealed a war between the two nations. In it, White wrote 10 "aggressive demands" that he realized would lead to armed conflict—withdraw all military forces from China, replace all military scrip, loan the Chinese two billion yen so they could rebuild their country, and withdraw all Japanese troops from Manchuria. These are just a few of the concessions that White knew Japan would never accept.
After the war, White also attempted to disrupt the German economy by giving the Soviets the plates for printing money to be used in Germany. White and Morgenthau, both of the Jewish faith, wanted to punish Germany after the war by creating an agricultural state with little or no industry. Secretary of War Henry Stimson was angered and wrote that the Treasury Department had a "Carthaginian attitude" and "had virtually taken control of the Roosevelt administration." Ultimately, their plan would be rejected. Morgenthau was no communist, he simply wanted Germany to pay for what the Nazis had done to the Jews during the war. White, however, had an ulterior motive. If his scheme had been put into practice, Germany would have remained weak and under the thumb of communism.
White's communist leanings and clandestine activities were eventually revealed. In a hearing in 1948 before the House Un-American Activities Committee, the egotistical White was one-upped by the committee members who included a young representative from California named Richard Nixon. White died three days after the hearing. His death, Koster believes, was a suicide when he took an overdose of digitalis, heart medication he was taking, to save his family any embarrassment. Unaware of his spying activity, White's family professed his innocence for years. White's remains were cremated, and any evidence that he did take his own life was lost forever.
Koster has delivered a real spellbinder. It is a must-read for those who want to learn more about the days before Pearl Harbor. His book traces Harry Dexter White's subversive activities and how he manipulated top U.S. government officials as pawns in his plan to start a war between Japan and America.
---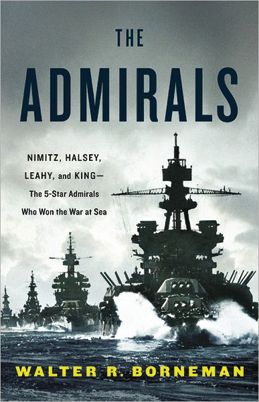 The Admirals: Nimitz, Halsey, Leahy, and King—The Five-Star Admirals Who Won the War at Sea by Walter R. Borneman, Little, Brown, New York, New York, 2012, 559 pp., maps, photographs, bibliography, notes, index, $29.99, hardcover.
Chester Nimitz, William "Bull" Halsey, William Leahy, and Ernest King all attained the coveted rank of five-star admiral during their tenure in the U.S. Navy. Although they all differed greatly in personality, temperament, and management style each individual had one common denominator: great leadership ability. During the early days of World War II, when it appeared the fate of the free world was in the balance, each man displayed courage and determination to see the conflict through to final victory.
Historian Walter R. Borneman has written a detailed biography of each officer from childhood to their days at the U.S. Naval Academy in Annapolis, Maryland, their respective careers, and their retirement years. All four saw the U.S. Navy grow to become a powerful force to reckon with on the world scene, and each of them had a vital role in that growth which eventually led to victory in 1945.
Borneman does great justice to one of the least known—and the least understood and most overlooked member of the foursome—William Leahy. He states that Leahy was the "most influential" among the group. At one point he was chairman of the Joint Chiefs of Staff, chief of staff, and de facto national security adviser to President Franklin D. Roosevelt. He also served as a trusted adviser under President Harry S. Truman for several years. Although he was no sycophant and always spoke his mind, both presidents came to trust his opinion on a number of diplomatic, as well as military, issues.
The Admirals is a unique look at four of the most prominent men in U.S. naval history. Their vision and fortitude helped the American Navy transform itself into a sea power that is still very much in evidence today.
---
Hell in the Pacific: A Marine Rifleman's Journey from Guadalcanal to Peleliu by Jim McEnery with Bill Sloan, Simon & Schuster, New York, 2012, 305 pp., maps, photographs, index, $27.00, hardcover.
Brooklyn-born Jim McEnery was a tough kid of Irish descent who made it through the Great Depression of the 1930s, enlisted in the U.S. Marine Corps in 1940, and miraculously survived three of the bloodiest battles of World War II—Guadalcanal, Cape Gloucester, and Peleliu. Attaining the rank of sergeant, McEnery, together with historian Bill Sloan, has penned a riveting account of his harrowing experiences as a member of Company K, 3rd Battalion, 5th Marines.
McEnery's insight into what transpired, from a grunt's point of view, will have readers on the edges of their seats. His story is graphic as he describes the day-to-day fighting he and his fellow leathernecks had to endure, including an incredible bayonet charge on Guadalcanal that broke the enemy's resistance.
At 90-plus years old, McEnery is still a Marine at heart with an incredible memory for detail in events that occurred 70 years ago. He and Sloan have done a remarkable job in getting his memoirs on paper for all to read. He and the millions of other World War II veterans, especially those who were killed and wounded, deserve to be heard. McEnery's book will rank as a classic in years to come alongside fellow Company K Marine Eugene Sledge's biography With the Old Breed on Peleliu and Okinawa. A great book about men in war.
---
Stalin's General: The Life of Georgy Zhukov by Geoffrey Roberts, Random House, New York, 2012, 400 pp., maps, photographs, notes, index, $30.00, hardcover.
British historian Geoffrey Roberts has written an exceptional biography of Georgy Zhukov, dictator Joseph Stalin's top general during World War II. It was Zhukov's strategy that proved the decisive factor and defeated the Japanese in Manchuria at Nomonhan, also known as Khalkhin-Gol, in Manchuria in 1939, demonstrating his knowledge of artillery and tank support for advancing infantry. He used this method to defeat the German Army on the long road to Berlin that culminated in a Nazi surrender in May 1945.
Roberts carefully strips away the myth surrounding Zhukov to reveal a complex man who came from humble beginnings, fought in the tzarist army during World War I, and supported the communist cause during the 1917 Russian Revolution to find himself one of Stalin's advisers. Although not a military strategist per say, Zhukov's relentless determination, aggressiveness in battle, and pursuit of the enemy were extraordinary. Decorated numerous times, he stood at Stalin's side during the great victory parade in Moscow at war's end.
Zhukov found postwar politics treacherous (he always remained politically naïve); he was demoted several times and his name was stricken from books written about the Soviet victory in the Great Patriotic War. Like a Phoenix rising from the ashes, however, Zhukov's popularity rose after Stalin's death when he published his memoirs before his own death in 1974.
Comparing Zhukov to Eisenhower, Montgomery, Patton, and MacArthur, Roberts concludes that he was the "best all-around general" in World War II. His energy, ability to drive his men and instill confidence, albeit his methods included corporal punishment and firing squads, enabled him to succeed when others failed. A wonderful warts-and-all biography of one of the great generals of World War II.
---
A Foot Soldier for Patton: The Story of a "Red Diamond" Infantryman with the U.S. Third Army by Michael C. Bilder and James G. Bilder, Casemate Publishers, Havertown, PA, 2012, 294 pp., maps, photographs, $18.95, softcover.
This is a gutsy firsthand account of an enlisted rifleman who served with the 5th "Red Diamond" Division, often referred to as the "forgotten division" of World War II. Michael Bilder landed in France a month after D-Day and participated in all the campaigns with General George S. Patton's Third Army. When it was over, he had survived the Normandy, Northern France, Ardennes, Rhineland, and Central Europe campaigns, earning a host of awards including the Bronze Star.
What makes Bilder's story even more fascinating was his command of the German language. His family were German immigrants, settling in the United States before the war. Often he was asked to act as an interpreter. He also served in Iceland prior to the conflict, a place they referred to as "The Rock."
Together with his son, Bilder has penned a fascinating eyewitness account of war from the viewpoint of a frontline soldier. Although he underwent combat, saw friends die, and ultimately survived, he does not regret his experiences. He is proud to have served and to have done so "in the company of so many exceptional men who were fine soldiers and heroes."
---
The Me 262 Stormbird: From the Pilots Who Flew, Fought, and Survived It by Colin B. Heaton and Anne-Marie Lewis, Zenith Press, Minneapolis, MN, 2012, 336 pgs., diagrams, photographs, notes, index, $30.00, hardcover.
There is no doubt that Germany was in the forefront when it came to the design, engineering, and manufacturing of aircraft during the war. Many rate the Messerschmitt Bf-109 and Bf-110 as two of the best fighters the Nazis possessed. However, Willi Messerschmitt and his team also planned and saw to fruition the first operational jet plane of the conflict—the Me-262 Stormbird—a remarkable innovation for its time.
The authors have done extensive research detailing the plane's birth from the drawing board, to the test flights, and finally its performance in combat. They have also included interviews from the German pilots who flew it and the Americans who first encountered the Stormbird. The book includes lists of Me-262 German aces, Squadron J-44 and JG-7 losses and victories, and Allied victories against the Stormbird.
One section deals with the Allied and Russian scramble to obtain as much information as they could about the Me-262. Known as Operations Lusty and Paperclip, teams of U.S. Army Air Force Intelligence members, OSS operatives, quickly went about gathering the top German scientists for entry into the United States to work for the government before the Soviets could. Interestingly enough, the Joint Intelligence Objectives Agency actually disregarded President Harry S. Truman's direct order forbidding recruitment of scientists who were known Nazis. As history shows, many of these scientists, Nazi or not, were the nucleus of the U.S. space programs. The Me-262 Stormbird is an interesting look at a unique aircraft—and the men who designed it—and flew this remarkable plane that propelled the world into the jet age.
---
Shorts Bursts
One Marine's War: A Combat Interpreter's Quest for Humanity in the Pacific by Gerald A. Meehl, Naval Institute Press, Annapolis, MD, 2012, 288 pgs., maps, photographs, notes, index, $34.95, hardcover.
A moving story of one Marine's ability to shed his hatred for the Japanese in World War II and ultimately learn to show compassion for captured enemy soldiers during the terrible battles of Tarawa, Saipan, and Tinian where he served as a language officer and interpreter during these three bloody campaigns.
Robert Sheeks grew up in Shanghai, China, during the 1930s. His father, a businessman, relocated his family to the safety of the International concession area where the younger Sheeks could hear the distant roar of artillery as the Japanese fought the Chinese. His intense loathing for the Japanese crystallized when he saw the remains of two Chinese house servants roasted alive over a pit.
After language school in Boulder, Colorado, 1st Lt. Sheeks was assigned to the 2nd Marine Division. He soon realized that by coaxing the enemy into surrender, it would ultimately save the lives of the Marines. Sheeks had undergone a metamorphosis while in combat. As the author writes, "He was an eyewitness to that great range of human behavior and had, in the end, found life-affirming humanity in the midst of the brutality of war."
Missing Believed Killed: Casualty Policy and the Missing Research and Enquiry Service, 1939-1952 by Stuart Hadaway, Pen & Sword Books, South Yorkshire, England, 2012, 207 pp., diagrams, photographs, notes, index, $29.95, softcover.
This in-depth account illustrates the Herculean efforts of the Missing Research and Enquiry Service (MRES) first established in 1941 to determine the status of downed British pilots believed killed in action and to identify their remains. Realizing that the arduous job required additional personnel, the organization was expanded in late 1944. Groups were sent to France and other European countries after the war to search for information on the whereabouts of more than 40,000 RAF pilots and crewmen.
At times the assignment could be exhausting and in some cases grisly when graves had to be exhumed and bones returned to Great Britain to be identified, a daunting task in itself in the days before DNA was used. This thoroughly captivating book focuses on the unique mission of a relatively unknown but important unit during World War II.
Waffen-SS Armour in Normandy: The Combat History of SS-Panzer Regiment 12 and SS-Panzerjager Abteilung 12, Normandy 1944, Based on Their Original War Dairies by Norbert Szamveber, Helion and Company, West Midlands, England, 2012, 304 pp., maps, photographs, index, $69.95, hardcover.
The author made a great find when uncovering the original war dairies of these two elite German armored units that fought in Normandy and successfully stymied British General Bernard Montgomery's efforts to breach their lines at the crossroads town of Caen for the two months immediately following D-Day. The journals provide a treasure trove of tactics used and decisions made during that period. These two SS panzer outfits destroyed or damaged nearly 500 Allied tanks and vehicles during that time. All the action and events are in chronological order and accompanied by maps and other documents to make it easier for the reader to follow the events.
This rare book deals with two specialized armored units that played a vital role in World War II. However, as the author states, although they performed admirably their fate was, in due course, sealed when they were virtually destroyed by Allied forces as they advanced toward their objective—Berlin.
Red Christmas: The Tatsinskaya Airfield Raid 1942 by Robert Forczyk, Osprey Publishing, Long Island City, NY, 2012, 80 pp., maps, illustrations, photographs, bibliography, index, $18.95, softcover.
Another winner from Osprey publishing! Retired U.S. Army Lt. Col. Robert Forczyk has given an excellent description of the Soviet Army's raid on the German airfield located at Tatsinskaya in December 1942. With the German Sixth Army trapped at Stalingrad, Hitler and his generals formulated a plan to airlift supplies to his beleaguered troops. The Russians, wanting desperately to crush the remnants of the Sixth Army, decided on an audacious scheme to overrun the airstrip that was situated deep behind German lines. In the end, the incursion did disrupt the relief effort as the Red tankers destroyed numerous Luftwaffe aircraft that sat on the ground. But the Soviet armored units soon found themselves trapped and were decimated by panzer units that had been rushed to the scene of the fighting.
As with all of Osprey's books, it contains very detailed maps, illustrations, and photographs. This is highly recommended reading about another fascinating battle during the war on the Eastern Front.