By Michael D. Hull
Several Hollywood stars served proudly in the U.S. Marine Corps during World War II, including Tyrone Power, Louis Hayward, Lee Marvin, Macdonald Carey, Hugh O'Brian, Bill Lundigan, John Russell, Robert Ryan, Brian Keith, and Peter Ortiz. Power flew C-46 Curtiss Commando transport planes in the Pacific Theater, Hayward was a combat cameraman who filmed the bloody battle of Tarawa, Marvin was wounded on Saipan, Carey was an ordnance officer at Bougainville, Lundigan survived the bitter fighting on Peleliu, and Keith was a rear gunner on Douglas SBD Dauntless dive bombers flying missions against Rabaul and other Japanese bases in the Southwest Pacific. And then there was Sterling Hayden, a restless adventurer who served in the Marines before being seconded to the Office of Strategic Services (OSS), with which he served with distinction in the Balkans, France, Belgium, and Germany. One of the unsung heroes of the undercover war, he was awarded the Silver Star for displaying "great courage" in the Mediterranean Theater. Hayden had a lifelong love affair with the sea, and his boat was fittingly christened Wanderer.
Hayden's Early Years
Born on Sunday, March 26, 1916, in a quiet neighborhood of Upper Montclair, New Jersey, Sterling Walter Hayden was a mischievous lad. After taking aim at a neighbor's wife with a slingshot one day, he was beaten with a wet stick by his angry father. When the boy screamed his father collapsed from an apparent stroke, and died three months later. Sterling mourned for a long time.
His mother Frances landed a job with Good Housekeeping magazine, cared for her son, and then married divorcee James W. Hayden. The family trekked around during the Great Depression, stealing away from boarding houses and resort cottages under cover of darkness with bills unpaid. The disillusioned boy was sent to the Friends School in Washington, D.C. He hated it and quit after the 10th grade.
Later, the three Haydens rode a bus to Boston and settled in a rooming house on the outskirts. Sterling trudged five miles to the city's business district in search of an office job, but there were none available, so he wandered off to the docks in search of an opening as an ordinary seaman.
An Early Love of the Sea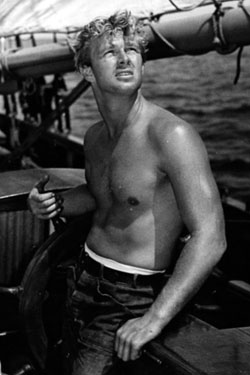 Wandering the Boston wharves, he stopped to gaze in the window of a nautical instruments store. The shopkeeper told the youth that a big schooner, the Puritan, was hiring crewmen for a cruise from New London, Connecticut, to San Pedro, California. The captain signed on Sterling as ship's boy at $10 a month, and he eagerly went to sea for the first time.
A natural sailor who quickly learned all facets of seamanship, Sterling worked aboard trawlers and schooners along the East Coast. By 1936, he qualified as first mate aboard the schooner Yankee and made his first round-the-world voyage. He sailed in schooner races, filled in as a navigator, and showed courage during a competition in October 1938 by crawling along a spar in a howling gale to secure a torn main gaff. By now a muscular, 6-foot-5-inch-tall "Viking" with sun-bleached hair, Sterling became well known to reporters as he sailed in and out of New England harbors. The Boston Post described him as a "movie idol."
At the age of 22, the ambitious Sterling achieved his dream and was given command of his first ship. He was hired to sail the Ceylon brigantine Florence C. Robinson from Gloucester to Tahiti. With a sturdy crew of 11, the vessel departed in November 1938 and braved fierce storms before reaching the balmy island paradise in February 1939. During an idyllic six-month layover in Tahiti, Sterling became engaged to a 19-year-old native beauty, but there was no wedding, because he felt that he could not make her happy. He had decided to buy the steel schooner Aldebaran and start a packet service between Tahiti and Hawaii.
The vessel, which had been Kaiser Wilhelm II's yacht, was laid up in Panama, and Sterling needed to sail her to Boston for inspection by the Coast Guard. But his plan went awry when a storm off Cape Hatteras swamped the Aldebaran. She had to be towed to Charleston, South Carolina, after a Coast Guard cutter rescued the crew. This left Sterling broke.
Joining Hollywood (And Hating it)
But he still wanted his own ship, so the ruggedly handsome sailor accepted some modeling assignments before one of his crewmen and an Associated Press newsman convinced him to try his luck in motion pictures. An agent was contacted, Hayden signed with Paramount Pictures at $600 a month, and he and his mother moved to Hollywood.
Groomed for stardom, Hayden received acting lessons and was given the full studio treatment. His response was the same one he had registered in school: he hated it. He was sent on "ridiculous" publicity tours, but was happy to chat with President Franklin D. Roosevelt at the White House when he gave a reception for Hollywood stars that had supported the 1941 March of Dimes campaign.
Sterling Hayden's first film was the now forgotten Virginia, released in 1941, in which he supported Fred MacMurray and Madeleine Carroll. The former mariner struggled to develop acting skills, and his second screen appearance was in Bahama Passage, also released that year and unremembered. Hayden again played opposite the graceful English-born Carroll, star of such earlier classics as The 39 Steps, The General Died at Dawn, and Lloyds of London, and he was smitten with her.
Both Sterling Hayden and Carroll were both cynical about Hollywood. She talked of getting involved in the war, which now embroiled her homeland, and Hayden wanted to regain his self-respect by doing something worthwhile. In November 1941, after leaving Paramount on good terms, he contacted Colonel William J. "Wild Bill" Donovan, the U.S. coordinator of intelligence and soon to be first director of the OSS. Donovan quickly arranged for the actor to go to Britain and be trained for undercover operations.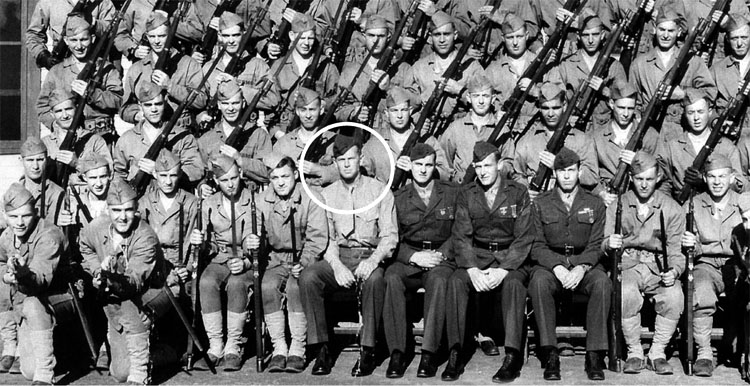 After a perilous crossing in an Atlantic convoy, Hayden reported to the London office. His arrival was unexpected and caused confusion, but he was processed within a few days and sent to Scotland. There, he underwent commando training with the famed Argyll and Sutherland Highland Regiment, but parachute training almost put an end to his new military career when he jumped out of a Royal Air Force four-engine Short Stirling bomber in March 1942. He landed in a quarry and broke his ankle, tore cartilage in his knee, and injured his backbone.
After medical treatment, Hayden was sent back to the United States, where he soon married Carroll in a New Hampshire ski lodge. The actress left Hollywood, joined the American Red Cross, and was sent to Europe. She later served in Italy and France.
Joining the Marines
Hayden believed that his seagoing skills would ensure him a place in the Navy, so he requested a lieutenancy and command of a PT boat, but he did not even have a high school diploma, so the Navy offered him only the rank of ensign and no guarantee of a motor torpedo boat assignment. Gamely swallowing his disappointment, Hayden enlisted in the Marine Corps on October 26, 1942.
Sent to the recruit depot at Parris Island, South Carolina, the free spirit who felt at home only on the open sea found the rigorous basic training a rude awakening, but he soon learned the ropes and became a "hell of a good Marine," according to his drill instructor, Private George S. Featherstone. Hayden spent three weeks as a drill instructor himself before being chosen to go to Officer Candidate School. He was assigned to the 23rd officer candidate class at the command school in Quantico, Virginia, and was commissioned a second lieutenant in the Marine Corps Reserve in April 1943.
Sterling Hayden Becomes John Hamilton
Though Hayden showed great promise as a Marine subaltern, he had no patience with the discipline and did not like being recognized as a former actor. He wanted to be seen as just another leatherneck. His wife no longer wanted to be associated with Hollywood, so the pair went to court to have their surname changed to Hamilton. Hayden also changed his Christian name, and by late June 1943 he was legally John Hamilton.
He was meanwhile trying to leave the Marine Corps and again contacted Colonel Donovan, requesting a transfer to the OSS. Busily engaged in getting the new agency organized, Donovan was receptive, so when the Quantico class members received their marching orders in the summer of 1943, most were assigned to the Pacific Theater, while Hayden and two others were sent to the OSS headquarters in Washington. From there, Hayden was sent to the OSS office in Cairo.
OSS Cairo had no idea they were getting a new man and were at first unsure how to use the eager new operative. After a few months, they finally assigned Hayden to the seaport of Bari on the southeastern coast of Italy to organize support for Marshal Josip Broz Tito's undercover partisans battling German forces in Yugoslavia. Operating from hidden bases in the country's rugged mountain ranges, the communist guerrillas were effectively sabotaging enemy installations and communications. Hayden was to establish a support base in the port of Monopoli, a few miles south of Bari, with the assistance of agents from the British Special Operations Executive (SOE).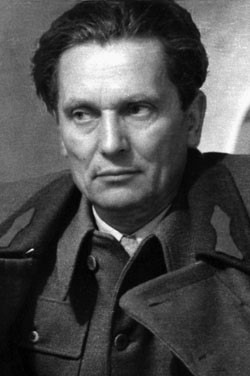 The assignment was tailor-made for the American seafarer. He took command of a fleet of 14 schooners, two brigantines, and six ketches manned by 400 male and female Yugoslav partisans. Their task was to ferry needed weapons, equipment, and other supplies across the Adriatic Sea to Marshal Tito's guerrillas.
The brief but perilous operations began on December 24, 1943, and continued through January 2, 1944. After stealthily breaching the German blockade around southeastern Italy, the boats headed for the little partisan-held island of Vis, off the coast of Croatia. Under cover of darkness, Hayden and his sailors hastily unloaded the supplies. Fishing boats picked up the matériel, made their way to the mainland, and offloaded between German-held beaches. Mule trains then carried the supplies up the mountains to Tito's patriots.
Cheerfully resolute and resourceful, Hayden gained much respect as a commanding officer from the partisan sailors and his SOE comrades. He was awarded the Silver Star for displaying "great courage in making hazardous sea voyages in enemy-infested waters and reconnaissance trips through enemy-held areas."
Hayden grew to admire the tough Yugoslav partisans. They inspired him, and he considered them more dedicated than anyone he had known, as he stated in long letters to friends back home. The experience influenced his future decision to join the American Communist Party.
Later in 1944, Hayden served with the OSS behind enemy lines in Greece and Yugoslavia. During that summer, he parachuted into Yugoslavia with Marine Gunnery Sergeant John Harnicker and a Navy radio operator. Working with the partisans, they led several downed Allied fliers to safety in Italy.
Joining Up with Courtney Hodge's First Army
 After completing his duties in the Balkans, Hayden returned home for a well-earned 30-day leave. Madeleine Carroll was then busy at Army hospitals in Naples and Foggia, tending victims of the costly Monte Cassino and Anzio campaigns. She also worked aboard hospital trains carrying wounded soldiers to France. In recognition of her wartime service, she was awarded the French Legion of Honor and the American Medal of Freedom.
After his respite, Hayden was assigned late in 1944 to join an OSS team in Germany. When he arrived in Paris, though, he was ordered to head to Belgium and join up with Lt. Gen. Courtney H. Hodges' U.S. First Army, which fought in the bitter Ardennes campaign and also became the first Allied army to cross the German border. Leading six German-speaking technical sergeants, Hayden followed the advance of Hodges' troops from Cologne to Marburg in a search for anti-Nazis to be recruited by the OSS. The mission was mostly fruitless. Hayden was promoted to captain in February 1945, and he spent the following summer assessing Allied bomb damage at ports in Germany, Norway, and Denmark. (Get a more in-depth look at the fighting in the European Theater by subscribing to WWII History magazine.)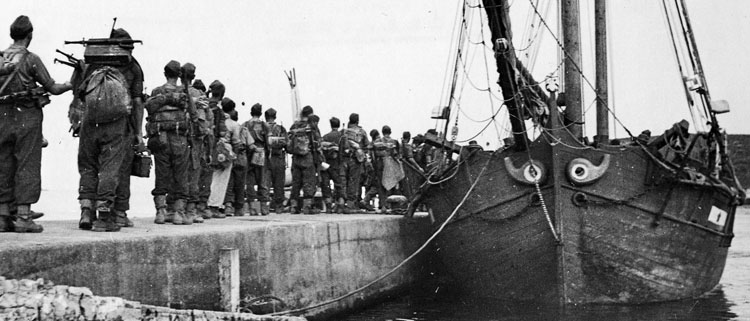 Returning to Paramount Studios (and Joining the Communist Party)
Hayden and his wife were reunited in Paris in September 1945, agreed amicably to separate, and were divorced later that year in Reno, Nevada. Captain Hayden was discharged from active duty on December 24, 1945. Besides the Silver Star and two campaign ribbons, his decorations included three Bronze Stars, two Bronze Arrowheads, a letter of commendation, and the Yugoslav Order of Merit. He remained in the Marine Corps Reserve until 1948.
Returning to Hollywood, Hayden was warmly greeted and signed by Paramount Studios. Still affected by his wartime partisan friends, he joined other film actors in the American Communist Party in 1946. He attended a few meetings, became disillusioned with the dogma, and dropped his membership after six months. The affiliation would come back to haunt him later.
Hayden began his postwar film career with small parts in 1947 releases: Variety Girl, a nondescript Paramount musical, and John Farrow's Blaze of Noon, a drama about air mail pilots starring William Holden and Anne Baxter. This was followed in 1949 by El Paso, a modest but worthwhile Western featuring John Payne and Gail Russell. Though Hayden lacked depth as an actor and became typecast as hard-bitten characters, he matured and projected believability and authority in a number of roles.
He first gained stardom and critical acclaim in The Asphalt Jungle (1950), John Huston's powerful gangster classic costarring Louis Calhern, Jean Hagen, James Whitmore, and Marilyn Monroe. After several low-budget Westerns, Hayden then portrayed a no-nonsense aircraft carrier skipper in Flat Top (1950) and the protector of saloon owner Joan Crawford in Nicholas Ray's psychological Western, Johnny Guitar (1954).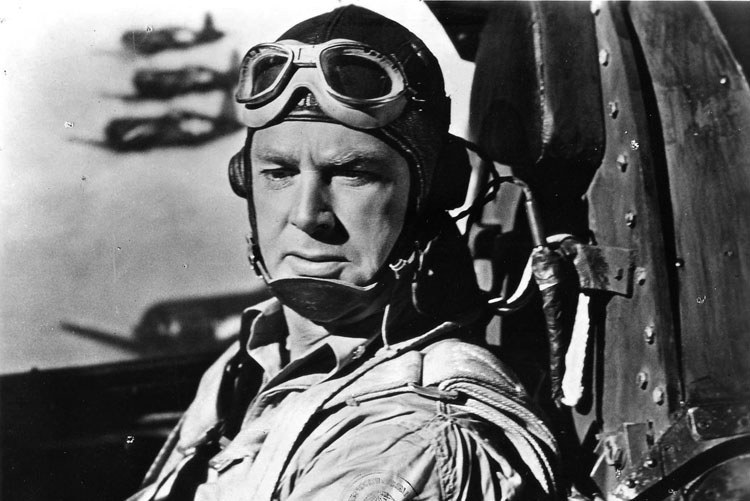 While gaining stature on the screen, Hayden tarnished his image by cooperating with the House Un-American Activities Committee during the Red Scare of the early 1950s. He admitted his brief Communist Party affiliation and named several Hollywood figures as fellow travelers. He quickly regretted it and soon backed moves to abolish the HUAC, but he was scarred for the rest of his life.
Dr. Strangelove and The Godfather
In 1955, Hayden portrayed two historical figures on the screen. He was frontiersman Jim Bowie in The Last Command, an elaborate and sweeping depiction of the last stand at the Alamo. Then, in The Eternal Sea, he played carrier pilot John M. Hoskins, who lost a leg in the sinking of the USS Princeton in October 1944, fought to remain in the service, and became a Korean War vice admiral. After appearing in some more Westerns and gangster films, Hayden brilliantly played crazy General Jack D. Ripper in Stanley Kubrick's black comedy, Dr. Strangelove (1964). His last memorable Hollywood role—brief but outstanding—was as a dishonest police captain in The Godfather (1972).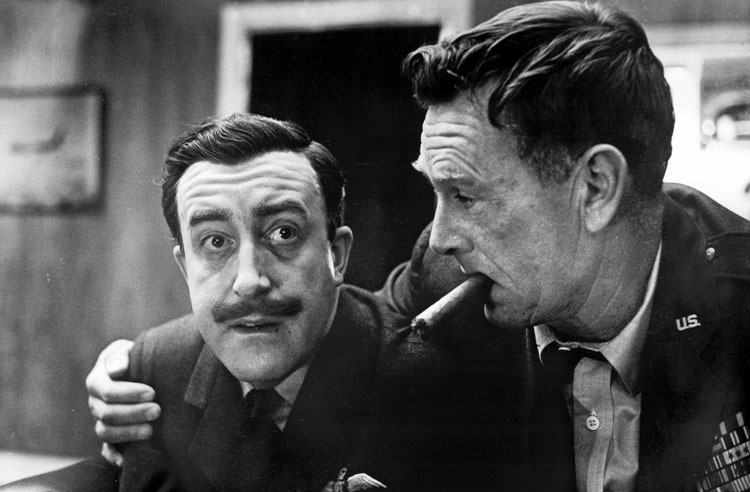 Despite critical acclaim and a number of strong screen performances, Hayden's talent was not fully tapped and his career was marked by too many undemanding roles. He always harbored mixed feelings about his work, loathed the shallow hype of Hollywood, and periodically returned to the sea. The actor's private life was turbulent. He cared little for money and spent almost everything he earned. His second marriage to Betty Ann De Noon lasted eight years and produced four children, but ended in May 1957.
Hayden won custody of the children but was ordered by a court not to leave Los Angeles with them. He defied the ruling, scraped together as much money as he could, and made plans to take the children to Tahiti. Mustering a crew of 11 friends who manned his schooner Wanderer for no pay, the restless actor and children set sail on January 20, 1959. After a stormy cruise, the vessel dropped anchor in Tahiti on March 4.
The voyagers spent almost a year on the island. Hayden started writing an autobiography while the children were tutored by one of his crewmen. Eventually, Hayden decided to return to California, where his children could receive formal schooling. He hustled up the needed cash, and Wanderer returned to the West Coast. For contempt of court, Hayden was slapped with a $500 fine and suspended five-day jail sentence.
The actor married Catherine D. McConnell in 1960, had two more children, and published his autobiography, Wanderer, in 1963. Meanwhile, he played in more films, some entertaining and some mediocre, and gave fine performances in several television productions. His last screen appearance was in Venom, an unexceptional British picture, in 1982.
The following year, Hayden was the subject of a documentary film, Lighthouse of Chaos. He died of prostate cancer at the age of 70 in 1986, and his ashes were scattered over San Francisco Bay by his widow, children, and friends.