By Patrick J. Chaisson
Second Lieutenant William Capron first saw the attacking Messerschmitts as black dots descending rapidly to ambush his squadron of American fighter-bombers. After getting radioed instructions to "jettison bombs and bend throttles," he test-fired the guns on his Lockheed P-38J Lightning and readied himself for battle.
It was Capron's first combat mission.
"They were coming straight for us," he recalled later. "My first reaction was an instant disappearance of the saliva from my mouth … My pulse was pounding." Suddenly unable to breathe properly, Capron switched his oxygen regulator to full.
Chaos erupted as the two sides merged in a "furball" of wildly maneuvering aircraft. Bill Capron hung on his element leader's wing as that pilot, Captain James Austin, flamed an Me-109. Just then, another group of enemy fighters—Focke-Wulf 190s—joined the fight. Two of them expertly peeled Capron away from his wingman and riddled the rookie's P-38.
Forced to abandon the mortally wounded Lightning, Lieutenant Capron released his canopy and shoulder straps. Unable to stand up due to the fierce slipstream, he faced backwards and knelt on his seat cushion. Capron described what happened next: "I pulled with my arms and pushed with my feet and popped out of the cockpit like a cork."
Pulling his ripcord at 3,000 feet, Capron then saw that the pair of victorious German interceptors had not yet finished with him. They were now banking around to strafe the defenseless aviator in his parachute. Even as he frantically kicked his legs and jerked the risers to spoil their aim, both FW-190s roared in with guns blazing. Bill watched in horror as a stream of tracers reached toward him.
This encounter, which occurred over the village of Cambronne-les-Clermont, France, on Friday, August 25, 1944, was an especially costly one for the 474th Fighter Group (FG) of the U.S. Army Air Forces (USAAF). Of 24 P-38s aloft that afternoon, 11 were shot down by Luftwaffe fighters. Survivors remembered it as "Black Friday."
The Americans nonetheless gave as good as they got, claiming 21 of the estimated 74 aircraft arrayed against them. While four Lightning pilots were killed in action, seven others managed to bail out. Five of these men, including Bill Capron, successfully evaded capture thanks to helpful French civilians. Following his close call with the Focke-Wulfs, Capron hid out in the village of Fouquenies for nine days until British tanks liberated him.
Most squadrons in the Ninth Air Force's fighter command operated the sturdy Republic P-47 Thunderbolt, which performed magnificently as a ground-attack platform. Less well-known, however, are the exploits of P-38 Lightning pilots in the close air support role over Europe. Day after day, they struck targets on the ground and in the sky using twin-engined warplanes despised by higher headquarters but worth their weight in gold to the men who flew them into battle.
The 474th FG, comprising the 428th, 429th, and 430th Fighter Squadrons (FS), was activated on August 1, 1943, at the Grand Central Air Terminal in Glendale, California. Lieutenant Colonel (soon promoted to colonel) Clinton Wasem of Ohio became the unit's first commanding officer.
A fighter group headquarters' function was to command and control the squadrons underneath it. As such, the 474th had no aircraft of its own. Whenever Wasem or his deputy commander, Lt. Col. Henry Darling, chose to fly, they would borrow a P-38 from one of their subordinate fighter squadrons.
With 25 Lightning fighter-bombers and 316 personnel authorized, each of the three squadrons under Colonel Wasem's command was a robust organization. Its air echelon consisted of an operations section (responsible for planning missions) as well as several support departments: engineering (maintenance), armament (guns), ordnance (bombs), communications, photo, fuels, parachute, tech supply (aviation repair parts), air weather, and intelligence. A chemical warfare team was eventually added to handle "blaze bombs"—drop tanks filled with napalm and fused to explode on contact.
A number of experienced NCOs coordinated all these maintenance activities, each one a line chief responsible for one P-38. The line chief and his crew "mothered" their aircraft, ensuring it was fully ready for action. This devotion led to many long hours spent on the flight line.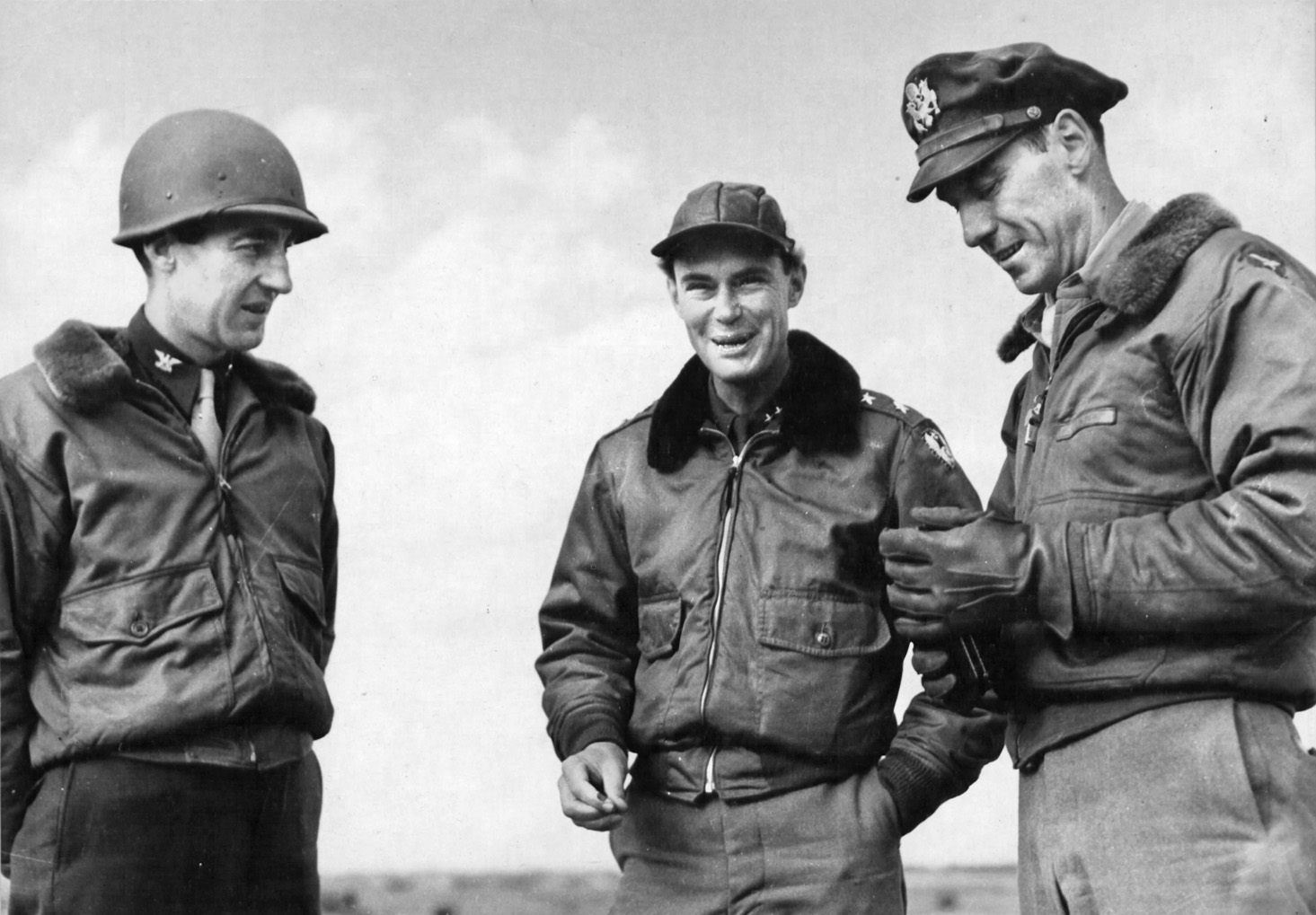 Additionally, the squadron's ground echelon included headquarters, administration, mess, motor pool, and supply departments, plus a medical detachment. Able to sustain itself for long periods of time in austere conditions, Wasem's unit could move its base of operations on short notice in order to keep up with advancing ground troops.
The 474th's pilots trained relentlessly throughout their stay in Southern California. Supervised by combat-tested flight leaders like the 428th's Major Earl Hedlund, a veteran of the Aleutians campaign, these newly assigned aviators began the hazardous process of transforming themselves into mission-ready warriors.
Some never made it. One of several fatal accidents to plague the outfit occurred on November 19, 1943, when the 429th's Lieutenant James Ware crashed into a mountain while on a local training mission. He would be among the first of many losses felt by 474th FG airmen during the coming months.
The unit finally received orders for overseas movement in February 1944. First, a continent-crossing train ride took Colonel Wasem's men to Camp Myles Standish, a staging area near Boston. They then set sail for the United Kingdom aboard S.S. Uruguay and the troopship USAT Excelsior. Their 12-day voyage across the Atlantic passed routinely despite rough seas, poor food, and crowded conditions aboard ship.
By March 13, the outfit was settled into its new home, Royal Air Force (RAF) Station 454 in Warmwell, Dorset. Located just five miles from the English Channel, Warmwell boasted a sod runway and base facilities deemed adequate for the freshly arrived Yanks' requirements. It also sat 77 air miles from Normandy, a region soon to become familiar to everyone in the organization.
Now part of Ninth Air Force's IX Fighter Command, the 474th was one of three Lightning-equipped groups dedicated to tactical operations. The others were the 367th and 370th FGs. Unlike Eighth Air Force fighter units, which primarily escorted Boeing B-17 Flying Fortress and Consolidated B-24 Liberator bombers on long-range raids deep inside German-occupied territory, the Ninth Air Force's mission focused on supporting Allied ground forces. During the spring of 1944, this meant attacking troop concentrations, transportation hubs, and enemy airfields all across France.
A sense of urgency permeated Colonel Wasem's command as it worked to reach operational readiness. Not long after their arrival in Warmwell, the 474th's flying squadrons began receiving a full complement of P-38J fighter-bombers. These planes, however, were mostly hand-me-downs from the Eighth Air Force, which was replacing all its Lightnings with single-engine aircraft.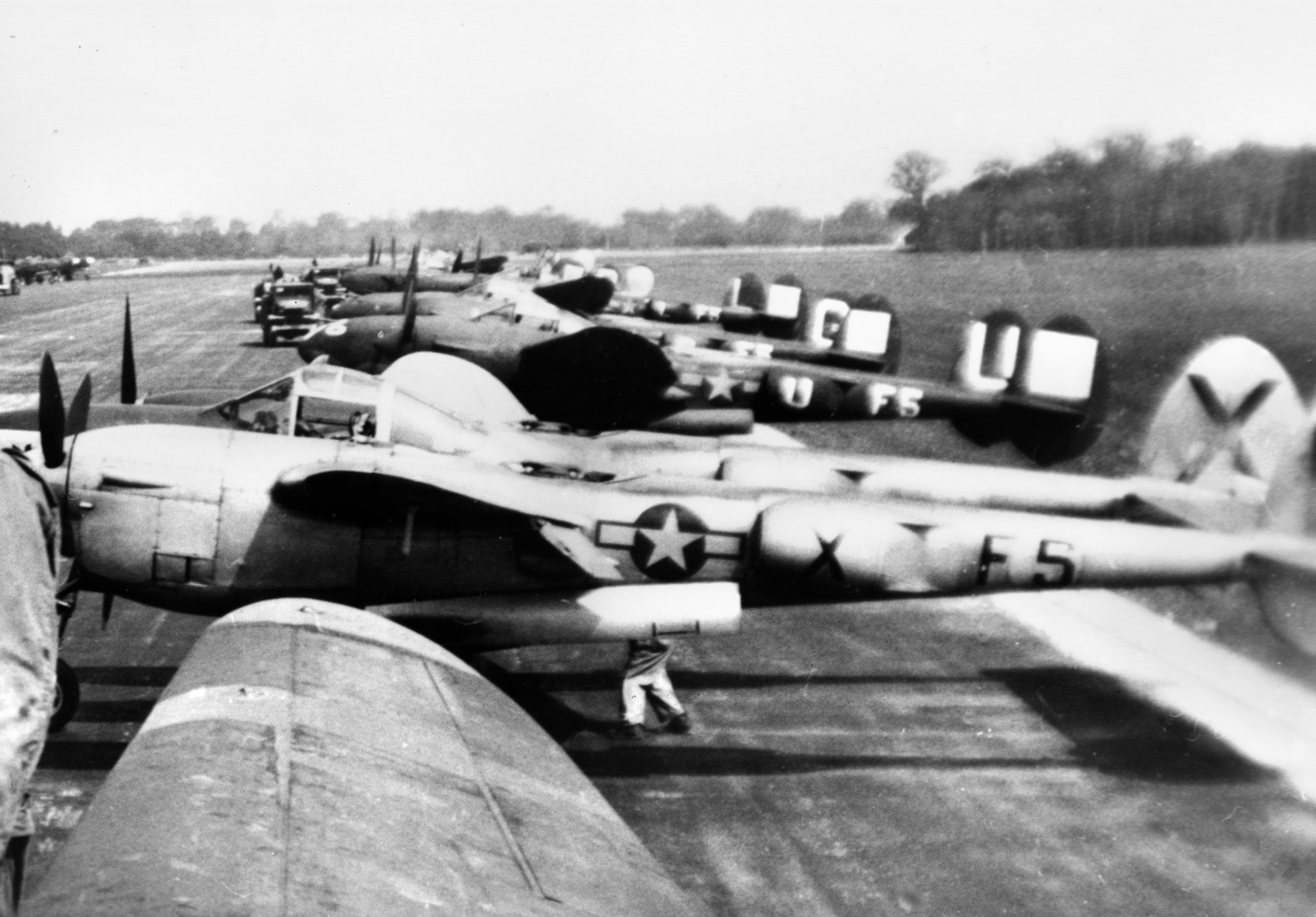 First flown in 1939, Lockheed's P-38 Lightning possessed many innovative design features. Its twin booms housed the tail assembly, engines, and turbo-superchargers, while a central nacelle—Lockheed called it a gondola—accommodated the pilot and armament. Tricycle-style landing gear afforded excellent visibility during taxi, take-off, and landing.
Weighing 12,780 pounds empty, the J model measured 37 feet, 10 inches in length with a height of 12 feet, 10 inches. Its wingspan stretched to 52 feet. Two Allison V-1710-89 inline engines each generated 1,425 horsepower, propelling the P-38J to a maximum airspeed of 414 miles per hour at 25,000 feet. Cruising speed was listed as 290 miles per hour, while the Lightning's combat radius exceeded 1,300 miles. It could climb to a service ceiling of 44,000 feet.
Contained within the Lockheed's gondola were four Browning .50-caliber machine guns with 500 rounds apiece and a single Hispano-Suiza 20mm automatic cannon armed with 150 rounds. Each Lightning could also carry a bombload of up to 4,000 pounds hung on two underwing hard points. Disposable drop tanks were often fitted in lieu of bombs to extend the plane's range.
In 1942, earlier models of the P-38 became the first American interceptors to fly from British bases. The type performed poorly as a high-altitude escort over Europe, exhibiting a rash of reliability problems with its powerplant and superchargers. Eighth Air Force commanders also complained about the Lightning's inadequate cabin heat, as well as a lethal tendency for its flight controls to lock up whenever put into a steep dive.
The P-38J, which reached Eighth Air Force squadrons in late 1943, corrected deficiencies with cockpit heat and instrument layout, thus making the pilot's job more manageable. Reliability issues with its Allison engine and turbo-supercharger were traced to poorly-refined British fuel, while special flaps fitted to the lower wing eliminated the control-locking effects during power dives.
By then, though, the decision had been made to transfer all of Eighth Air Force's Lightnings to the tactically oriented Ninth Air Force. It proved to be a good fit. Flying at low level, the 474th FG's airmen rarely worried about freezing cockpits or malfunctioning turbo-superchargers. They soon came to appreciate their mount's versatility, ruggedness, and especially that second Allison, which flyers called an "insurance policy," so often responsible for bringing them home even after enemy fire knocked out an engine.
On April 25, 1944, Colonel Wasem led the 474th FG on its first operational mission. That morning, 48 Lockheeds from all three squadrons conducted an uneventful fighter sweep over France. Another patrol departing later in the day likewise returned without incident.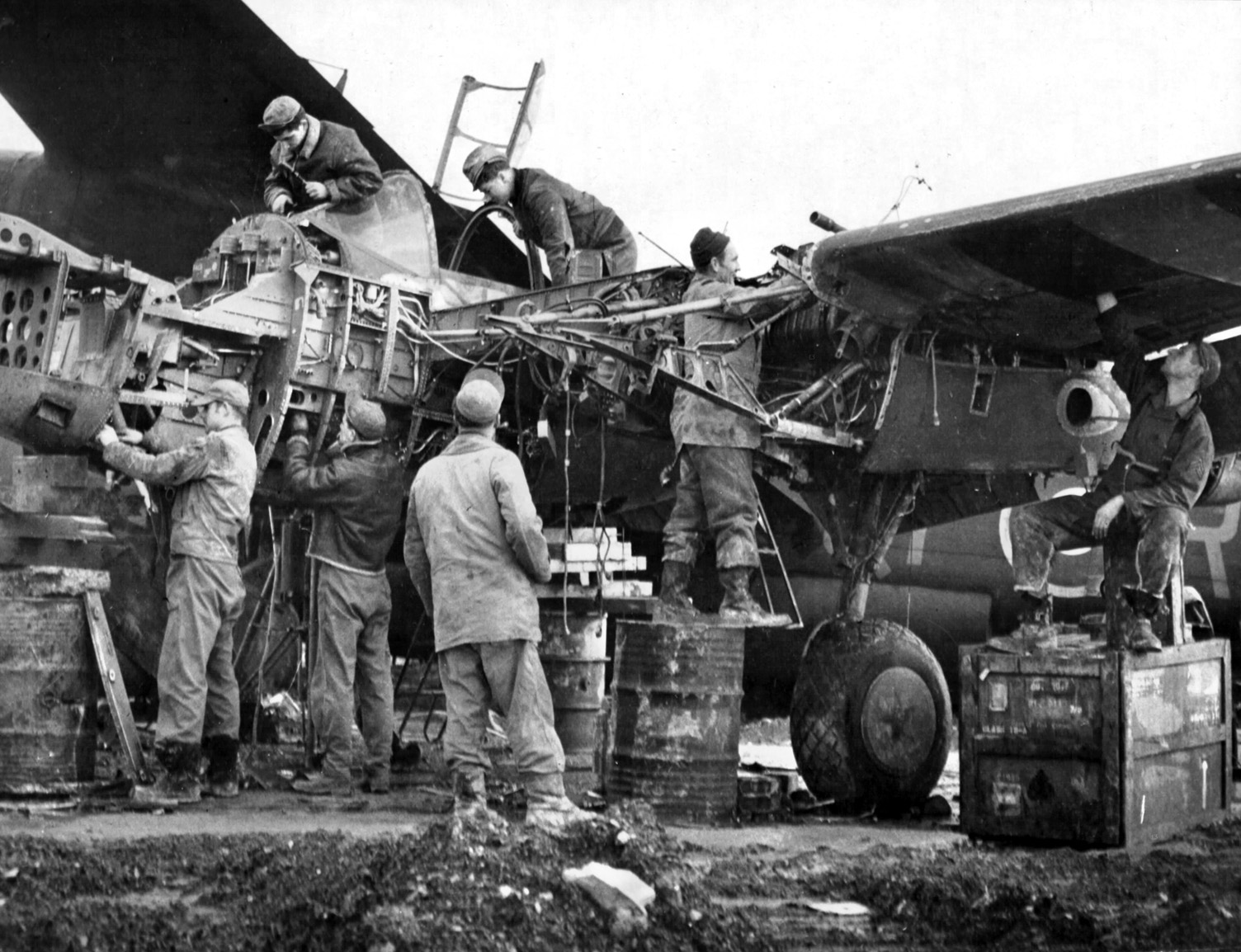 For the next six weeks, Wasem's men escorted Eighth and Ninth Air Force bomber formations while settling into the daily routine of generating two 16-ship sorties per squadron per day, weather permitting. They also honed their skills in the deadly art of dive bombing, learning to keep a sharp lookout for Luftwaffe fighters above and antiaircraft fire below.
These lessons came at great cost. Over the French town of Mézières on May 7, the group was busy shepherding a flock of Martin B-26 Marauders when it was jumped by 15 FW-190s belonging to II Staffel (Group), Jagdgeschwader (Fighter Wing) 2. Lieutenants Jack Holton, Buford Thacker, and Milton Merkle all were shot down, making them the unit's first combat losses. Holton was taken prisoner, and Thacker managed to evade capture and escaped through Spain, while Merkle lost his life to German guns.
Meanwhile, 2nd Lt. Herman Lane plastered an unwary Focke-Wulf with 20mm and .50-caliber fire. No one saw the FW-190 crash, so Lane received credit for a "probable"—but it was good enough to open the 474th's scorebook.
As May turned to June, the signs of impending invasion became unmistakable. First, the officer's club at Warmwell was turned into a top-secret briefing room complete with military police guards on all entrances. The group and squadron commanders were then taken off the flight schedule, because they were "bigoted" (i.e., briefed on the D-Day plan). They could not risk being shot down, captured, and tortured by Nazi intelligence agents.
Lastly, on June 4, line chiefs began painting what they termed "zebra stripes" on the booms and wings of all P-38s. Intended as a recognition aid, these black and white bands were applied to every aircraft likely to encounter friendly forces. Invasion planners also directed the easily identifiable Lightnings to fly low over Allied convoys as a measure intended to prevent nervous shipboard gunners from firing on their own air escorts.
Pilots gathered in their new war room on June 5 to hear Group Operations Officer Major Vernon "Bill" Bowman brief the plan. "Gentlemen," he began, "there's no sense in keeping this a secret any longer. D-Day will be tomorrow, and tonight we're going to patrol the Channel as cover for the landing craft going across."
The invasion was finally at hand. "An outward show of calm prevailed," wrote the 430th FS historian, "but inwardly everyone seethed with excitement." At dusk, 48 Lightnings headed out to screen a designated sector 4,000 feet above the enormous naval armada. Completing their shift at 2300 hours, the 474th's airmen returned home brimming with stories of a sea covered in warships.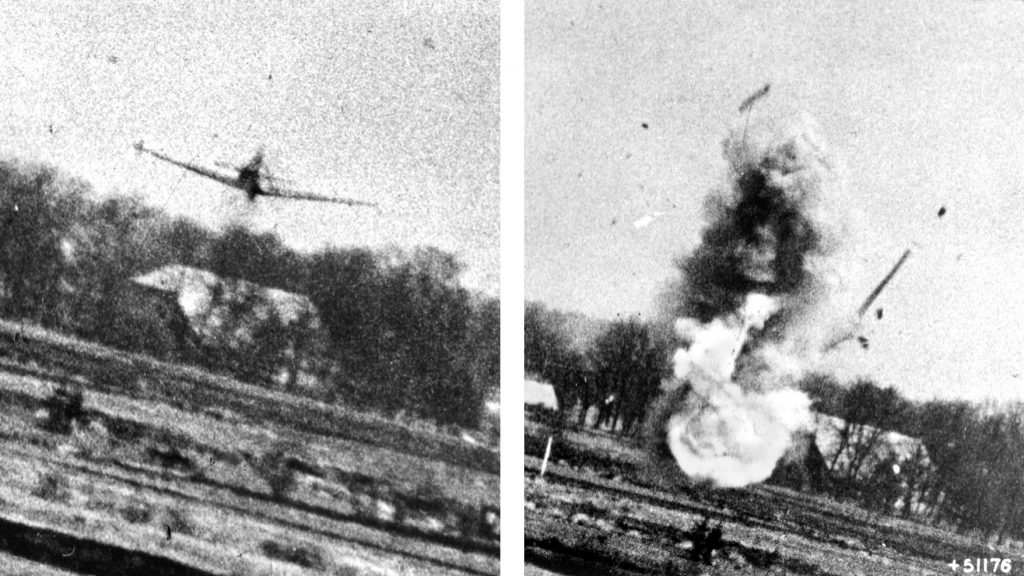 In the meantime, ground personnel witnessed another spectacle. "The sky was filled with planes of all descriptions," recounted the 429th FS history, "all winging their way toward France." Later, a Douglas C-47 Skytrain approached the field with one pilot dead in his seat and gas tanks nearly empty. The big transport straggled to join several other battle-damaged aircraft forced to land at Warmwell. Unit medics rushed to treat the wounded, including two American paratroopers struck by ground fire before they could jump.
June 6 was spent hitting tactical targets in support of Allied invasion troops. Tragedy struck the 430th FS when its well-liked commanding officer, Major Leon Temple, was lost to flak near Carentan along with another pilot, 2nd Lt. Robert Belford. Neither man survived.
While Captain Ralph Embrey stepped up to take temporary command of the 430th, replacement aircraft and pilots began making their way to Warmwell. One new pilot, 2nd Lt. Robert Milliken, reported to the 429th FS along with four confident, even cocky, comrades fresh from flight school. By war's end, two of the five had died in action, while another returned badly burned from an emergency bail-out. Those who survived, according to Milliken, "became hardened to the losses." Death, he observed, was just part of the game.
The relentless nature of their business took its toll on flyers' morale. Worn out by the stress of flying twice-daily sorties into the teeth of deadly enemy fire, airmen began to require occasional rest breaks. Replacements helped shoulder the load. By July, each squadron had on hand at least 41 rated aviators available to man its 25 P-38s.
On the bright-blue morning of July 18, a total of 48 aircraft from the 474th were over France on what they called an "armed reconnaissance"—an especially hazardous operation flown at low level by bomb-carrying Lightnings seeking targets of opportunity such as trains, truck convoys, and supply dumps. Suddenly, 25 long-nosed FW-190s dove out of the sun to ambush them.
The German fighters first targeted a flight of 428th FS P-38s lined up to strike railroad bridges at Merey. These pilots—led by Major Earl Hedlund—quickly abandoned their bomb runs and jettisoned all external stores. Turning into the foe, Hedlund's men prepared to defend themselves.
Help soon arrived. Stacked several thousand feet above the 428th were 32 Lockheeds belonging to the 429th and 430th Fighter Squadrons. Excellent visibility that day enabled those flyers to observe and report the Focke-Wulfs as they attacked, buying their comrades several precious seconds with which to react. Furthermore, the high squadrons were in perfect position to bounce their foe.
"Dogfights raged all over the sky above the little town of Merey, on eastward toward Evreux, north toward the Seine," recorded the 428th's official history. "Within a matter of minutes, there were 190s—and P-38s too—exploding on the ground, and more of the Nazi fighters were pouring smoke on their way to the deck. Wherever one looked, there were P-38s on 190s' tails."
Earl Hedlund had an especially harrowing experience. After claiming one Focke-Wulf damaged and another probably destroyed, Hedlund's Lightning took hits from an Me-109 that had belatedly joined the fight. The unit history recounts what happened next: "His airplane's cockpit full of smoke, broken glass, and leaking coolant, his radio shot to pieces two inches from where he sat, a wing almost torn off and an engine gone, the 428th's commanding officer streaked unconscious toward the deck."
"Somehow, at 1,500 feet," the narrative concluded, "he came to and pulled the P-38 out of its plunge." Hedlund, who had turned 28 two days previously, managed to coax his crippled mount back to Warmwell.
In return for three Americans downed, one from each squadron, the 474th claimed 12 Luftwaffe fighters destroyed. In reality, the Germans admitted losing seven FW-190s from I/JG 26 and III/JG 54, along with an unknown number of Me-109s belonging to III/JG 26.
This savage melee helped cement the 474th's reputation as a "hot outfit." Pilots began wearing silk scarves in their squadron colors (red for the 428th, blue for the 429th, and yellow for the 430th). Also that summer, each flying unit received a radio callsign that was soon adopted as its unofficial nickname. The 428th became known as "Geyser," the 429th "Retail," and the 430th "Backdoor."
On August 1, the 474th FG was assigned to the 70th Fighter Wing, a large operational command charged with providing tactical air support to the First U.S. Army. As those ground forces began their breakout from the Normandy beachhead, Colonel Wasem's organization received orders to pack up and move closer to the front. Its destination: France.
Forming advance, main, and rear echelons, 474th personnel crossed the English Channel both by air and by landing craft. Within 12 days, the outfit had closed on its new home, a former apple orchard near Neuilly, about five miles southwest of Omaha Beach.
Conditions on the field, officially known as Strip A-11, were a far cry from those enjoyed at Warmwell. Until support personnel arrived with pyramidal tents and cooking stoves, everyone slept under a shelter-half and ate K rations. Arguments raged over which was worse, the choking dust or ferocious bees. A-11's roughly-finished 5,000-foot runway was covered in prefabricated bituminous surfacing, known as "Hessian Mat," and before planes could take off or land, ground crews had to run off any cows that might have wandered onto the airstrip.
On several occasions, Luftwaffe night intruders bombed the 474th FG's base. No one was hurt, but this unaccustomed proximity to the front lines took some getting used to. So too did the steel helmets and sidearms that everyone was now required to wear.
While at Neuilly, the unit received its first "droopsnoot." This was a P-38J with all guns removed and a bombardier's station fitted in their place. Equipped with a Plexiglas nose, Norden bombsight, and K-24 strike camera, the droopsnoot was designed to lead large formations of Lightnings on precision medium-altitude bombing missions. It rarely worked as advertised, however, as few airmen could synchronize their bomb release well enough to ensure a tight pattern on the target. Dive bombing remained the 474th's preferred method of attack.
The group demonstrated its proficiency with 500- and 1,000-pound demolition bombs on August 23, the day Allied forces entered Paris. This was also the day that two of Colonel Wasem's squadrons caught a large convoy of German cargo vehicles that was attempting to escape across the Seine River near Elbeuf.
First in at 1230 hours was the 428th FS. With Wasem leading, 12 Lockheeds fell upon a "wealth of targets" massed along the riverbank. Despite heavy 20mm and 40mm flak, the "Geyser Gang" destroyed 31 trucks and 2 tanks in their first sortie of the day.
A half-hour behind "Geyser" came 12 more P-38s of the "Retail Gang" (429th FS) led by Bill Bowman. This flight struck hard as well, wrecking an estimated 50 motor transports and setting fire to a large supply dump. Intense antiaircraft fire, though, forced Bowman to bail out near Bernienville. It was eventually learned that the veteran operations officer had been taken captive.
After ground personnel quickly refueled and rearmed their Lightnings, the "Geyser" and "Retail" Squadrons went out again later that afternoon. Discovering "500 to 600 vehicles lined up almost bumper-to-bumper…over one pontoon bridge," both outfits swarmed the area. Shortly after 1630 hours, Earl Hedlund led his 428th through what the unit diary called "a solid wall of flak" to attack the bridge. Two pilots, 2nd Lt. Gene Hetzel and Flight Officer Jack Greaves, abandoned their fatally stricken P-38s to end up as prisoners of war.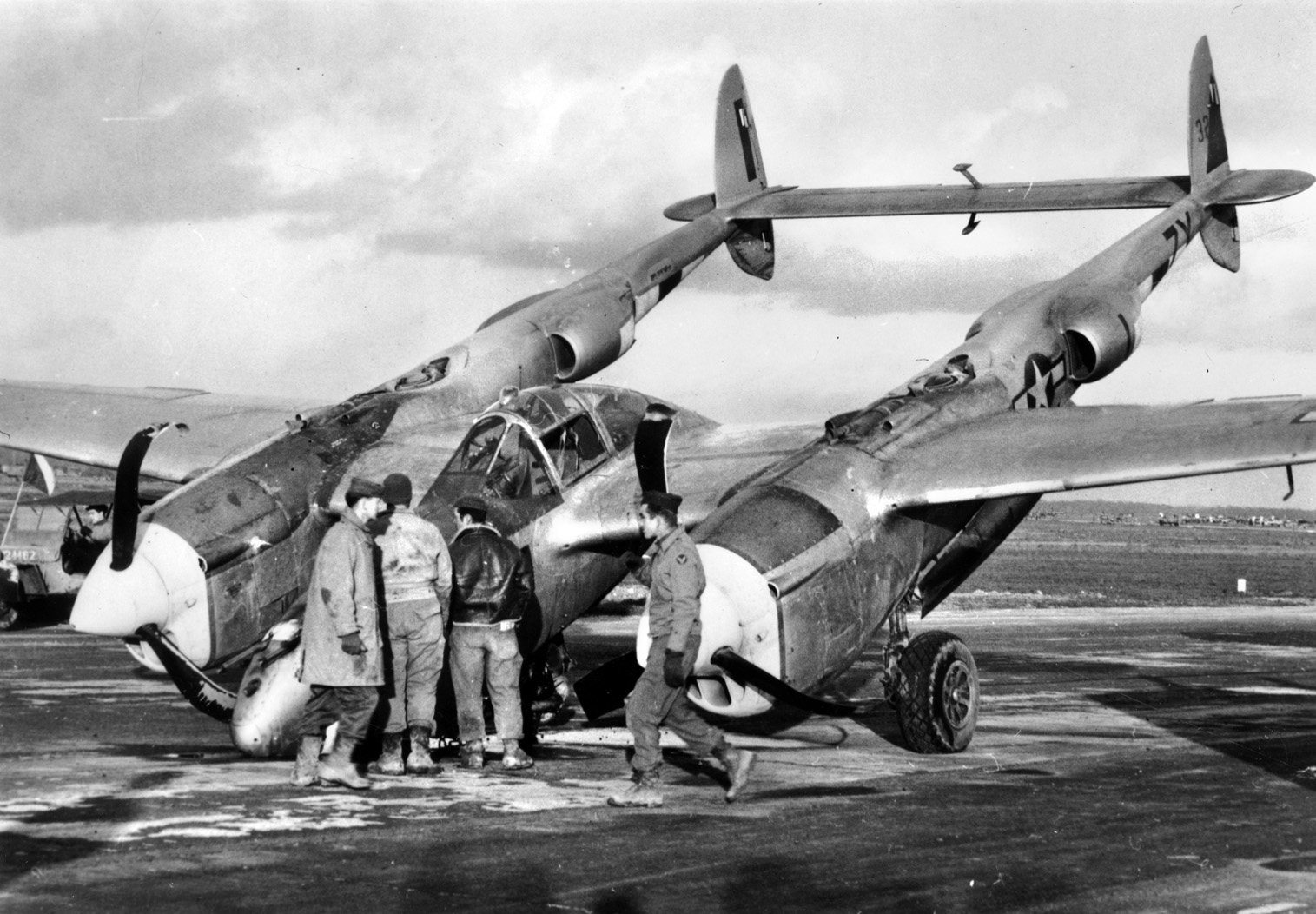 The 429th FS, diverted from another mission to finish off that pontoon bridge, went in sometime after 1900 hours. Diving from 6,000 feet, flight leader Captain James Cobb released two 500-pound bombs that demolished the floating span. Withering ground fire then "put a gaping hole in the elevator and stabilizer" of Cobb's Lightning, according to the Retail Gang history, further blowing off "the lower half of his left rudder." The 22-year-old West Pointer managed to get his Lockheed home, an impressive feat of airmanship that earned him the Distinguished Service Cross.
Cobb's DSC was not the only recognition bestowed on the 474th for its work that day. In a general order dated June 14, 1945, the entire outfit received a Distinguished Unit Citation for "outstanding performance of duty in a joint air-ground attack upon retreating enemy forces." The citation further credited Colonel Wasem's command with destroying or damaging 151 motor vehicles, two bridges, a pair of barges, and a supply dump.
The 430th "Backdoor Gang," assigned to support the French 2nd Armored Division, did not participate in this mission. Nevertheless, unit members had their own set of adventures with which to remember August 23. Informed prematurely that French patriots had seized Paris, 13 P-38s took off in late afternoon to witness the city's "liberation." Leading out was the squadron's droopsnoot, with a photographer from Life Magazine in the bombardier's compartment. They had just spotted the Eifel Tower when, according to their historian, "CA-CHUNG!!! All hell broke loose from 88mm heavy flak ringing the outskirts of the city."
"That," noted one participant, "ended the sight-seeing trip."
Nazi Germany remained a determined adversary despite the surrender of Paris, which finally occurred on August 25. That same day—"Black Friday"—Colonel Wasem's men discovered to their horror that the Luftwaffe was still ready to fight for control of France's skies.
Ironically enough, it all started as an attempt to catch those Messerschmitts and Focke-Wulfs on the ground. Group Headquarters assigned "Geyser" and "Retail" Squadrons the task of bombing enemy-held airfields near Herpy, Tergnier, and Chambry. The "Backdoor" Gang remained on detached duty supporting French armor. Not one of the 24 Lightnings flying that afternoon got anywhere near its target.
Somehow forewarned of American air activity, the foe put up over 100 Me-109s and FW-190s in a massive fighter sweep over central France. Some of these machines intercepted another P-38 group, the 367th, near Laon in a low-level encounter that resulted in the loss of 16 Luftwaffe and eight USAAF aircraft.
Meanwhile, over 30 Me-109s of III/JG 76—accompanied by 10 FW-190s belonging to I/JG 26—surprised the 474th FG at 11,000 feet above Cambronne-les-Clermont. Within five minutes, their ranks were swelled by 32 additional FW-190s from II/JG 26. Led by Captains Egon Albrecht and Emil "Bully" Lang, the Germans outnumbered their adversaries almost three to one.
Caught out of position by a superior force of enemy warplanes, the 428th FS suffered heavily. Of 12 Lightnings on the mission, only four returned to Neuilly. Captain Austin, as well as Lieutenants Spiker, Jarvis, Capron, Stone, Zierlein, Packard, and Koch, were listed as missing. The surviving "Geyser" men, however, claimed to have destroyed eight fighters in retaliation for their squadron's grievous losses.
As high squadron, the 429th had a few priceless seconds in which to jettison bombs and maneuver against the foe. After flaming one Messerschmitt at altitude, Lieutenant Lenton Kirkland followed its wingman down to treetop level: "I kept him on the deck until I got within 100 yards," the Georgian wrote, "firing from dead astern. I shot his engine out…and watched him go into the ground."
For the loss of pilots Holcomb, Patterson, and Leahy, the "Retail Gang" claimed 13 planes killed, one probably destroyed, and 13 more damaged that afternoon. Actual German casualties totaled 16—including Captain Albrecht, found dead in his parachute harness.
The shock of "Black Friday" would not wear off for some time. Nevertheless, there were missions to be flown and orders obeyed. On August 28, the 474th FG was again directed to move its base to another freshly constructed airstrip near St. Marceau, France. Known as Advanced Landing Ground A-43, the outfit's new field sat about 100 miles southwest of its current station.
By September 2, Colonel Wasem's air echelon—built back up after the disastrous events of August 25—was flying operational sorties from St. Marceau. The 474th's stay there was a short one, though, as HQ relocated it 70 miles east to Strip A-72 at Peronne just 10 days later. The Allied armies' incredibly swift rate of advance across France necessitated these frequent moves.
Peronne was a former Luftwaffe base. For the first time since Warmwell, unit personnel enjoyed such luxuries as hot showers and covered maintenance facilities. From here, the squadrons all supported Operation Market-Garden, a gigantic Allied air and ground assault on the Netherlands. Flying over Eindhoven on September 17th, Wasem's men bombed and strafed antiaircraft positions that threatened the 101st Airborne Division's drop zones.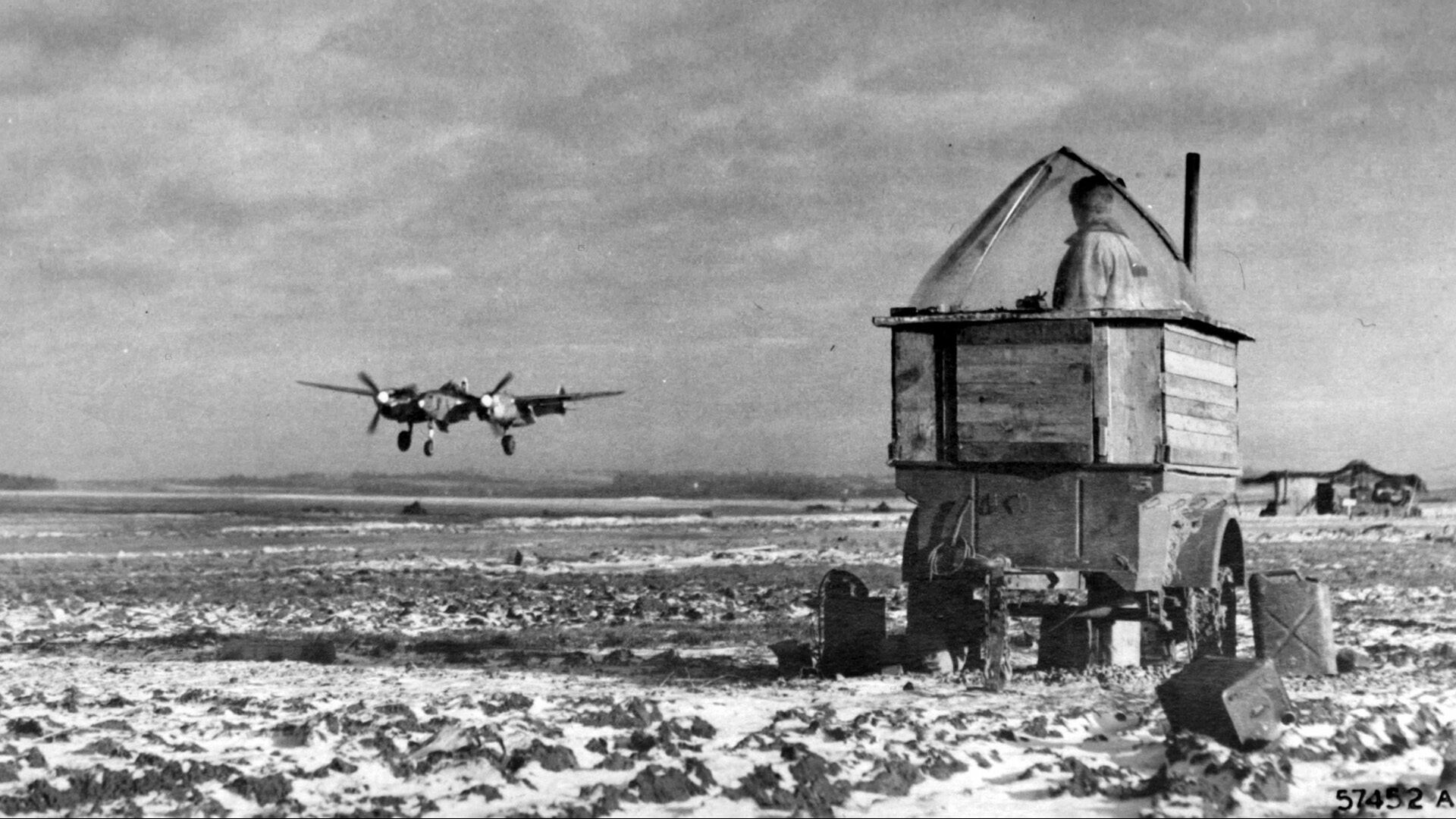 Despite the Group's focus on ground attack, a friendly race for acedom developed between two 429th FS airmen, Bob "Swat" Milliken and Lenton "Kirk" Kirkland. Milliken got his first kill, an FW-190, on July 7. By mid-October, he had upped his total to four. Not to be outdone, Kirkland claimed two Me-109s on "Black Friday," another plane on October 21, and two more on December 18. Tragically, the organization's first ace perished after his aircraft was shot down on Christmas Eve, 1944. "Kirk's" loss deeply affected "Swat" Milliken, who in the meantime had become an ace himself by flaming a Messerschmitt over Germany on December 21.
In early October, the 474th FG moved yet again, to Strip A-78, near Florennes, Belgium. Here, they would endure one of the coldest European winters on record while occupying a crowded, bleak airdrome that had been thoroughly wrecked by retreating Luftwaffe personnel.
Low clouds, fog, and frequent rain often kept the squadrons grounded. On Saturday, December 16, the typically miserable conditions at Florennes were accompanied by a disturbing new sound: the unusually loud rumble of distant artillery. Group HQ said this gunfire signified a major enemy counteroffensive boiling out of the Ardennes. So rapid was the foe's attack that German ground troops were at one point rumored to be just 12 miles from Florennes. Pilots prepared to evacuate their P-38s, while ground personnel considered how they would defend the base against Nazi panzers while armed only with pistols and carbines.
Fortunately, those reports proved false, and the 474th stayed put. As weather conditions improved, its Lightnings roared skyward to strike vehicle convoys, trains, and troops in the open all across Belgium, Luxembourg, and Germany. The group's efforts were later recognized by award of the Belgian Fourragère to all unit members.
The war began to wind down. In February 1945, Colonel Wasem went home for a well-deserved rest—the 428th's Lt. Col. Hedlund took over as group commander. Other changes included a Ninth Air Force decision to convert all of its P-38-equipped outfits to cheaper, less maintenance-intensive single-engine machines. The 367th FG exchanged its Lightnings for P-47 Thunderbolts in February, while by March, the 370th FG was re-equipped with North American P-51 Mustangs.
The 474th FG continued to operate its trusty Lockheeds, most of which by now were natural-metal finished L-models. Sporting uprated V-1710-111 engines, increased fuel capacity, and underwing rocket racks, the organization's new Lightnings showed themselves to be incredibly capable air combat platforms. Covering First Army's drive on the Rhine River, aviators kept busy flying up to three missions per day against ground targets as well as the occasional Luftwaffe warplane foolish enough to go up against them.
After the unit moved to a field near Strassfeld, Germany, pilots began studying their recognition manuals in case of an unexpected meeting with the Red Air Force. That encounter finally took place over Oppelhaun in mid-April, when flight leader Lieutenant Robert Freeman observed 10 bogies circling below him at 1,000 feet. Identifying them as Lavochkin LaGG-3 fighters, Freeman left the little fighters unharmed to report first contact between the Ninth Air Force and its Soviet allies.
The 474th's final claim to history came literally minutes before hostilities in Europe ended. At 2005 hours on May 8, 2nd Lt. Kenneth Swift of the "Retail" Gang shot down a Siebel Si 204 transport—the last German aircraft to be destroyed by American pilots in World War II. It was Swift's sole kill, but closed out an impressive record of achievement by one of the USAAF's premier fighter organizations.
From April 25, 1944, to May 8, 1945, the 474th Fighter Group flew 12,954 sorties while dropping 3,920 tons of bombs and firing 241,897 rounds of .50-caliber and 36,656 rounds of 20mm ammunition. Its airmen were credited with destroying 113 warplanes in the air and another 90 on the ground. The outfit also smashed 4,681 enemy armored vehicles, trucks, tanks, railroad cars, and gun emplacements, further damaging an additional 5,681 pieces of equipment.
Measured against this record of success were 80 474th FG pilots recorded as killed or missing in action. Taken together with two ground crewmen who died in accidents overseas, the group paid a heavy cost for its many accomplishments.
Yet the sight of their distinctive twin-tailed Lightnings overhead gladdened the hearts of Allied foot soldiers, who counted on tactical aircraft like the Ninth Air Force's P-38 Lightnings to demolish dangerous ground targets and marauding Luftwaffe fighters. These versatile fighter-bombers played a vital yet unsung role in winning final victory over Hitler's Germany.
---
Frequent contributor Patrick J. Chaisson is a writer and historian from Scotia, New York.