By Al Hemingway
On June 8, 1967, the USS Liberty, a cargo ship built at the end of World War II and converted to an electronic surveillance vessel in 1964, was patrolling 14 miles off the coast of the Sinai Peninsula. Just days earlier, Israel had gone to war with Egypt, Syria and Jordan, and the Israelis already had their Arab foes on the run.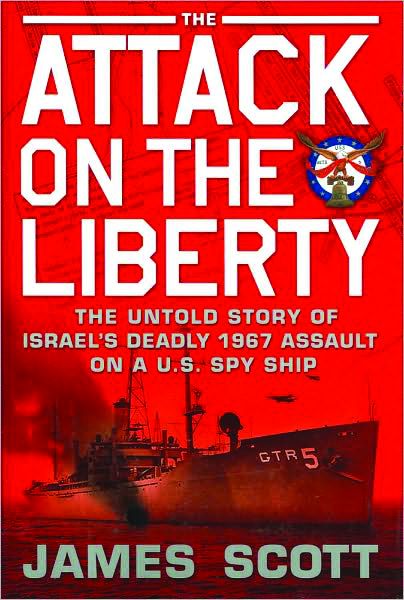 There was no doubt that Liberty was a spy ship. The 455-foot vessel was outfitted with the state-of-the-art equipment that allowed her to eavesdrop and monitor all traffic in the area. Still, her skipper, Commander William McGonagle, was uneasy about being so close to the coastline. His request to reposition the ship went unheeded, and the nearest carriers and destroyers were hundreds of miles away. With a top speed of only 18 knots, the only means Liberty had of protecting herself were four .50-caliber machine guns. She was extremely vulnerable to an enemy attack. But orders were orders, and McGonagle, a stickler for naval regulations, continued with the clandestine mission.
Early in the morning of June 8, aircraft later identified as Israeli watched the ship's movements. On numerous occasions they flew overhead. No one paid much attention until fighter jets swooped down and pounded the unsuspecting ship with rockets and cannons. Napalm transformed the deck into a living hell as temperatures reached 3,000 degrees. Torpedo boats fired their deadly missiles, striking Liberty amidships, where the intelligence systems were situated, ripping open a gaping 40-foot hole. The vessel began listing badly. Despite the torpedo damage and the 821 shell holes that riddled the vessel, McGonagle and his crew did a miraculous job of keeping her afloat. Tragically, 34 crew members were killed and more than 170 of the nearly 300 who manned the ship were wounded during the horrific hour-long assault.
The question remains: why would Israel, our staunchest ally in the Middle East, purposely attack a U.S. ship in international waters? In his newest book, The Attack on the Liberty: The Untold Story of Israel's Deadly 1967 Assault on a U.S. Spy Ship (Simon & Schuster, New York, 2009, 368 pp., photos, index, notes, $27.00, hardcover), journalist James Scott, son of one of the Liberty survivors, uses newly released classified material and interviews with survivors to piece together the tragic events and apparent cover-up by both governments to prevent the truth from emerging.
Even before the fires were out on Liberty, President Lyndon Baines Johnson's administration was scurrying to develop a story that would satisfy the press and the American public. Defense Secretary Robert McNamara, who referred to Liberty as a "technical research ship," said the Israeli Defense Force (IDF) had committed a tragic error, thinking she was an Egyptian transport vessel. The Israeli government quickly offered an apology.
Most Washington insiders, including politicians with naval experience, dismissed this idea. Both ships were distinctly different. How could Liberty, her decks bristling with antenna, been mistaken for an Arab cargo ship, much smaller with clear Arab markings on her hull? Also, the IDF said that Liberty was not clearly marked and her flag was obscured and limp because there was no breeze that day. Disbelievers nixed this absurd tale. The IDF aircraft had positively identified her as an American ship hours prior to the attack. There weather was clear and there was no mistaking the Stars and Stripes.
Over the years, allegations have surfaced as to why Liberty was targeted for destruction. Some have even said the attack was ordered personally by Israeli General Moshe Dayan, who feared that the Israeli offensive to seize the Golan Heights would somehow be jeopardized by the unexpected appearance of the American spy ship.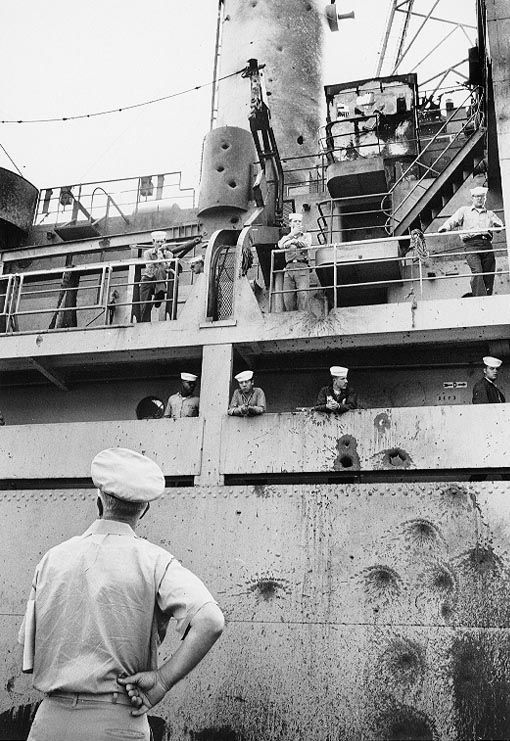 Liberty was near the town of El Arish, where as many as 1,000 Palestinian and Egyptian prisoners were been detained. Ominous rumors have circulated that these prisoners were being summarily executed. If this were true, Liberty would have certainly communicated the war crime to American officials. The truth behind both these accusations has never been proven.
McGonagle was eventually awarded the Medal of Honor, and his officers and crew were also decorated for their gallantry. LBJ, wanting to distance himself from the debacle, had the medal given to McGonagle at the Washington Navy Yard by an admiral, instead of at the White House by the commander-in-chief. Crew members' awards were presented quietly aboard the refurbished Liberty with no fanfare.
Before his death in 1999, McGonagle addressed his men at the 40th anniversary ceremonies of the attack on Liberty and remarked: "For many years I had wanted to believe that the attack on Liberty was pure error. It appears to me that it was not a pure case of mistaken identity. I think that it's about time that the state of Israel and the United States government provide the crew members of the Liberty, and the rest of the American people, the facts of what happened."
To date, that has not happened.
---
The White War: Life and Death on the Italian Front, 1915-1919 by Mark Thompson, Basic Books, New York, 2009, 480 pp., photos, notes, index, $30.00, hardcover.
Precious little has been written about the bloody fighting that pitted Italy against the Austro-Hungarian Empire during World War I. More than one million soldiers died during four years of horrific combat in some of the worst terrain an infantryman could be asked to assault or defend. The front snaked along the Italian-Austrian border for nearly 400 miles from the Swiss border to the Adriatic Sea. Within the mountainous region, both sides endured "year round whiteness." Living conditions were primitive at best, and each army was bogged down in murderous trench-style warfare akin to the Western Front.
Italy, although a member of the Triple Alliance that also included Austria-Hungary and Germany, did not declare war in August 1914. Italy and Austria-Hungary had a bitter feud over disputed territory dating back to 1815, when the Congress of Vienna gave regions of northern Italy to the Austrian Empire. Because of this, Italy relinquished her obligations to the Alliance and instead threw her support to the Allies by signing the Treaty of London on April 26, 1915.
Italy hoped to invade Austria-Hungary in a blitzkrieg-style attack and regain Cisalpine Tyrol (present-day Trento and Bolzano-Bozen), Istria, Dalmatia, and the important port of Trieste. Unfortunately, the assault was a failure, and for the next 31/2 years, the two armies slugged it out in what would become one of the bloodiest campaigns of the entire war.
Italian Chief of Staff Luigi Cadorna, a strong proponent of the frontal assault, devised a plan to strike at the enemy from the north and bypass the mountainous regions altogether and hit them from the rear. This sounded wonderful on paper, but in reality it was humanly impossible. The Isonzo River posed a huge problem. The waterway was known to flood and, as luck would have it, record rainfall fell during those years. Also, the Austrian-Hungarian troops had entrenched themselves on the high ground and could observe every movement of the Italian Army.
A series of pitched battles fought in the area resulted in tremendous casualties. It is estimated that half of the Italian dead and wounded, from 300,000 to 600,000, occurred there. The Austrian-Hungarian defenders incurred 200,000 killed and wounded.
American author Ernest Hemingway, who served briefly as a Red Cross ambulance driver in the region, wrote about the war in his classic novel A Farewell to Arms, loosely based on his experiences on the Italian front. He offered a fitting tribute to an obscure sidelight of the war: "I was always embarrassed by the words sacred, glorious, and sacrifice and the expression, in vain. I had seen nothing sacred, and the things that were glorious had no glory. There were many words that you could not stand to hear and finally only the names of places had dignity."
---
The Last Confederate General: John C. Vaughn and His East Tennessee Cavalry by Larry Gordon, Zenith Press, Minneapolis, MN, 2009, 260 pp., illustrations, maps, notes, index, $27.00, hardcover.
Retired U.S. Army colonel Larry Gordon tackles a complex subject in his latest offering, the saga of one of the last Confederate generals to surrender at the end of the Civil War, Brig. Gen. John C. Vaughn of eastern Tennessee. Vaughn's military career prior to the Civil War was notable. Although not a West Point graduate, he performed well during the Mexican War. Upon his return, he made an unsuccessful attempt at trying to strike it rich in the California gold fields before returning to the Volunteer State and beginning a successful career in politics.
Vaughn was a diehard Confederate amid the predominantly pro-Union citizenry of eastern Tennessee. Nonetheless, he raised a regiment and joined the Confederacy. His military performance in the conflict had its highs and lows. Praised in some battles and criticized in others, Vaughn was a fighter with a "follow me" attitude that his men respected.
After the war he fell on hard times, including a federal conviction for fraud that ended his political career. Although he died at an early age, Vaughn remained a steadfast Rebel to the bitter end. His fighting legacy, despite his flaws, would forever be his trademark.
The Hornet's Sting: The Amazing Untold Story of World War II Spy Thomas Sneum by Mark Ryan, Skyhorse Publishing, New York, 2009, 368 pp., illustrations, notes, index, $24.95, hardcover.
The daredevil exploits of Danish pilot and British secret agent Thomas Sneum were truly remarkable. So much in fact, that author Ken Follett used one of Sneum's legendary adventures in his novel Hornet Flight. The Danish patriot's clandestine activities were truly the stuff of legend. Now, writer Mark Ryan, who had the opportunity to meet and interview Sneum in detail before his death in 2007 at the age of 89, has produced a book about Sneum's death-defying escapades in World War II.
When the Nazis occupied Denmark in 1940, Sneum, who was a pilot in the Danish Air Force, was determined to make his way to England and fight the Germans. He and another fellow pilot refurbished an old Hornet Moth and took off across the English Channel. After a perilous six-hour flight, the pair landed and was taken into custody by the Royal Air Force.
Sneum had taken photos of the new German radar installation dubbed Freya and presented them to the British. In 1942, he went back to Denmark and worked in covert operations for six months. He managed to escape a second time by walking across a frozen waterway that separated Denmark from Sweden. Ryan's tell-all book highlights Sneum's incredible deeds and recognizes one of the real heroes of World War II.
---
The Complete Gettysburg Guide by J. David Petruzzi by Steven Stanley, Savas Beatie, New York, 2009, 304 pp., maps and photos, $39.95, hardcover.
David Petruzzi, with assistance from Steven Stanley, has given Civil War buffs another wonderful account of the Gettysburg battlefield. Although there are a host of guides written about the three-day battle that was one of the great turning points in the war, theirs includes the off-beat sites and out-of-the-way places that a visitor could easily miss.
Petruzzi gives the reader an overview of the fighting and explains how the two armies ended up in such an obscure town to fight the bloodiest battle of the war. He divides his chapters into tour stops that enable individuals, especially first-time visitors to Gettysburg, to obtain a clear understanding of what occurred there more than a century ago.
Stanley's maps are rich in detail. They give the location of each unit, their commanders, movements, and role in the battle. The text that accompanies the maps is full of first-hand accounts by the participants that bring each particular action to life. If you are planning a trip to Gettysburg, bring along a copy of this guidebook. It will prove especially beneficial.
Following the Drum: Women at the Valley Forge Encampment by Nancy K. Loane, Potomac Books, Washington, D.C., 2009, 204 pp., notes, index, $29.95, hardcover.
When historians discuss the American War for Independence, very little is written about the fairer sex and their contribution on and off the battlefield. In reality, a host of ladies followed General George Washington's Army during the entire eight-year period it existed. Nancy Loane, a former seasonal ranger at the Valley Forge National Historical Park, became fascinated with the harsh winter encampment and the pivotal role that women played during that crucial period of the conflict. The majority of them served as seamstresses, cooks, nurses and washerwomen, although some were considered "common whores" by Washington's staff.
Despite the presence of those plying the world's oldest profession, the majority of ladies performed admirably and underwent the same hardships as their male counterparts. Loane has scoured hundreds of dairies, journals, letters, and records to help illustrate the importance of their contribution to the war effort, especially at Valley Forge during the horrific winter of 1777-1778.
---
Victory Point: Operations Red Wings and Whalers—The Marine Corps' Battle for Freedom in Afghanistan by Ed Darack, Berkley Books, New York, 2009, 316 pp., photos, notes, index, $25.95, hardcover.
Since the invasion of Iraq in 2003, the fighting in Afghanistan has taken a back seat in that theater of war. In 2005, the men of the 2nd Battalion, 3rd Marines embarked on an operation to defeat a ruthless insurgent named Mullah Ismail. His seemingly impregnable stronghold was situated atop a mountain known as Sawtalo Sar located west of the small town of Asadabad.
To eliminate Ismail's terrorist cell, Operation Red Wings was initiated. Unfortunately, no sooner had it begun than the plan seemed to unravel. A team of U.S. Navy SEALs was compromised after being inserted into the area. Also, a U.S. Army Chinook helicopter with 16 Army and Navy Special Operations personnel was shot down by a rocket-propelled grenade.
The Marines devised a plan dubbed Operation Whalers and entered the forbidden region to defeat the fanatical Ismail and exact justice on the men who were killed. When the smoke had cleared, the leathernecks had won a resounding victory. Every Marine, from the battalion level to the platoon level, had performed magnificently. The author, who was imbedded with the unit, has written an absorbing account of men in combat. Through their resilience and courage, they smashed an entrenched band of terrorists thought to be untouchable.
Founders: The People Who Brought You a Nation by Ray Raphael, The New Press, New York, 2009, 594 pp., illustrations, notes, index, $29.95, hardcover.
When key figures in the Revolutionary War are discussed, the familiar names of Washington, Jefferson, Adams, and Franklin are talked about in great detail. Other notable figures who were instrumental in gaining America's freedom from Great Britain and made great sacrifices have been forgotten.
Take Joseph Plum Martin, a common foot soldier in Washington's Continental Army. Born in Massachusetts, Martin moved to Milford, Connecticut, to reside with his grandparents and attend schools in the area. When the Revolutionary War erupted, Martin enlisted in the 8th Connecticut Regiment and served to war's end, eventually attaining the rank of sergeant.
Martin, who witnessed numerous historical events during his tenure as a soldier, eventually relocated to Maine, and in 1830 he wrote an account of his time as a soldier. This autobiography has become an excellent firsthand account of a crucial period in our history. He died in 1850 at the age of 89. Like other patriots of that era, Martin's story needed to be told. Now it has.
---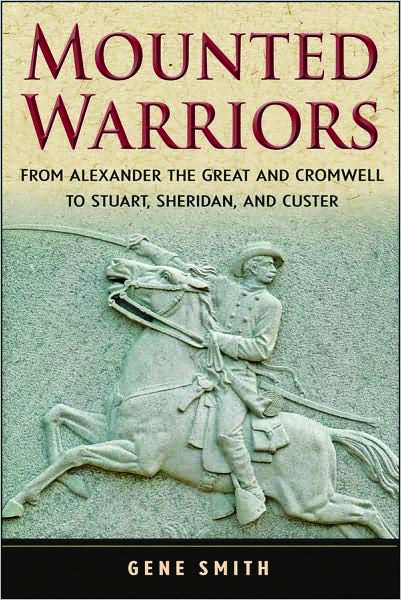 Mounted Warriors: From Alexander the Great and Cromwell to Stuart, Sheridan, and Custer by Gene Smith, Wiley & Sons, Hoboken, NJ, 328 pp., illustrations, index, $27.95, hardcover.
There is something irresistibly stirring and gallant about a cavalry charge. Ask any kid who has sat through a Saturday matinee and watched the mounted troopers gallop at the enemy with sabers flashing, waving feverishly over their heads. It is a stirring sight indeed. New York native Gene Smith, who owns and races horses himself, has written an entertaining account of the history of the noble animal as it was used in armed conflicts. He discusses tactics and weaponry from Alexander the Great's era to the America's last great cavalry charge, made by the 26th Cavalry, Philippine Scouts in the early part of World War II.
There remains an air of mystique about the cavalry to this day. As Smith points out: "In the early days of the war in Afghanistan, an odd event was seen on television news programs. Viewers were briefly shown American Special Forces soldiers riding horses they must have obtained locally up into the hills. No illuminating commentary was offered. It is hard to believe men fought from their saddles. Perhaps they got off to do so in the manner of what used to be called mounted infantry. They were onscreen for but a few seconds, and then vanished before the commercial."
Tonight We Die As Men: The Untold Story of Third Battalion 506 Parachute Infantry Regiment From Toccata to D-Day by Ian Gardner & Roger Day, Osprey Publishing, New York, 344 pp., photos, maps, notes, index, $27.95, hardcover.
World War II history is probably more popular today than at any other time since it ended more than six decades ago. The authors have done extensive research and gleaned information from countless sources, including survivors, to tell the heroic tale of the men of the
3rd Battalion, 505th Parachute Infantry Regiment, 101st Airborne Division.
On June 6, 1944, the unit was dropped behind enemy lines to secure a pair of wooden bridges near Brevands, France, to prevent the Germans from rushing reinforcements to Utah Beach. The paratroopers sustained numerous casualties at the drop zone. Nevertheless, some soldiers made their way to the objective and successfully prevented the enemy from advancing.
The book is a glowing tribute to these men who defied the odds and halted the Nazi juggernaut to allow the 4th Infantry Division to come ashore on Utah Beach and establish a beachhead. The unit saw extensive combat during the rest of the war, including duty at the Battle of the Bulge and Bastogne. Since the end of World War II, the unit has seen action in Vietnam and has been deployed to Iraq and Afghanistan. The proud lineage of this "Screaming Eagles" regiment continues to this day.
---
San Martin: Argentine Soldier, American Hero by John Lynch, Yale University Press, New Haven, CT, 2009, 265 pp., illustrations, notes, index, $35.00, hardcover.
Very little has been written about the military career of Jose de San Martin, most importantly his extraordinary leadership during the southern section of South America's fight for independence from Spain. San Martin was born in Spain and gained his military prowess as a young officer in the Spanish Army. He participated in several battles against the French in 1808, and became good friends with Bernardo O'Higgins, a native of Chile. He also met and befriended South Americans who desperately wanted their independence from Spain.
San Martin arrived in Argentina, via England, and for the next decade he fought a series of pitched battles against Royalist forces. In January 1817, he led one of two columns of soldiers and crossed the Andes Mountains. The perilous journey took three weeks and the men had to endure bone-chilling temperatures and high altitudes to reach their destination.
Eventually, Chile, Argentina, and Peru gained their freedom. However, in a closed- door meeting on July 22, 1822, San Martin unexpectedly resigned his commission and left Peru. Whatever was said at the gathering to cause him to hurriedly depart is still debated by historians to this day. Nonetheless, San Martin set sail for France and spent the remaining days of his life in a self-imposed exile. After his death in 1850, San Martin's remains were eventually interned and brought back to Buenos Aires. Today, he and Simon Bolivar are considered the true liberators of South America.
---
Memories of Two Wars: Cuban and Philippine Experiences by Frederick Funston, Bison Books, Lincoln, NE, 2009, 451 pp., index, $17.95, paperback.
Written in 1911, Funston's reminiscences of Cuba and the Philippines are still fresh and offer a rare insight into the wars that catapulted America onto the world scene. Although the United States quickly defeated Spain in Cuba to give that country its independence, the Philippine campaign was another story. It was an extremely unpopular war, with many at home believing that America had unworthy empire-building aspirations. Because of this, returning veterans received a less-than-warm welcome home—much like Vietnam veterans decades later.
Failing the admissions test to the United States Military Academy at West Point, Funston had worked various jobs before joining the Cuban Revolutionary Army after hearing a speech by former Civil War general Daniel Sickles in 1896. Returning home after a serious bout with malaria, he was eventually commissioned a colonel in the 20th Kansas Infantry and sailed for the Philippines. On April 27, 1899, Funston was involved in the Battle of Calumpit. During the fighting, he swam the Bagbag River and then crossed the Pamgpanga River under heavy fire to help drive the enemy from their entrenched positions. For his extraordinary heroism, he was later awarded the Medal of Honor.
Just prior to America's entry into World War I, Funston's name surfaced to lead the American Expeditionary Force to France. Unfortunately, he died of a sudden heart attack just a few months before the U.S. entry into the conflict. "For all his fighting and all of his accomplishments, he was denied the chance to prove his worth on a world stage," writes Thomas Bruscino in his new introduction to Funston's book, "and the world was denied the chance to see what Funston's innate skills and uncanny good luck could have done in that most awful of wars."
---
Strongholds of the Samurai: Japanese Castles 250-1877 by Stephen Turnbull, Osprey Publishing, New York, 2009, 272 pp., illustrations, index, $24.95, hardcover.
For readers with a keen interest in Japanese history, this book from noted Japanese historian Stephen Turnbull adds many notable details. Although it is often thought that the Samurai, or Japanese warrior class, fought in the open on foot or from horseback, they also built and defended defensive fortifications to protect themselves from enemies. Turnbull notes that the first known buildings used for defensive purposes to appear on the Japanese homeland were built around ad 250. These were usually constructed near villages for protection. It wasn't until centuries later that castle-like structures appeared with stone walls to repel any invasion from China or elsewhere.
Included in Turnbull's book is a chronology and glossary to assist the reader in following the transformation of wooden buildings into elaborate masonry castles. There is even a section for those who may wish to travel to Japan and visit the few remaining castles still in existence. Many of the communities that sprang up near castles soon flourished in their own right and served, says the author, "as the nucleus of civic life."