By Brandt Heatherington
Reginald Alexander was born in Gardnerville, Nevada, in 1924 to Scottish émigré parents who were originally from Westcolvin, Scotland. His father was a soldier in the Black Watch Highlanders in World War I, a unit the Germans nicknamed "The Ladies from Hell" because of their kilts. Interestingly enough, the 101st Airborne Division soldiers were nicknamed "Baggy Pants from Hell" by the Germans in World War II. Alexander's family later moved to California, first to Monterey then to Carmel, then just outside San Francisco, and finally settled in Eureka. His father went into business for himself as a baker. When Reginald's mother died, the business took a turn for the worse and the family moved back to San Francisco where he finished high school. The outbreak of World War II set in motion a series of events for Reginald Alexander that resulted in life-changing events during his service in uniform.
Brandt Heatherington: What made you decide to enlist?
Reginald Alexander: As this was 1942, we knew about the fighting in the Pacific, but I really didn't know much about the war in Europe other than we had heard about the Battle of Britain, of course. Mainly, I was just a young guy—17 and a half —looking for adventure and some extra money.
BH: What kind of training did you receive?
RA: When I enlisted they sent me to Monterey, and then we trained at the Presidio. I was put in charge of a squad and promoted to corporal. After a few months there, we were sent to an old cavalry station called Camp Toombs in Toccoa, Georgia. We thought that was a very unfortunate name, especially since we had to pass a casket factory on the way to the base. It was eventually changed to Camp Toccoa. At first, we would jump out of trucks and jump off of small towers to learn how to roll and tumble.
Then, as we progressed we moved on to Fort Benning, Georgia for jump school. This was where we had about a 250-foot tower and you would start by jumping off with a sort of bungee cord in a parachute harness, and you would pull the ripcord and then as you dropped you would transfer the bungee cord to your left hand. If you dropped it, you were taken up higher the next time, and no one wanted to do that.
Once we had learned how to do that, we learned to pack our parachutes, and after five live jumps from airplanes we got our paratroop wings. We modeled a lot of what we were doing on the Germans, as the U.S. Army had just started the paratrooper corps in 1940 and most regiments were just forming in 1942 when I joined.
BH: Your commanding officer was the famed Colonel Howard Johnson?
RA: Yes, "Jumpy" Johnson, as he was well known. Everything with him was "double time." He formed the 501st Brigade while stationed down in Panama, and that became the 501st Regiment. We were always competing against other units, the 506th, the 457th, but we also trained very much as individuals. Out of 1,500 men, they selected only 500. And if you dropped out, you were shipped out of camp immediately. We trained all through 1943 and then we were sent to Massachusetts and then on to England. We landed in Scotland on the Clyde River, where we boarded trains for southern England and ended up in Lambourne, which was a horse racing town not far from London. Randolph Scott, the famous movie actor, had a horse there.
BH: What were your accommodations like? What did you do when you were off duty?
RA: We were boarded in horse stables with four men to a stall. The Curahee Military Museum at Toccoa, which is the restored train depot, has one of those stalls on display. The stalls had bunks, and there was a bin for straw that we used as a pot stove and to make a fire, but it was still very cold. We made arrangements with a nearby pub for barrels of beer, which we covered up with a sheet and put books and flowers on top, and we had regular happy hours after training and bivouacs. One fellow built a still to make hooch, which blew up and destroyed the cook house. We also used to like going to Reading and London on the weekends.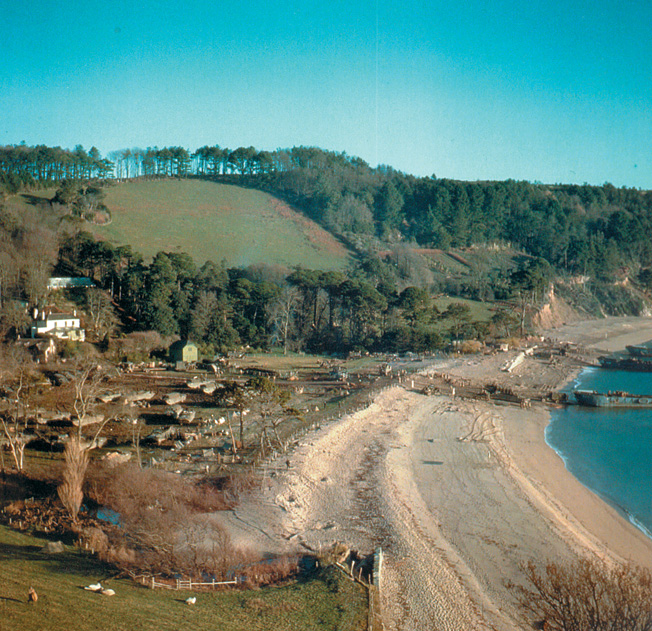 BH: Did the 501st earn a colorful nickname?
RA: We were known as the "Bastard Regiment" because at first we weren't attached to a division. Colonel Johnson was also a colorful character; he had two pearl-handled pistols and was a West Point grad. Eventually, while training at Lambourne, we were assigned as part of the 101st Airborne Division. Parachute units were different in that we were "3-3-3." That is, three squads made up a platoon, three platoons made up a battalion, three battalions made up a regiment, and three regiments made up a division as opposed to four in the regular Army. We started together, trained together, and stayed together unless you were captured or killed. We had a tremendous amount of loyalty and cohesiveness—it really was a "Band of Brothers."
I liked jumping and made extra jumps whenever I could. Soon we started making night jumps, and then we started doing live rehearsals with landing craft (LCs) about four to six weeks before D-Day.
BH: Were you involved in a German attack during these rehearsals?
RA: Yes. We were working out of Slapton Sands rehearsing for the invasion. This was called Exercise Tiger. They came in and took over the whole town and moved all the civilians out. We did full dress rehearsals aboard the LCs out in the English Channel. We would go so far, and then do a U-turn. The columns were led by a British frigate with an American destroyer on the other end to protect the LCs. After midnight one night in late April [approximately 2 am on April 28] a pack of German torpedo boats surprised the convoy and sank several LSTs (Landing Ship, Tank). We lost over 600 men. Decades later the nets of some English fishermen kept catching in this area and they dragged the bottom and hauled up one of the Sherman tanks that was on one of the LSTs.
BH: What kind of gear and weapons were you issued?
RA: I had an M1 Garand rifle, which I had qualified on as expert rifleman. Later I became a machine gunner and had the Browning .30-caliber light machine gun.
BH: Could you describe your D-Day air drop?
RA: We took off in the early evening the night before the naval force. German radar on the Cherbourg and Brittany peninsulas picked us up when we got close enough. I was with the 3rd Battalion, which was in reserve, and our job was to pick up Brigadier General [Douglas Forester] Pratt, the deputy commander of the 101st. He was killed on landing by a jeep that came unchained inside his aircraft and crushed him. My target was supposed to be Carentan but we were 25 miles off the drop zone when we came in.
BH: What kind of resistance did you meet with?
RA: You could hear shrapnel coming through the floor. Some guys got hit with that, some were killed. Outside it looked like the Fourth of July. They had extra medics on all the planes, which each held about 15 to 18 guys. My job on our plane was to watch the jump indicator light, which turned from red to amber to green when we were supposed to jump. The planes flew in echelons of three.
BH: And from then on the ride got rough?
RA: Our plane crashed, but I jumped before then. Unfortunately, I had a streamer, which is when your chute doesn't open all the way. I broke both legs when I landed. I tell people I came into the service at 6 feet tall and came out 5 foot 9! I gave myself a morphine shot and waited for help.
We used the "cricket" clickers to identify ourselves. You would click once and the other guy would click twice in response if he was a friendly, and then you would exchange sign and countersign, which for the 101st was "thunder" and "lightning." I called out and didn't use mine like I should have, and one of our guys said he almost shot me, but I said, "Cricket hell, I'm hurt!"
Don Metcalf and Bob Beachy gave me a rifle and put me in a hedgerow to wait for the medics. They were going to carry me off but they were worried that they would get me killed as they were attracting fire. A farmer brought me into the closest village in a wheelbarrow and left me in the care of a schoolmaster named Jacques Broquet. We couldn't use the doctor in town because he was a collaborator. They hid me there for about a week, but I didn't want to continue to endanger the schoolmaster and his family, and I wanted to get back to our lines. So, the French Underground put me in a wagon and covered me with straw and prepared to move me. I was armed with my M1, two bandoleers of ammo, six grenades, and a couple of Hawkins mines.
Eventually, we were stopped by a German patrol, which was kind of scary because I couldn't see what was going on. I was afraid they would stick bayonets into the hay like they do in the movies in that kind of scene. But I surrendered so there wouldn't be a firefight and the Resistance fighters who helped me would not get killed.
They took me to their headquarters at a chateau in Coigny—what looked like a large fortified baronial manor—where they searched me. I had given all my maps to some 82nd troopers after I got injured, just in case. The Germans found my food and went through all my other stuff while they were eating my food. What was like the movies was that the German soldiers treated me particularly rough. One soldier tried to stomp on me, but a doctor came in and stopped him and cleaned me up. He explained to me that he was a doctor and not a soldier.
They moved us around a lot, which was really scary because we were constantly being strafed by [British] Spitfires and American planes. They had an ambulance that was still done up in Africa camouflage. We tried to convince them to put a parachute over the top of the ambulance and paint a red cross on it so it could be seen from the air, but for some reason they didn't want to do that, which I didn't understand. Maybe they thought our planes would strafe them anyway.
The ambulances were so crowded that we could only sit upright in them. We couldn't lie down. It got to smelling so bad that one German soldier passed around some perfume to help with the stink. We passed the time by having spitting contests and punching each other. What was incredible to me was when we were getting strafed. The Germans stopped the ambulance, jumped out, and dove in the ditches on either side of the road, and they left us in the vehicles to get shot!
We traveled with them for weeks until we got to a captured British field hospital in Reims, which was formerly a girls' school or an orphanage, I can't remember which. There were also Polish, British, French, and Australian soldiers there. We didn't get fed very much, mostly mushy potato soup, so I lost a lot of weight. Some men died from malnutrition and some just plain gave up. The Germans tortured a lot of prisoners, and they were brought into the hospital after cold water baths or after being beaten.
We had heard that [General George] Patton was getting closer, and we could tell the Germans were getting ready to move. Patton had cut the rail line to Reims in preparation for his move into Germany. It was then that the Germans abandoned Reims along with us wounded prisoners, and the city was retaken by Patton. I was sent back to England, then to Charleston, South Carolina, on to Palm Springs, California, for rehab and finally to a general hospital in Modesto, South Dakota, for convalescence in 1945.
BH: I understand you served with the real "Private Ryan."
RA: Yes, that was Sergeant Frederick "Fritz" Niland, who had three brothers. Fritz and his brothers all joined the Army. While Fritz was with us in the 101st near Carentan on D-Day, his brother Robert, who was in the 82nd, was killed at Sainte-Mère-Église. His brother Preston, who was a lieutenant in the 4th Infantry Division, was killed on Utah Beach the next day. The "Paratrooper Padre," Father Francis Sampson, who landed behind enemy lines on D-Day with the rest of the 501st, drove with Fritz about 20 miles back to Sainte-Mère-Église to try to find Robert, who was buried in a temporary grave. The story of Saving Private Ryan is based loosely on that incident.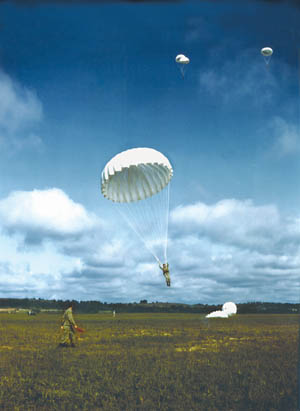 When Father Sampson learned that Fritz's brothers had been killed and that the third brother, Edward, was reported missing in Burma, he initiated the paperwork to get Fritz out of the fighting and escorted him back to Utah Beach for evacuation. It probably would have been better for Fritz if he had been able to stay with his buddies, but they sent him home. This was, of course, after the Sullivan Brothers episode that happened in 1942 [the five Sullivan brothers were serving aboard the same U.S. Navy warship and all were killed in action during the same battle], so the military had the "Sole Survivor Policy" in effect, which meant surviving relatives would be removed from duty if they lost a family member in combat.
Fritz became an orthodontist after the war but didn't have much to do with the commemorations or associations after having lost two brothers. Some years later, he and his family actually lived with mine for a while in between moving from place to place. When the movie Saving Private Ryan came out, I called the historian Mark Bando who was involved with the movie and I found out Fritz had passed away.
The 101st cleared the causeways at Utah Beach and was successful in all of its missions. The flyboys were shut down for weeks at a time due to the stormy and windy weather, so in the absence of aerial bombardment we raised havoc wherever we could, cutting lines and blowing things up. All the pockets of activity confused the Germans.
Reginald Alexander returned to France for the 40th, 50th, and 60th anniversaries of D-Day, and each time the mayor of the city of Weisel was his host. French school children did paintings and drawings of the paratroopers in appreciation. There were reenactors who wanted their helmets autographed by veterans, and one individual asked the returning soldiers to sign his Jeep. A marble obelisk is dedicated to Alexander at the house where he was hidden in Housevielle, and he received the French Legion of Honor. He passed away on January 16, 2010.