By Lt. Col. Harold E. Raugh, Jr., Ph.D., U.S. Army (Ret.)
The Battle of the Little Bighorn, June 25, 1876, resulted in Lt. Col. George A. Custer and five companies of the 7th Cavalry being wiped out by Sioux and Northern Cheyenne warriors. As there were no survivors of Custer's immediate command, the mythic battle has become enshrouded in speculation and controversy.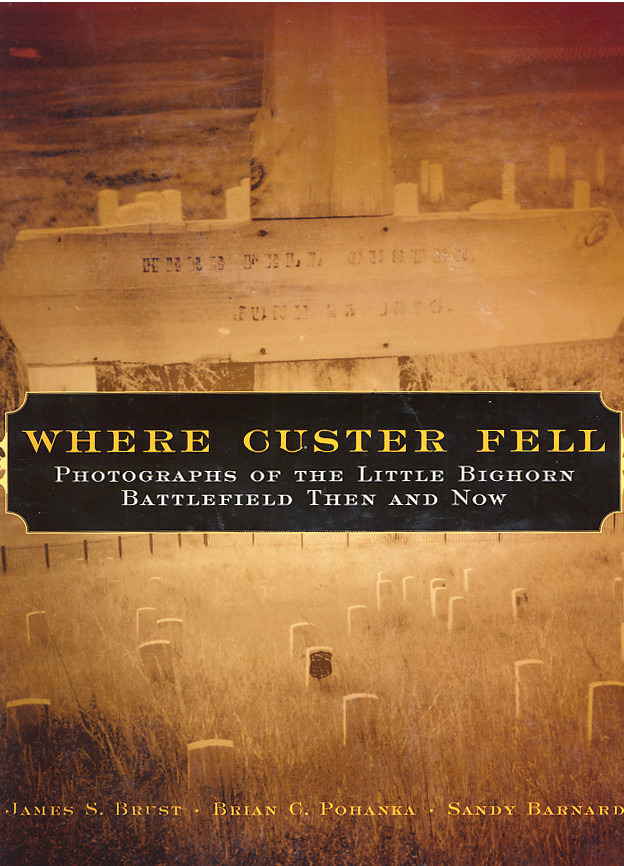 Authors James S. Brust, Brian C. Pohanka, and Sandy Barnard have written a fascinating book on this famous battle, Where Custer Fell: Photographs of the Little Bighorn Battlefield Then and Now (University of Oklahoma Press, Norman, 2005, 272 pp., illustrations, maps, notes, bibliography, index, $39.95, large format hardcover). The product of exhaustive research, this enthralling study helps cut through the layers of legend and fog of war that have accumulated around this renowned engagement.
This volume is divided into two major parts, which are in turn subdivided into chapters. Part 1 is entitled "The Little Bighorn," and it contains three chapters: "Historical Background," "Archaeological Digs," and "Important Photographers." The first chapter provides an overview of the battle, based on historical accounts and the subsequent locations of dead soldiers' bodies. In Chapter 2, new interpretations of the battlefield, based on recent archaeological evidence, are examined. The third chapter provides biographical sketches of the "talented photographers [who] have contributed to the historic photographic record of the Little Bighorn Battlefield."
Part 2, "Then and Now Photographs," contains 13 chapters, all but one devoted to specific phases of the Custer battle or key geographical sites of the battlefield. These are the most interesting chapters of the book, as they contain historical photographs of the various markers and key terrain features of the battlefield. Thorough research and numerous visits to the battlefield have permitted the authors to identify these venues and compare them with current images and map locations.
The numerous well-captioned photographic comparisons are compelling, even transfixing. They help the mind's eye recreate and understand the many dimensions of the Custer battle. Where Custer Fell: Photographs of the Little Bighorn Battlefield Then and Now, makes an indispensable contribution to Custeriana and the military heritage of frontier America.
---
Recent and Recommended
Sniper on the Eastern Front: The Memoirs of Sepp Allerberger, Knight's Cross, edited by Geoffrey Brooks, Pen & Sword Military, Barnsley, UK, 2005, 146 pp., illustrations, map, index, $36.95, hardcover.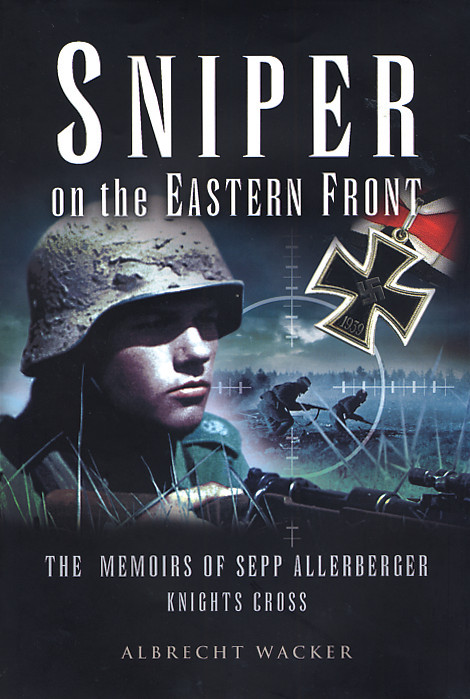 The barbarism, intensity, and magnitude of the fighting between the Germans and the Soviets on the Eastern Front during World War II staggers the imagination. One German soldier who served in and survived this cauldron of combat was Josef Sepp Allerberger. This biography is based on Allerberger's own candid, graphic, and haunting memories of his Eastern Front service.
Austrian by birth, Allerberger was conscripted into the Wehrmacht and assigned to the 3rd Gebirgsdivision (Mountain Division) in 1943. After qualification as a machine gunner, he was posted as a replacement to his unit in the Ukraine, where the German Army had been largely on the defensive since the Sixth Army's surrender at Stalingrad in January 1943.
Allerberger, recuperating from a wound received during his first week in combat, found a Russian sniper rifle, a Moisin Nagant model 91/30. He soon became proficient with this weapon, able to consistently hit a matchbox at 100 meters. Allerberger then served as an increasingly cunning and effective sniper. By the end of the war, he was the second-most successful German sniper with 257 confirmed, and probably many more, Russian kills. Moreover, he was one of the very few Army privates to have been decorated with the Knight's Cross of the Iron Cross.
This fast-paced book brings to life and to death through Allerberger's sights the butchery of the Eastern Front during the waning months of the Third Reich. It deserves a place on every World War II enthusiast's bookshelf.
---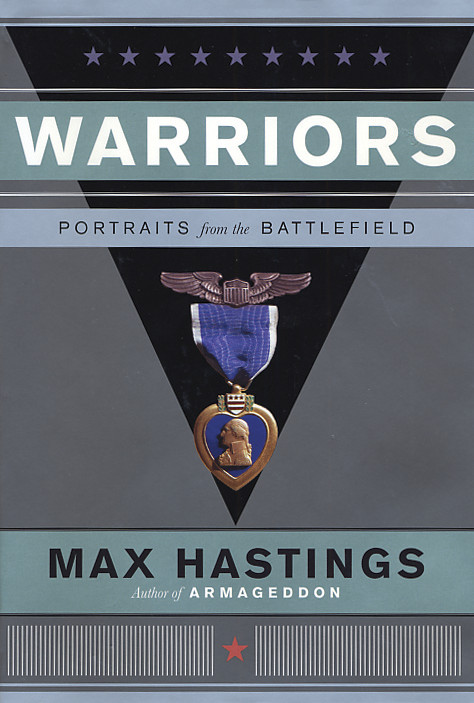 In Brief
Warriors: Portraits from the Battlefield, by Max Hastings, Alfred A. Knopf, New York, 2006, 354 pp., illustrations, maps, sources and references, index, $27.50, hardcover.
The term "hero" was once used in admiration of one who demonstrated selfless feats of military prowess and acts of gallantry in combat. This word, according to eminent military historian and journalist Max Hastings, has become considerably debased over the past 30 years or so. Hastings begins this book with a perceptive and thought-provoking essay on the evolution of the concept of the "hero" and its relationship to the changing tactics and technology of warfare. He then includes vignettes of 15 prominent soldiers, airmen, and one sailor, all "warriors" of the 19th and 20th centuries. This eclectic selection of pen portraits includes recognized heroes, such as U.S. Army Colonel Joshua Chamberlain, the commander of the 20th Maine at the pivotal 1863 Battle of Gettysburg; Lieutenant John Chard, who led the courageous defense of Rorke's Drift during the 1879 Anglo-Zulu War; and Audie Murphy, reportedly the most decorated American soldier of World War II. This entertaining book sheds light on the actions and character of heroic, and occasionally peculiar, military figures.
---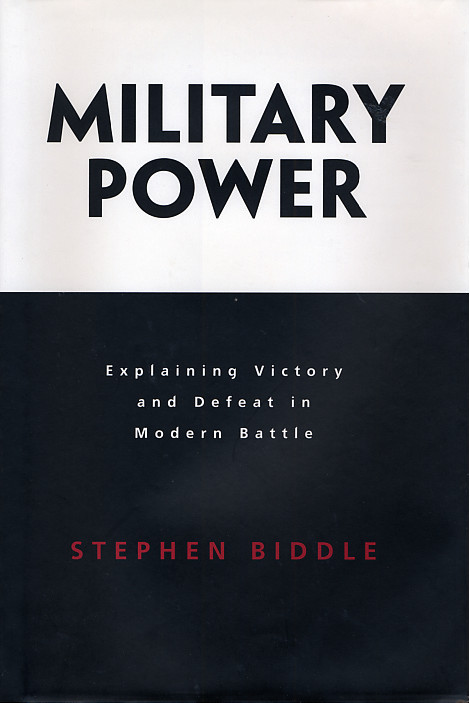 Military Power: Explaining Victory and Defeat in Modern Battle, by Stephen Biddle, Princeton University Press, Princeton, NJ, 2004, 312 pp., illustrations, maps, tables, notes, index, $37.50, hardcover.
"Major warfare since 1900 has actually seen much less real change than most now suppose," asserts Stephen Biddle in this scholarly treatise, "and that the future, too, should bring far more continuity than many now expect." The author argues that the emphasis on a "revolution in military affairs" and its impact on warfare are exaggerated. The employment of forces and the doctrine and tactics used by these units on the battlefield is more important than materiel factors alone. To support this thesis, Biddle uses a variety of methods, ranging from careful historiography to formal theory, archivally based case research, large-n statistical analysis, and experimental testing using a Defense Department simulation model. Three historical case studies test this theory. The first is Operation Michael, the German offensive fought in March-April 1918 on the Western Front during World War I. Operation Goodwood, the penultimate Allied (mainly British) attempt to break out of the Normandy beachhead in July 1944 is the second paradigm. Lastly, Biddle examines the air and ground offensive in Operation Desert Storm, January-February 1991. Analyses and assessments derived mainly from the case studies are then modeled and compared. This provocative study will be invaluable for military strategists, theoreticians, and policy makers.
---
The Naval Institute Almanac of the U.S. Navy, by Anthony Cowden, Naval Institute Press, Annapolis, MD, 2005, 272 pp., illustrations, appendix, index, $24.95, softcover.
Naval forces, notably the U.S. Navy, have advanced considerably since the days of sail, rum, buggery, and the lash. This fine book, more than a simple almanac containing dry facts, figures, and statistics, was designed "to demystify and update the Navy for naval personnel and civilians alike." It is divided into three major sections: "Focus On," "The Navy Today," and "Touchstones." The first section contains narratives of various naval and maritime operations conducted since the horrific terrorist attacks on the United States on September 11, 2001. Part Two highlights the organization of the Department of the Navy, lists key personnel, and describes (with many illustrations) the ships, aircraft, and weapons systems of the Navy. The final section focuses on the historic traditions of the U.S. Navy, as demonstrated in key battles from 1775 to 1815, and the core values Honor, Courage, and Commitment reportedly underpinning naval service today. Although it contains a heavy dose of political correctness and jingoism, this excellent reference provides a superb overview of the U.S. Navy, and it belongs on the bookshelves of naval personnel and observers of current events.
---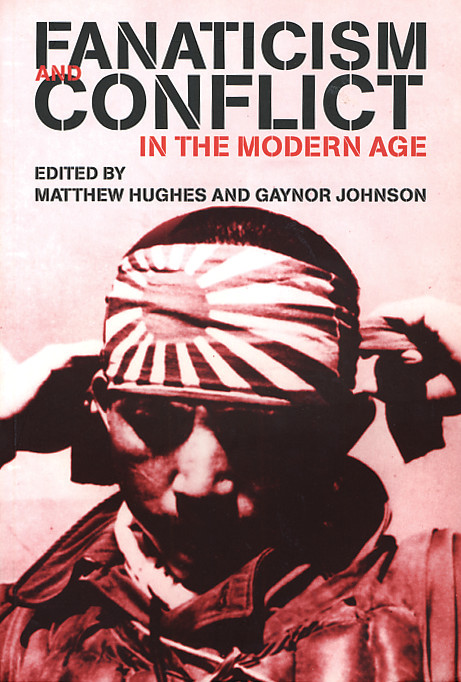 Fanaticism and Conflict in the Modern Age, edited by Matthew Hughes and Gaynor Johnson, Frank Cass, London, 2005, 196 pp., chapter notes, bibliography, index, $34.95, softcover.
The essays in this timely book show that "fanaticism" is not a recent development, but has plagued the world for centuries. Fanatics of all religions and creeds, possessing "visceral hatreds and unreasoning obsessions," have demonstrated a willingness to die in war for their cause. The second of 10 essays, Edward M. Spiers's "Dervishes and Fanaticism: Perception and Impact," chronicles the rise of the Mahdi in the Sudan in the 1880s and British military operations against his seemingly fanatic followers. World War II was a fertile field for fanaticism, and four essays examine related topics. Two chapters cover the fanaticism and barbarism of Japanese soldiers in the Pacific Theater of Operations. Ben Shepherd explores fanaticism and brutalization in Wehrmacht antipartisan operations in the Soviet Union and, in another essay, the fanatical devotion to Naziism and the combat performance of the 12th SS Panzer Division Hitlerjugend in Normandy in 1944 is analyzed. Other well-researched case studies focus on fanaticism in Algeria, Northern Ireland, and Palestine, including Zionism. This anthology makes a fine contribution to a balanced study of the meaning and causes of fanaticism.
---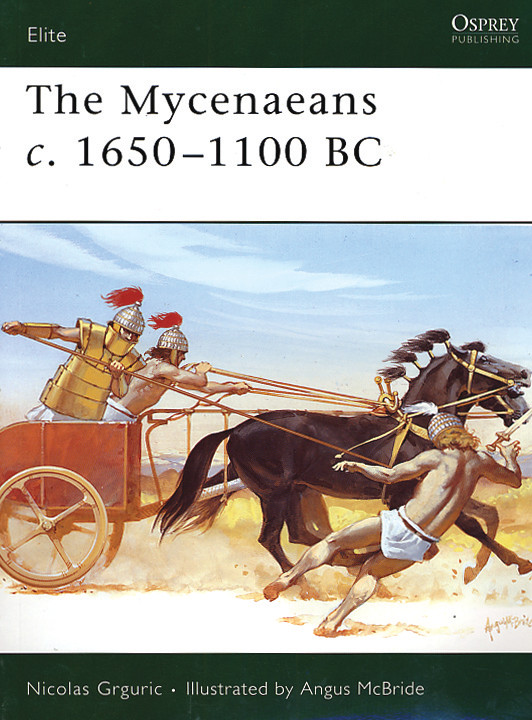 The Mycenaeans, c. 1650-1100 bc, by Nicolas Grguric, Elite 130, Osprey Publishing, Oxford, UK, 2005, 64 pp., illustrations, maps, $16.95, softcover.
The Mycenaeans dominated parts of Greece and the Aegean Sea area for about 400 years, beginning in the 16th century bc Possessing a relatively highly developed civilization, the Mycenaeans were mainly traders who fought competing palace-states, including, according to Homer, Troy. The Mycenaean army originally consisted of a core of heavy spearmen supported by swordsmen, light infantry, skirmishers, and heavy chariots. Over time, the army became lighter and more mobile. The various types of troops and their weapons and equipment, based largely on archeological evidence, are described in detail. The tactical employment of Mycenaean troops on the battlefield is also assessed. A major appeal of this study, in addition to the interesting and well written narrative, is the profusion of illustrations: photographs of weapons and other Mycenaean artifacts; line drawings; and detailed full-color reconstructions of armed Mycenaean soldiers in action.
---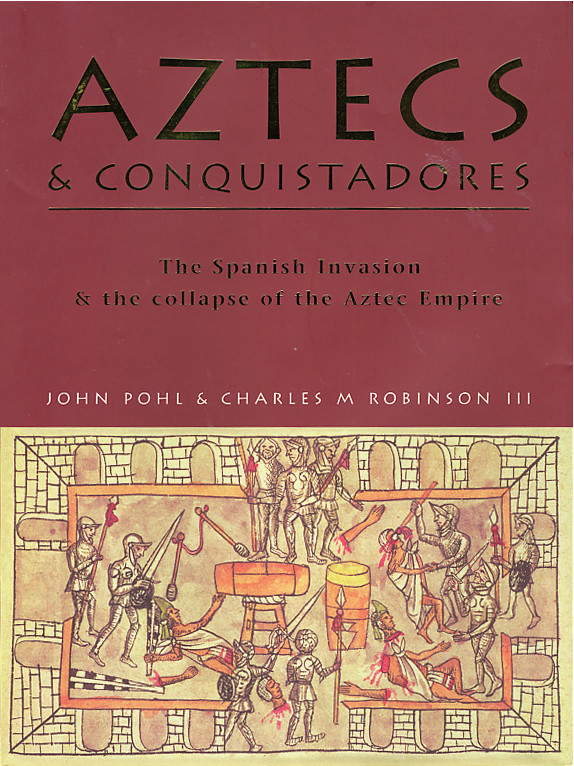 Aztecs & Conquistadores: The Spanish Invasion & the Collapse of the Aztec Empire, by John Pohl and Charles M. Robinson III, Osprey Publishing, Oxford, UK, 2005, 184 pp., illustrations, maps, bibliography, glossary, index, $24.95, hardcover.
In 1519, the fatalistic but fierce Aztecs of Mexico envisioned bad omens that could possibly destroy their empire. Appearing to fulfill the Aztecs' dire prophecy, Spanish conquistador Hernan Cortes and his 600 adventurers landed in Mexico that same year. This caused, as chronicled in detail by John Pohl and Charles M. Robinson, not only a military conflict, but also "a confrontation between civilizations and between belief systems" that ultimately resulted in the bloody Spanish conquest of Mexico. In addition to the demise of the Aztec empire, the authors examine the history, cultures, armies, weapons, and leaders of the opposing Aztecs and Spanish. This well-structured, finely crafted, and superbly illustrated book which is actually three earlier Osprey monographs published in a single hardcover volume-is informative and worthwhile.
---
Frontier Crossroads: Fort Davis and the West, by Robert Wooster, Texas A&M University Press, College Station, 2006, 222 pp., illustrations, maps, tables, appendices, bibliography, index, $25.00, hardcover.
The U.S. Army established Fort Davis in 1854. Located in the heart of the Trans-Pecos area of Texas, Fort Davis "commanded a strategic position at a military, cultural, and economic crossroads," linking San Antonio, El Paso, and Chihuahua. When established, it helped mark and protect the frontier, and soldiers from Fort Davis fought the Apache and Comanche Indians. After the Civil War, from 1867 to 1884, all four of the Army's black regiments the 24th and 25th Infantry and 9th and 10th Cavalry Regiments served at Fort Davis. This gave the surrounding communities a distinctive and rich multicultural population. The role of Fort Davis in serving as a frontier military outpost and focal point for regional economic development and settlement is, as chronicled by Robert Wooster, a fascinating chapter in U.S. military frontier history.
---
Romaine's Crimean War: The Letters and Journal of William Govett Romaine, Deputy Judge-Advocate to the Army of the East, 1854-6, transcribed, edited, and annotated by Major Colin Robins and members of the Crimean War Research Society, Sutton Publishing for the Army Records Society, Phoenix Mill, UK, 2005, 315 pp., illustrations, maps, biographical notes, notes, select bibliography, index, $92.00, hardcover.
The Crimean War, 1854-1856, pitted the armies of Great Britain, France, the Ottoman Empire, and later Sardinia against the expansionist Russians. From the British viewpoint, this conflict, especially over the harsh winter of 1854-1855, is known more for inadequate supplies, poor medical care, outdated tactics, and bad generalship than anything else. William Govett Romaine served as Deputy Judge-Advocate, the senior civilian and only lawyer at the headquarters of the British "Army of the East" in the Crimea. He had the confidence of the senior British commanders and staff officers, frequently traveled to the battlefields and troop encampments, and was a keen observer of people, places, and events. Romaine recorded his impressions and experiences in compelling and perceptive detail in a journal and numerous letters to influential figures in England. Expertly edited by Major Colin Robins, these insightful documents enlighten numerous aspects of the Crimean War and show why Romaine was called "the eye of the army."
---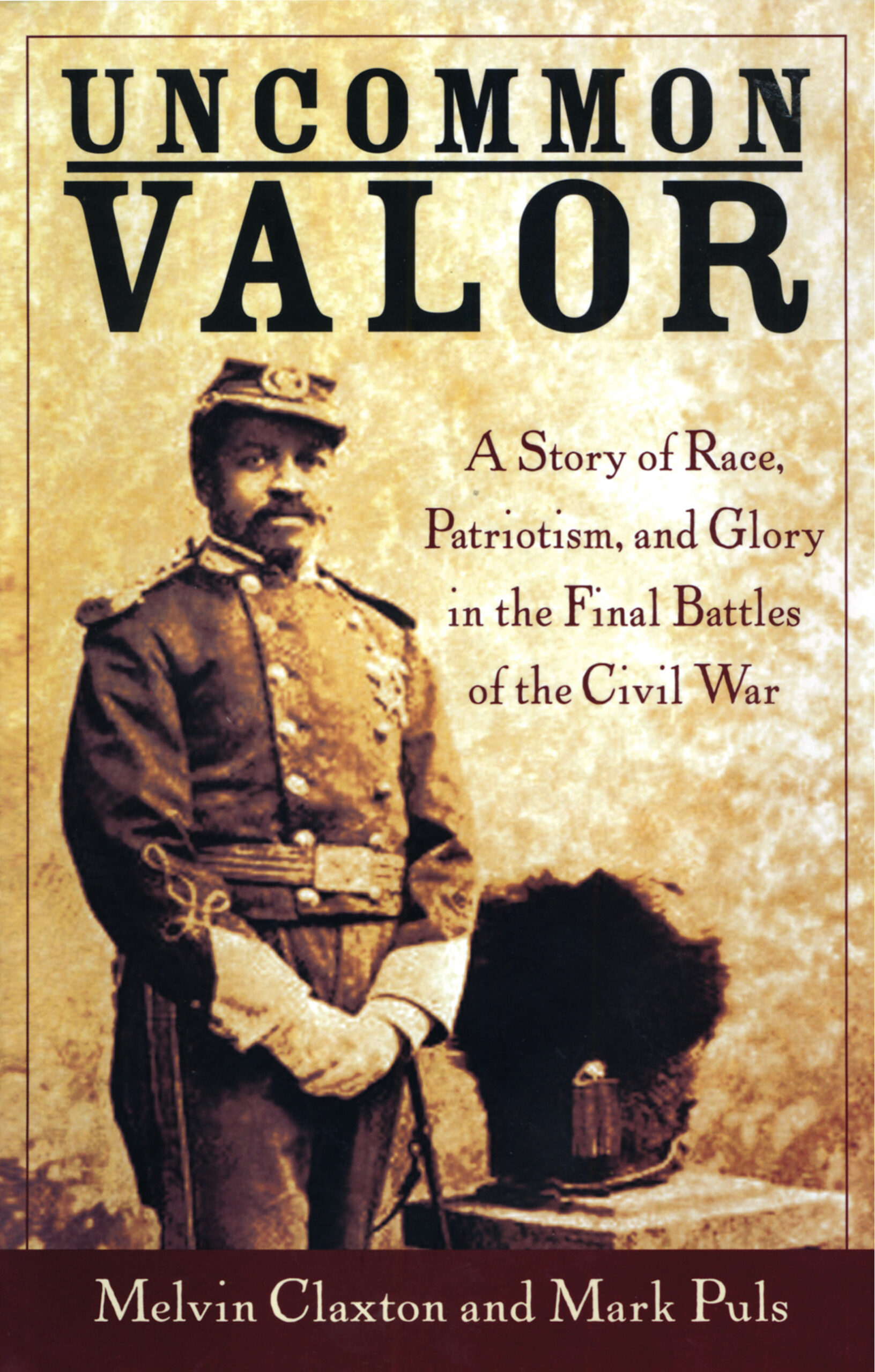 Uncommon Valor: A Story of Race, Patriotism, and Glory in the Final Battles of the Civil War, by Melvin Claxton and Mark Puls, John Wiley & Sons, 2005, 231 pp., bibliography, index, $24.95, hardcover.
Christian Fleetwood was a well-educated shipyard clerk, a free black, living in Baltimore during the early years of the Civil War. Idealistic, Fleetwood enlisted in the Union Army after the 1863 Battle of Gettysburg, hoping a northern victory in the Civil War "would end slavery and inequality in America." This poignant book follows Fleetwood and a number of his black comrades through their initial training with the 4th Regiment, U.S. Colored Troops (USCT), and subsequent activities. Included are interesting details of Civil War soldier life both white and black in action, on the march, in camp, and aspects of their terms of enlistment. In its continuing operations to seize Richmond, Union troops (including the 4th and 6th Regiments, USCT) attacked New Market Heights on September 29, 1864. Assaulting uphill, through a stream, marsh, and prepared abatis, the black Union troops fought heroically and indefatigably. Fourteen black soldiers, including Fleetwood, were decorated with the Medal of Honor for their gallantry at New Market Heights, out of a total of 16 Medals of Honor being awarded to black Union soldiers during the entire Civil War. This fine book underscores the importance of the Battle of New Market Heights in American, and especially black American, military history.
---
Stephen Russell Mallory: A Biography of the Confederate Navy Secretary and United States Senator, by Rodman L. Underwood, McFarland Publishing, Jefferson, NC, 2006, 256 pp., illustrations, notes, bibliography, index, $35.00, hardcover.
This well-researched book is a biography of Stephen Russell Mallory (c. 1813-1873), the little known Confederate Secretary of the Navy during the Civil War. While this study covers Mallory's entire life, it concentrates on the period 1851-1865, when Mallory's public service at the national level was most significant. He was elected to the U.S. Senate from Florida in 1851. His expertise and interest in naval issues was recognized when he was selected to be chairman of the Senate Naval Affairs Committee in 1853. The conservative Mallory worked hard to increase and modernize the U.S. Navy during the late 1850s. Florida seceded from the Union in early 1861, and Mallory, along with other Southern sympathizing senators, resigned from Congress. In February 1861, Mallory was appointed Confederate Secretary of the Navy, a very challenging position. During the Civil War, his strategic priorities included building commerce raiders and ironclads and introducing technically advanced weapons to the Confederate States Navy. This well-crafted and interesting volume makes a major contribution to Civil War naval studies.
---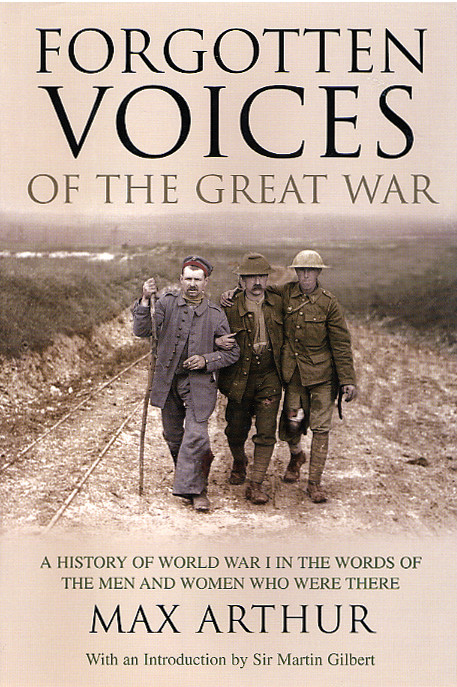 Forgotten Voices of the Great War: A History of World War I in the Words of the Men and Women Who Were There, edited by Max Arthur, Lyons Press, Guilford, CT, 2004, 326 pp., illustrations, index, $24.95, hardcover.
"We were all keen soldiers," recalled Captain Philip Neame of the British Army's Royal Engineers, "and if there was a war in which the British Army was taking part we were all only too anxious to be at the Front." This statement may have reflected British military enthusiasm at the beginning of World War I, but the conflict quickly degenerated into a slaughterhouse of fire, wire, and mire. Neame survived the war, and his voice is one of almost 150 mainly British men and women, soldiers and civilians, combat front fighters and home front workers that are contained in this volume. These reminiscences (which began to be collected in 1972, over a half-century after the 1918 Armistice), arranged chronologically by year from 1914 to 1918, help put a human face on the trials and tribulations of World War I.
---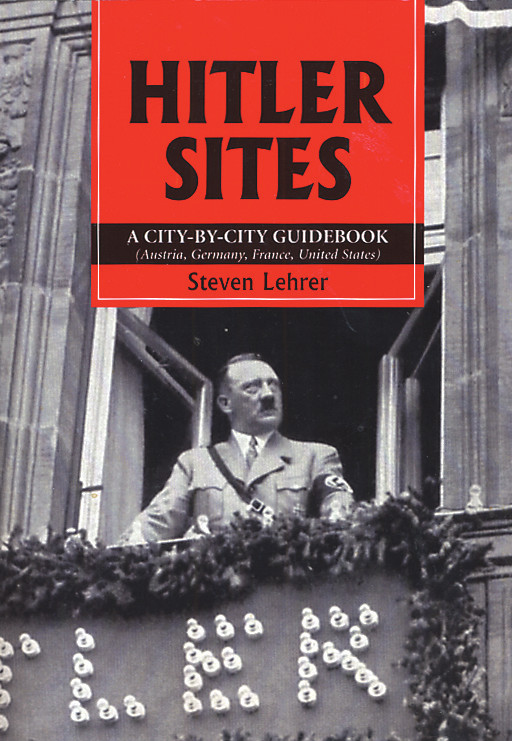 Hitler Sites: A City-by-City Guidebook (Austria, Germany, France, United States), by Steven Lehrer, McFarland, Jefferson, NC, 2006, 224 pp., illustrations, notes, bibliography, index, $39.95, softcover.
Adolf Hitler, leader of the German Third Reich and one of the most evil mass murderers of the 20th century, continues to engender a type of macabre fascination and curiosity. Some information on Hitler, in spite of hundreds of volumes having been written about him, has been difficult to uncover. Steven Lehrer has filled in many of the gaps in his superb Hitler Sites, in which he provides detailed information on over 150 places associated with Hitler in Austria, Germany, France, and the United States (to which Hitler's nephew migrated). In many respects, the first section of this book is a biography of Hitler, based on where he lived. One is struck by Hitler's pre-World War I impoverishment and life in a number of homeless shelters in Vienna. Other sites, especially those of relevance to the Nazis in Munich and Berlin, include contextual, architectural, and social information on their significance. This excellent book, which could have been even better with the inclusion of more maps, provides considerable information never before available in English. This volume is an exceptional addition to Hitler and World War II studies.
---
We Were Next to Nothing: An American POW's Account of Japanese Prison Camps and Deliverance in World War II, by Carl S. Nordin, McFarland, Jefferson, NC, 2005, 264 pp., illustrations, maps, index, $27.50, softcover.
Even after the passage of more than six decades, revelations of World War II Japanese atrocities continue to horrify and haunt the world. Carl S. Nordin, a U.S. Army quartermaster soldier, suffered at the hands of the Japanese and recorded his experiences in stark and poignant detail. Nordin enlisted in the Army in September 1940 and was assigned to the Philippines a year later. On December 1, 1941, his unit deployed to Mindanao to establish an air base in the southern Philippines. After the Japanese attacked there, Nordin and his comrades were taken prisoner in May 1942. After being held in two camps on Mindanao, Nordin and others were crammed on board the infamous "hell ships" and sent to Japan in June 1944. He was forced to labor at repairing railroad lines in Japan until liberated in September 1945. While in captivity, Nordin kept a small diary on the backs of cigarette packages. These entries are reproduced in this book, with modern elaborations and reflections, and vividly portray the rice, lice, filth, isolation, beatings, and executions in the life of a Japanese prisoner-of-war.
---
Sorties into Hell: The Hidden War on Chichi Jima, by Chester Hearn, Lyons Press, Guilford, CT, 2005, 248 pp., illustrations, map, notes, bibliography, index, $14.95, softcover.
Chichi Jima is the principal island of the Bonin Islands chain and is located about 145 miles north of the more famous Iwo Jima. Its 22,000-man Japanese Army garrison and fortress were bypassed during the American advance to Tokyo. In 1946, U.S. Marine Corps Colonel Presley M. Rixey, with one Marine battalion, was sent to Chichi Jima to repatriate its Japanese soldiers and destroy the island's fortifications. Rixey was also tasked to find out what had happened to American flyers, shot down while bombing Chichi Jima or on sorties to or from Japan that had fallen into Japanese hands. While expecting stories of Japanese brutality and even savage executions, Rixey and his Board of Investigators discovered that the Japanese had spun a web of deceit to hide their gruesome activities. The Japanese on Chichi Jima had in fact executed, either by beheading or bayoneting, at least
11 American pilots. Then, believing "in the importance of warriors eating the flesh of their enemy," the Japanese ate large portions, and savored the livers, of the executed Americans. Author Chester Hearn reconstructs in riveting detail, "stitching together a labyrinth of spotty testimony," Rixey's investigation into these barbarous Japanese atrocities and acts of cannibalism.
---
The Unknown Dead: Civilians in the Battle of the Bulge, by Peter Schrijvers, University Press of Kentucky, Lexington, 2005, 464 pp., illustrations, maps, notes, bibliography, index, $35.00, hardcover.
During World War II, civilian populations of friendly, neutral, and enemy nations suffered tremendously. Notably conspicuous by their absence from most history books are references to civilian casualties in Belgium and Luxembourg during the ferocious Battle of the Bulge, December 1944-January 1945. The civilians, as chronicled in rich and revealing detail by Belgian historian Peter Schrijvers, were caught in the crossfire of the opposing combatants. In their towns and hamlets, civilians were subject to devastating artillery barrages, aerial bombardments, and direct ground assaults, in addition to other deprivations. While these civilians were frequently victimized by Nazi forces committing war crimes, they were also treated with suspicion by Allied soldiers. About 3,000 civilians were killed in the area during the Battle of the Bulge, roughly one for every six American soldiers killed during the battle. Schrijvers relates extremely well "the harrowing stories of noncombatants caught up in the maelstrom of war."
---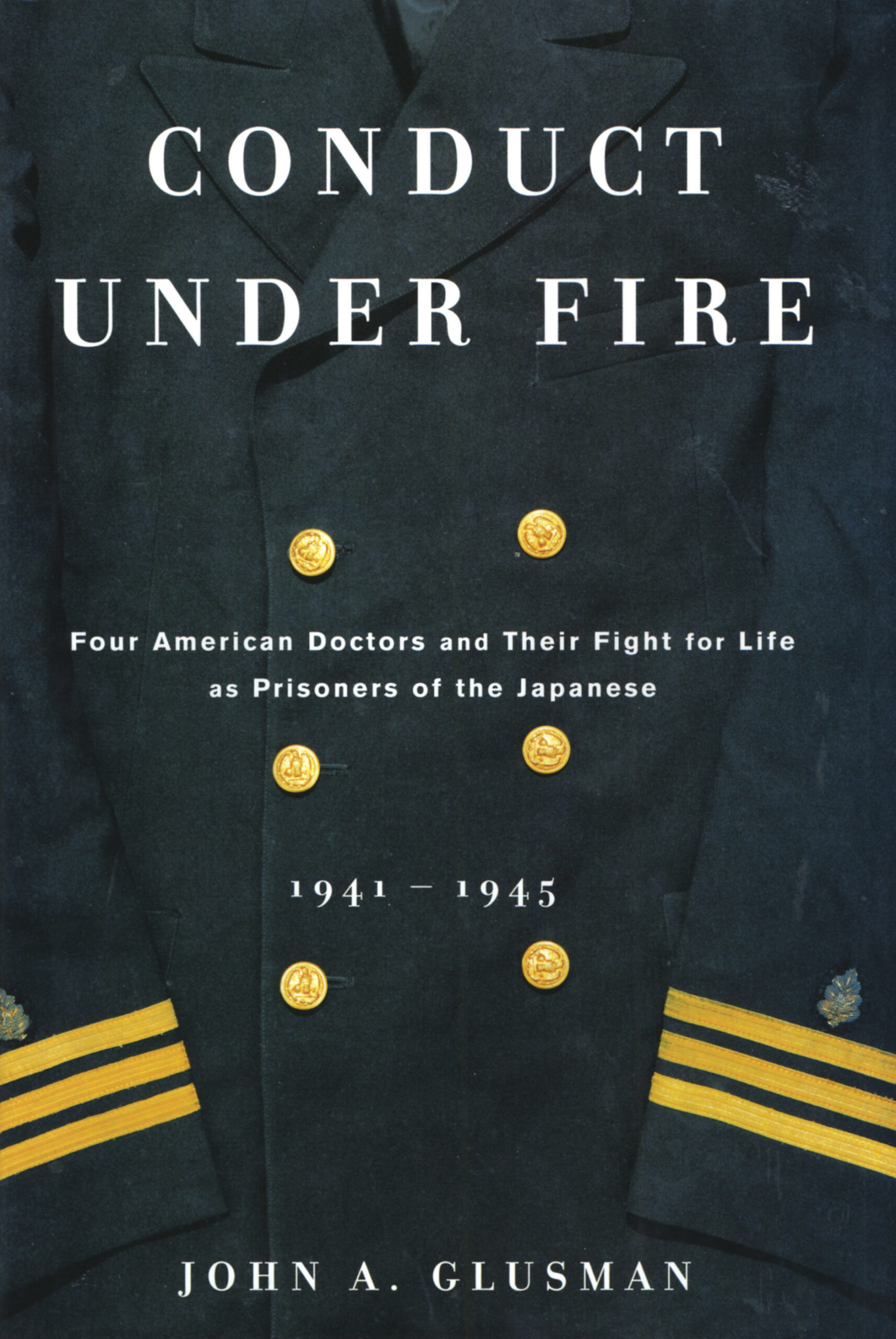 Conduct Under Fire: Four American Doctors and Their Fight for Life as Prisoners of the Japanese, 1941-1945, by John A. Glusman, Viking, New York, 2005, 588 pp., illustrations, maps, notes, selected bibliography, index, $29.95, hardcover.
This compelling book takes the reader on an odyssey through hell on earth, retracing the journeys of four U.S. Navy doctors in the Pacific during World War II. This story begins in August 1941, with Navy physicians Fred Berley, George Ferguson, John Bookman, and Murray Glusman the last the author's father. The experiences of these four Navy doctors form the major threads in the fabric of this book, from the Japanese attack on the Philippines in December 1941, through the fighting withdrawal down the Bataan Peninsula, to the evacuation to and final surrender of Corregidor Island to the Japanese on May 6, 1942. The four medical officers met and became prisoners of war together on Corregidor. They were initially imprisoned in the notorious Bilibid Prison near Manila, which was "more like a charnel house than a prison." The foursome was transferred in 1943 to Cabanatuan, where they became slave laborers, and three of them were sent to POW camps in Japan in 1944. Three of the four doctors survived the unforgettable and unforgivable "uniqueness of Japanese cruelty." Author Glusman has performed a valuable service in handing down his father's story to later generations.