By Jon Diamond
British General Orde Wingate is one of the more enigmatic World War II commanders encountered in a number of biographical and military historical accounts. His military career has been the subject of cinematic productions and his memory is revered in, of all places, Israel, where he is referred to as "the friend." The controversies swirl about his military career more than 60 years after his fiery death in an airplane crash in the jungles of Burma.
"Mad is He"
Although some, like Winston Churchill, thought of him as a military genius, others rated him as dangerous if not mad. According to author Philip Warner, "It is not unusual for unorthodox and daring wartime commanders to be labeled 'mad' by their critics. General Wolfe, the conqueror of Quebec, and thus, Canada, is a case in point. A contemporary said: 'General Wolfe is mad.' George III, retorted: 'Mad is he. I wish he would bite some of my other generals.'"
Orde Wingate was a military paradox in that there existed greatly disparate views about his tactical and strategic conceptions for long-range penetration behind enemy lines in Burma in both 1943 and 1944. Furthermore, as John Bierman and Colin Smith have noted, "Throughout his career, Wingate's unconventionality and disdain for the superiors he dismissed as 'military apes' marked him as a difficult, if not impossible, subordinate."
Despite some ruffled relations with Wingate, Fourteenth Army commander General William Slim praised the Chindit leader immediately after his death "while the Burma campaign still raged and victory was yet to be assured." Slim specifically eulogized Wingate for his genius: "The number of men of our race in this war who are really irreplaceable can be counted on the fingers of one hand. Wingate is one of them. The force he built is his own; no one else could have produced it. He designed it, he raised it, he led it, inspired it and finally placed it where he meant to place it—in the enemy vitals."
The two Wingate biographers, Bierman and Smith, curiously observed a marked change in the previous laudatory tone when Field Marshal Slim penned his memoirs many years after the war had concluded. It seemed as though "all of the old dislike of Wingate within the military establishment" surfaced in print. Wingate was loudly criticized for his "rebellious scorn and arrogance," his paranoid touchiness, his reckless rudeness, his flouting of convention, his personal scruffiness, his "leftishness," and his "strange obsession with Zionism and the Jews."
Operation Thursday
Curiously, none of these negative personality traits were connected with his military operations until Slim's publication of his memoirs in 1956. More specifically, recollections many years after the end of the war about the start of Operation Thursday by Slim and others within the British Army cast a negative view upon Wingate's demeanor and leadership skills at the time of the "fly-in" in March 1944. Operation Thursday was a perilous deep-penetration thrust by Wingate's Chindits and the American unit Merrill's Marauders against Japanese forces in Burma.
A single photograph from Wingate's tumultuous career offers some insight into the character of this enigmatic commander. The actual accounts of the events depicted in this photograph of a group discussion of aerial reconnaissance among senior British and American officers just prior to the commencement of the air component of Operation Thursday in Burma on Sunday, March 5, 1944, have been distorted by both posthumous official and personal reflections of this encounter by "conventional-minded staff and command elements in the British Army, who regarded him [Wingate] as an out-of-control visionary, whose ideas about guerrilla warfare behind enemy lines as being unworkable." It is indeed interesting that in Maj. Gen. S. Woodburn Kirby's Official History of the War Against Japan, there is a six-page assessment of the Chindit commander, which is unusual in both its distinction and length, and, parenthetically, it is almost entirely negative.
David Rooney, in his biography, wrote of Wingate, "After 1943, when Wingate had just returned from the Quebec Conference (Quadrant), in response to an attitude of almost total opposition to General Headquarters (GHQ) New Delhi, he was deliberately aggressive and offensive, and purposely used the threat of his direct access to Churchill in order to get things done. From this period he made a particular enemy of Maj. Gen. Kirby, who had been Director of Staff Duties at GHQ."
In fact, he and Wingate had a raucous encounter in regard to Chindit supplies, which may have been exacerbated by Field Marshal Archibald Wavell, the viceroy of India, who intervened in favor of Wingate's men. In one message to Lord Louis Mountbatten, Allied commander in the China-Burma-India Theater, he complained of GHQ's failure to meet his demands for weaponry and rations. Wingate reportedly "rashly named Kirby as one of those who should be sacked for iniquitous and unpatriotic conduct." It is with this background that in 1951 Kirby was appointed to write The Official History of the War Against Japan and, as Shelford Bidwell asserts, "he took his revenge."
Saved by Aerial Reconnaissance
March 5, 1944, was a momentous day for the Chindits. Field Marshal Slim, Air Marshal John Baldwin, and many other high-ranking officers were in attendance at an airfield in upper Assam. In an attempt to keep the Japanese from guessing any possible landing sites for the Chindits, Wingate strictly forbade any aerial reconnaissance over Broadway, Piccadilly, and Chowringhee, the landing areas, for three weeks prior to the run-up of Operation Thursday. Approximately a half hour prior to the start of the mission, an American pilot, Major Rushon, delivered photographs taken just hours before to Major Philip Cochran, commander of the Number 1 Air Commando.
The aerial surveillance clearly demonstrated the Piccadilly landing field blocked with teak tree trunks. According to Wingate biographer David Rooney, "Wingate reacted furiously and demanded to know who had disobeyed his orders. Cochran said he had ordered the flight and took full responsibility—then Wingate apologized for the outburst because he realized that the photographs had prevented a certain disaster to 77 Brigade and the first wave of gliders."
As shown in the above photograph, members of the Number 1 Air Commando (Majors Alison and Cochran) review the freshly printed photographs of the Piccadilly landing ground with Wingate, Air Marshal Baldwin, and Brigadiers Mike Calvert, Walter Scott, and Derek Tulloch.
As detailed in Tulloch's biography of Wingate, the Chindit leader wrote of the critical moment when the photograph was taken 12 days later on March 17, 1944. Wingate's account is rather calm and methodical in its analysis: "On D-Day, at the very moment that the first gliders were to take off, I was presented with a photo taken two hours before by a B-25 Aircraft of Number 1 Air Commando which showed that the entire landing ground of Piccadilly had been covered with obstacles. Only two days before it had been clear. I therefore consulted at once with the Army Commander (Slim) who agreed with my arguments, and left me to decide, so far as I myself was concerned."
A Cool Leader?
Citing that photos of Piccadilly appeared in Life magazine in June 1943 as a location from which wounded men had been flown out in Dakota transports from Wingate's first expedition, Wingate concluded that the Japanese were aware that this site had been used in a military capacity previously. He further concluded that "the blocking of Piccadilly by the enemy did not necessarily imply any knowledge of the plan, and the fact that none of the other sites had been blocked (so far as we were aware) entitled me to hope that this interference by the enemy at Piccadilly was merely a routine measure taken in consequence of a general scare of airborne landings."
In defense of his friend and superior, Tulloch concluded, "I am convinced, however, that what made the decision harder than ever to take was the fact that while committing his troops to unknown hazards, he was not going himself. However, in my view the decision had been made in his own mind even before he moved away to speak to Slim."
In regard to Slim, Tulloch notes that "he [Slim] had to decide one way or the other within minutes. In the event he allowed the operation to go ahead, and the manner in which he did so earned the respect of all concerned. Air Marshal Baldwin also agreed; Colonel Cochrane [sic] and Mike Calvert had no doubts whatsoever; the operation must go on."
According to Brigadier Scott, commanding the King's Liverpool Regiment, "General Wingate took the photographs and walked across to where General Slim and the other Allied commanders were standing. After several minutes' conversation, General Wingate returned. He then turned away, with his head bent and his hands clasped behind his back, he looked a forlorn and lonely figure…. After going about 30 yards, he turned and called Brigadier Calvert, and after they talked they walked to where the Allied commanders were standing. A brief vital conference took place, after which General Wingate and Brigadier Calvert returned to me, and I received fresh orders which were so clear and concise that it was hard to realize Piccadilly ever existed."
Scott further comments on the start of the fly-in for Operation Thursday "As my glider rose into the purple dusk above the mountains to the east, I was not thinking what lay beyond them, but rather of General Wingate's unforgettable demonstration of cool, determined and inspired leadership. I believe that if ever I saw greatness in a human being I saw it in General Wingate that night."
Further demonstrating Wingate's calm state of mind about the change in plans based on the presence of tree trunks at the Piccadilly landing field, Michael Calvert recalled, "General Wingate came over to me and said, 'Are you prepared to go into Broadway and Chowringhee? If we don't go now I don't think that we shall ever go as we should have to wait for the moon, and the season is already late. Slim and the airmen are willing to go on now that everything is ready. What do you think? I don't like ordering you to go if I am not going myself. At the moment, I have told them that I will consider it because I wanted to hear your views.'"
In an Emotional State
Unfortunately, there is an unpleasant view about the gathering depicted in the photograph. As summarized by Rooney, "In Slim's memoirs (Defeat into Victory), which he wrote ten years after the event and when he could not remember even which airfield had been used, he says that when the photographs arrived Wingate got into an emotional state and argued for the whole operation to be called off. All other evidence shows that, provided Chindit lives were not put in needless jeopardy, he (Wingate) argued strongly for the operation to go ahead. Calvert, Scott, and Tulloch as well as Air Marshal Baldwin and Sir Robert Thompson all wrote their descriptions, which confirm Wingate's version and refute Slim's."
According to Slim's memoirs, "Wingate, though obviously feeling the mounting strain, had been quiet and controlled. Now not unnaturally perhaps, he became very moved. His immediate reaction was to declare emphatically to me that the whole plan had been betrayed, probably by the Chinese, and that it would be dangerous to go on with it…. Wingate was now in a very emotional state, and to avoid discussion with him before an audience, I drew him to one side…. He paused and looked straight at me: 'The responsibility is yours,' he said…. Wingate accepted my decision with, I think, relief. He had by now recovered from his first shock and had realized that the obstruction of one landing site need not hold all the implications he had imagined. We walked back to the group of officers and, with Baldwin's concurrence, I announced that the fly-in would proceed, adding that as Piccadilly was obviously out, it was from Wingate as the tactical commander to decide what changes should be made."
Wavell's Protégé
Why has there been such controversy about the event depicted in this photograph? Why is Slim's account different from the others present? One wonders whether or not the nature and personality of a military mentor could adversely affect the tolerance toward and reputation of a fellow officer in the British Army during World War II. Such a case in point exists among Wingate and his superior, General Sir Archibald (later Viscount) Wavell. As noted by Bierman and Smith, Wingate retained his backers in high places. Wavell, as general officer commanding (GOC), Palestine, in September 1937, "had his eye on Wingate as a promising young officer."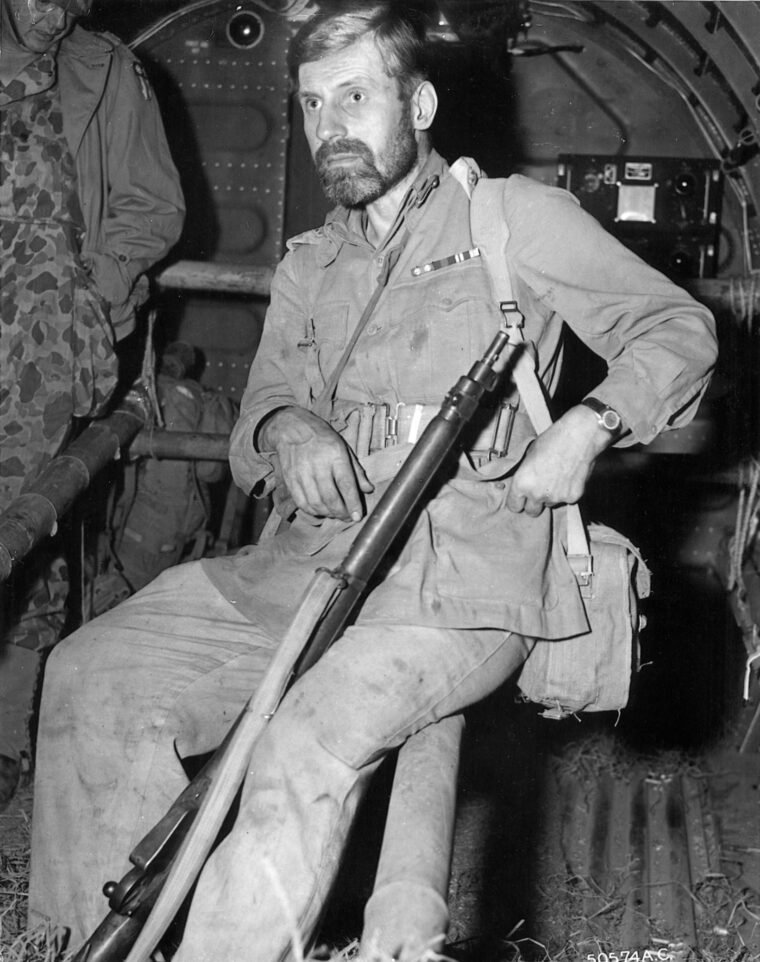 In a rather flamboyant example to get Wavell's attention, Wingate convinced his commanding general to accept his idea for the formation of Special Night Squads, composed of Jewish irregular militia and British soldiers, to combat the Arab revolt successfully. Further, in the summer of 1941, Wavell appointed Wingate to be in charge of all operations behind Japanese lines in Burma.
In a posthumous tribute to Wingate published in the Central Asian Review (June 1944), Wavell compared Wingate to another eccentric military genius, the Russian General Suvorov: "Suvorov was a leader quite out of and above the ordinary rules of military criticism. His energy was as inexhaustible as it was audacious. He taught his followers to trample, as he did himself, on every difficulty in their way. Obstacles only provoked him to strike out new resources; and wild and irregular as he was, he possessed in a remarkable degree that intuitive sagacity in the hour of battle which is one of the highest qualities of military genius.… The above passage would serve as no bad portrait of Wingate."
Also, according to Warner, "Wingate's enterprise and vision excited the admiration of Mountbatten and of Churchill, who were looking for a bright, inventive, courageous character who could bring the war to a rapid and successful end."
At the Quadrant Conference in Quebec, Bierman and Smith note, "Wingate proved unexpectedly adept. He presented his revised plans for the second Chindit campaign to the British staff chiefs and the Joint Planning Staff on 10 August 1944 … and they approved his demands for manpower and materiél with only slight modifications. Churchill was delighted with the performance of his protégé and went out of his way to mention him by name in a message to the king: 'Brigadier Wingate made a deep impression on all during the voyage, and I look forward to a new turn being given to the campaign in Upper Burma.'"
The acceptance of Wingate's plans for a second deep penetration into Burma was not without its opponents. Field Marshall Claude Auchinleck had been persuaded by his general staff in New Delhi that Wingate's plan would place an "intolerable demand on their limited resources of manpower and equipment." Auchinleck cabled the attendees at Quadrant: "In my opinion the proposal is unsound and uneconomical as it would break up divisions which will certainly be required for prosecution of the main campaign of 1944/45."
Churchill exploded and believed that "the high command in New Delhi had been dragging its feet far too long…. Wingate won the contest hands down, including his insistence on being allowed to establish his own headquarters."
According to Bierman and Smith, "Quadrant was the high point of Wingate's career. It was unprecedented for an officer of his comparatively junior rank to find himself in a position of such influence over strategic decision-making at so high a level." It becomes easier to understand how other general officers on the staff in New Delhi could be extremely perturbed with Wingate having obtained Churchill's favor.
A Wide Range of Opinion
Just what factor(s) had an impact on the posthumous criticism of Orde Wingate? Was it his irascibility and blatant disrespect of higher military authority? This is very similar to Air Marshal Sir Hugh Dowding who, according to David Fraser, wondered "why some senior officers in the Services show all the symptoms of mental paralysis after the age of forty-five or so."
Was it his creative genius among many who faced their mediocrity with arrogance? Was it his spiritual beliefs that created friction among his contemporaries much like those of Dowding, which affected his dismissal from the leadership of Fighter Command after the Battle of Britain? Was it his deep-seated belief in a Jewish state, which conflicted with the traditional pro-Arab stance of the British military establishment? Was it based on the perception that he was mentally unbalanced, especially in light of his attempted suicide in Egypt, much like Dowding publicly referring to his communication with deceased spirits at the height of the Battle of Britain?
In an organization, brutal candor, arrogance, stubbornness, and insistence on one's beliefs will bring criticism from either qualified superiors or peers, or both, or from less intellectually gifted men.
A solitary photograph clearly has a multitude of meanings among the principal members of the group immortalized with film. Orde Wingate clearly has engendered a vast array of opinions about his military views, eccentric habits, and religious beliefs. According to Louis Allen, who wrote an authoritative treatise about the Burma War, the British Army after the defeats of 1942 in the Far East "needed an immense uplifting of spirit. It needed Orde Wingate.… On the other hand the animus Wingate aroused in fellow commanders and distant staffs has also led to determined efforts to denigrate him and to reduce the impact of what he did."
Furthermore, Allen, in trying to continue to find a rightful place for Wingate in the Burma War, wrote, "Devotees of the dull and staid will decry his flamboyance, histrionic procedures, and the publicity which attended them. They miss the point. What the press and world opinion made of Wingate's initial exploits infused a new spirit into the affairs of Burma; whatever the strategic upshot, whatever Wingate's psychological faults that renewal of spirit cannot be gainsaid."