On February 7, 1943, while on patrol in the South Pacific, U.S .Navy Commander Howard W. Gilmore, commander of the USS Growler and his crew carved out a place for themselves in navy legend, and set a standard of duty that is remembered in the submarine service today.
Growler had departed Brisbane, Australia, on January 1, 1943, to partrol shipping lanes between Truk and Rabaul in the Bismarck Islands, off the northeastern coast of New Guinea, an area that was bristling with Japanese aircraft and armament.
On the night of February 4, Growler spotted a Japanese convoy of merchant ships with two patrol boats as escort. Opting for a surface attack, Growler slipped through the darkness to get a head of the Japanese ships.
What happened next made submarine and military history.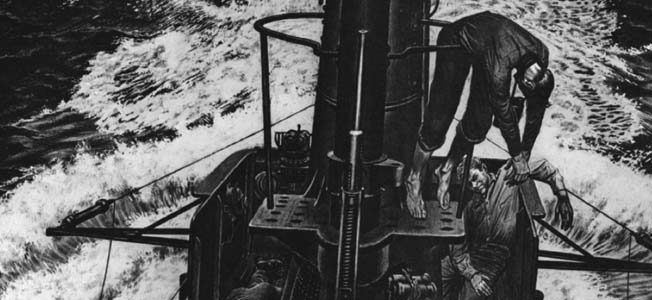 Growler would receive eight battle stars for her role in the Pacific War, sinking 17 enemy ships and 74,900 tons of enemy shipping.
As for Gilmore, he remains her most decorated crew member. He received the Medal of Honor 'for distinguished gallantry and valor above and beyond the call of duty," according to the citation. The U.S. Navy called what happened during the encounter in early February 1943 "one of the most gallant actions in naval history" and "the most famous act of self-sacrifice known to the U.S. submarine service."
These and Other Stories Inside
You can read all about it in our very special Soldiers department in the September issue of Military Heritage magazine. But of course, there are many other stories you'll find inside this 72-page issue. Stories like:
"Unstoppable God of War: Alexander at Issus"
A vast Persian host arrayed on the banks of the River Pinarus in 333 BC stood astride Alexander the Great's supply line. Anything short of a complete victory for the Macedonians meant certain annihilation.
"Showdown in the Aleutians"
When Japanese forces gained a foothold in the Aleutian Islands in June 1942, a major commitment of U.S. forces was needed to oust the invaders.
"Many Gallant Men Were Lost"
General Richard Ewell's troops tried repeatedly to drive resilient Yankees from the high ground at Culp's Hill on the Union right flank at the Battle of Gettysburg, but failed each time.
"Cannonballs, Grapeshot and Profanity"
In 1745, a rowdy army of New England militia set its sights on the French-held Louisbourg, the most forbidding stone fortress in North America.
"Victory at a Dreadful Cost"
On August 18, 1870, the Prussians fought a savage battle with the French at Gravelotte-Saint-Privat. Despite a series of blunders, the Prussians' superior numbers and artillery enabled them to carry the day.
As always, please let us know what you think about these and other stories inside the September issue in our comments section. If there are any events or battles you'd like to see in the coming issues, we'd love to hear about them.