Was Tunisia the Beginning of the End for Field Marshal Erwin Rommel?
In Tunisia 1942, Rommel seemingly was trapped between American forces advancing to block his retreat and British forces in hot pursuit to his rear.
by Eric Niderost
In the winter of 1942-1943, the Allies had every reason to believe that they were on the verge of total victory in North Africa. It had started in November 1942, when German Field Marshal Erwin Rommel's much-vaunted Panzerarmee Afrika was decisively defeated by the British Eighth Army at the Second Battle of El Alamein. Rommel's setback was not merely a defeat but a full-scale rout, and surviving German and Italian units were forced into a headlong retreat through the burning deserts of northern Libya. Rommel seemingly was trapped between American forces advancing to block his retreat and British forces in hot pursuit to his rear.
The Axis disaster at El Alamein coincided with Operation Torch, three coordinated Allied landings in French North Africa at Casablanca, in Morocco, and at Oran and Algiers, in Algeria. Operation Torch, approved after a series of sometimes acrimonious discussions between President Franklin D. Roosevelt and Prime Minister Winston Churchill, was designed to open a second front to augment the valiant Russian efforts against Nazi Germany in the East. Owing to French sensibilities, the landings were mainly an American effort. The Americans came ashore on November 8 waving the Stars and Stripes and were immediately met with fierce resistance from French colonial troops loyal to the collaborationist Vichy government back home. At Oran, British naval cutters Walney and Hartland were sunk by French fire, costing the Allies an additional 445 unnecessary casualties before the political situation was sorted out. At Algiers, a five-day delay in the proceedings was finally resolved, and Vichy commander Jean Darlan reluctantly agreed to end colonial resistance to the Allied landings.
Rommel in Dire Straits
The need for continued cooperation from Darlan was eliminated—along with Darlan—when the admiral was assassinated on Christmas Eve by a Free French intelligence operative. The way was clear for a concerted drive on the grievously wounded Panzerarmee. For even the gifted Rommel, the end seemed near. In two years of unremitting desert warfare, he had performed wonders, earning him the respect and admiration of friends and foes alike. Allied air and naval forces often reduced his supplies to a trickle, and he was usually outnumbered by his British foes. German Führer Adolf Hitler, preoccupied with his ongoing Russian campaign, failed to appreciate the strategic significance of North Africa. Many of Rommel's fellow officers were old-school aristocrats bred in the Prussian tradition, and to them he was little more than a middle-class upstart.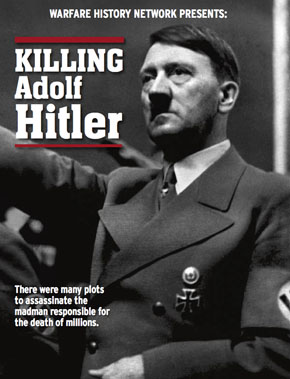 The many plots to assassinate the madman responsible for the death of millions... Get your copy of Warfare History Network's FREE Special Report, Killing Adolf Hitler
In spite of all these difficulties, Rommel had won a number of brilliant victories and came within an ace of capturing the Suez Canal, key to the entire Middle East and Great Britain's lifeline to India and East Asia. Rommel led from the front; he was a masterful tactician and strategist imbued with an offensive spirit that swiftly exploited enemy weaknesses. Rommel had become larger than life, a man christened with the enduring sobriquet "the Desert Fox." Even his enemies gave him grudging admiration.
Panzeramree Afrika a "Broken Reed"
In the fall and winter of 1942-1943 the fox seemed at bay, surrounded by a host of Allied hounds. Panzerarmee Afrika was a broken reed, a mere shadow of its former self. About half of Rommel's command had been killed, wounded, or taken prisoner, and 450 tanks and 1,000 guns were taken or destroyed. Rommel himself was exhausted and increasingly prone to periods of ill health. He was plagued by headaches, and to make matters worse, he came down with a painful bout of nasal diphtheria.
Yet Allied hopes of total victory turned out to be premature. The Torch landings, besides giving the green American troops an exaggerated idea of their own prowess, had finally aroused Hitler from his lethargy on North African affairs. Enraged, he occupied southern France and began to pour reinforcements into Tunisia. German and Italian troops were easily ferried into Tunisia from Sicily, only one night's voyage distant. General des Panzertruppen Hans-Jurgen von Arnim's Fifth Panzer Army was the main element in the eleventh-hour surge of Axis troops.
One Last Gambit
By January 1943, Rommel had retreated some 1,400 miles across the spine of northern Africa, and his men's morale was as low as their casualties had been high. Field Marshal Bernard Law Montgomery's Eighth Army took Tripoli—Rommel's main supply base—on January 23, but the triumph was short-lived. The Allied pursuit was literally bogging down, with heavy winter rains turning Tunisia's yellowish soil into a sea of primordial muck. Rommel retained hopes of linking up with von Arnim's forces and effecting an orderly withdrawal of all German forces from North Africa. But to do so, he believed that it was necessary to inflict a stinging defeat on the newly arrived Americans before they could complete a fatal encirclement with the British Army along the old French fortification line at Mareth on the Libya-Tunisia border. His counterpart on the American side was General Dwight D. Eisenhower, supreme commander of the Mediterranean Theater.