Dummy Paratroopers: The Nazi's Secret Weapon at Fort Eben-Emael
The earliest known operational use of decoy or dummy paratroopers occurred during the Nazis' successful assault on Fort Eben-Emael during the 1940 blitzkreig.
by Richard L. Baker
Using parachutes to insert large forces behind enemy lines quickly fostered the idea of also using decoys to sow doubt and confusion. The earliest known operational use of decoy, or dummy, paratroopers occurred during the Nazis' successful assault on Fort Eben-Emael during the 1940 blitzkreig. General Kurt Student, chief of German airborne forces during the war, was the tactical commander of the operation. Colonel Rudolf Witzig was a first lieutenant and commander of the sapper detachment involved in the attack on Fort Eben-Emael. He recalled that "a final stroke of ingenuity, characteristic of our thorough preparation was the plan to drop by parachute several groups of uniformed dummies behind the Albert Canal to the west. As we had guessed, this caused considerable confusion to the Belgium command."
Successful Misdirection
General Major Gerhart Schact was a senior German officer whose early military career included the attack on Belgium. As a first lieutenant, he commanded an assault group at Fort Eben-Emael. The airfields at Cologne-Osthem and  Cologne-Zweilerlof were the takeoff points for the assault. Schact recalled that the "transportation plans were given a supplementary mission of dropping parachute dummy figures at a distance of forty kilometers from the objectives shortly after the landing of the gliders, in the area of the Fifth Belgium Division. This deceptive operation was successful for during the decisive first hours it misdirected the attention of a large part of the Belgian army."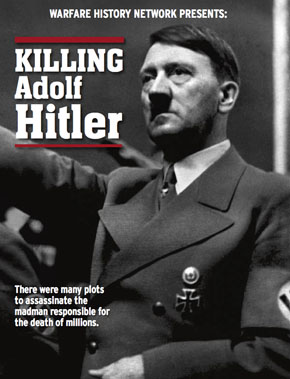 The many plots to assassinate the madman responsible for the death of millions... Get your copy of Warfare History Network's FREE Special Report, Killing Adolf Hitler
The operations in Holland and Belgium were not the last time the Germans used dummy parachutists. A later operation provides insight into Nazi planning during the war. In December 1944, Adolf Hitler ordered Student to form a battle group of parachutists for action in the planned Ardennes offensive, the Battle of the Bulge. Eventually, the operation would prove to be poorly planned, inadequately prepared, and badly equipped. Among the limited supplies provided were "several dozen straw filled dummies that would be dropped on dummy landing zones to confuse the enemy." The assault group included 300 dummy figures, loaded for drops north of Camp Elsenburg to confuse the Americans. Overall, the Germans' airborne operations during the offensive were a resounding failure, but the deception effort was the most successful feature of the entire plan.