First Shots at Napoleon's Battle of Waterloo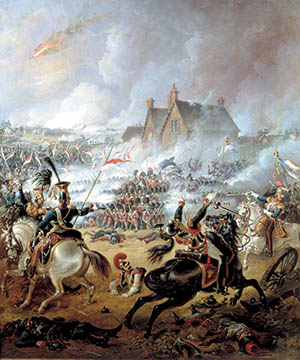 In June 1815, Napoleon's appetite for war took him to Mont St. Jean, where the Battle of Waterloo, one of history's most celebrated battles was fought.
by Jonathan North
On that sultry afternoon of June 18, the field of Waterloo was wreathed with billowing clouds of smoke. The battle had raged since 11:30 that morning and the Allied forces as yet showed no sign of yielding or retreating from their position on the heights of Mont St. Jean. Indeed, dark masses of troops were rapidly advancing from the northeast—Prussians rushing forward to support the Duke of Wellington's British, Dutch, German, and Belgian troops. Time was running out for Napoleon.

The historical figures you're familiar with, featuring the exploits seldom talked about...
Get your copy of Warfare History Network's FREE Special Report,
Tolkien to Hitler: Famous Soldiers of World War I
The first French attempt to break Wellington's line and force the duke from the field met with disaster. After a bombardment that lasted one and a half hours, Marshal Michel Ney launched an infantry assault. D'Erlons' I Corps—19,000 cheering men—dutifully marched forward, drums rolling and regimental musicians playing "Veillons au salut de l'Empire." The confident infantry formed up in dense columns and advanced. Pushing through the sodden fields, the French ignored the garrison in the farmhouse of La Haye Sainte and began the ascent up the slope of Mont St. Jean. The infantry bravely advanced, its own artillery falling silent, its own cavalry leaving them to triumph alone. But the infantry was met by withering fire from Lt. Gen. Sir Thomas Picton's division and Maj. Gen. W.F. van Bijlandt's brigade. Musket fire tore huge holes in the confused French columns, and the infantry reeled back from the terrible shock. Through the smoke Maj. Gen. Sir William Ponsonby's Union Brigade of heavy cavalry dashed against the French foot soldiers and overthrew them. Thrown into confusion, whole battalions either threw down their weapons or put up a desperate resistance against the slashing, trampling Allied horsemen. The demoralized men of I Corps broke and swarmed down the slope, intermingled with the murderous horsemen. The British cavalry, intoxicated by the excitement of battle, charged too far, riding headlong into the great batteries of French guns before finally being overwhelmed by a countercharge from fresh French cavalry.
After this bloody example of what cavalry could achieve, the French guns opened with renewed anger while I Corps was rallied and re-formed. Wellington anxiously awaited word from the Prussians, but there was still no sign of their entering the battle. Napoleon, furious with the failure of D'Erlon's men, was also occupied with the pending arrival of the Prussians. Nevertheless, he was determined to finish Wellington before the arrival of the Prussians tipped the scales against him.