"Mad Jack" Churchill—A Rare Breed of Warrior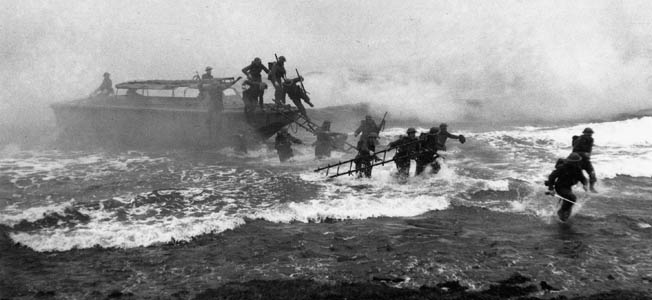 Jack Churchill: World War II Warrior
As befitted his love of things Scottish, Jack Churchill carried the basket-hilted claymore (technically a claybeg, the true claymore being an enormous two-handed sword). Later on, asked by a general who awarded him a decoration why he carried a sword in action, Churchill is said to have answered: "In my opinion, sir, any officer who goes into action without his sword is improperly dressed."
The war-diary of 4th Infantry Brigade, to which Churchill's battalion belonged, commented on this extraordinary figure. "One of the most reassuring sights of the embarkation [from Dunkirk] was the sight of Captain Churchill passing down the beach with his bows and arrows. His high example and his great work … were a great help to the 4th Infantry Brigade."
During the retreat, Churchill took command of his company when his company commander was wounded, and it was during this fighting that he spitted his hapless German soldier with, as the chronicles of Henry V's wars would put it, "a cloth-yard shaft." One of his brother officers, an old friend, saw him about that time chugging across the Flanders plain on a small motorcycle, his bow tied to the frame, arrows sticking out of one of the panniers on the back, a German officer's cap hanging on the headlight. "Ah!" said Churchill, spotting his friend, "Hullo Clark! Got anything to drink?"
Once Churchill had dismounted, his friend noticed dried blood smeared across one ear and asked Churchill about the injury. German machine gun, said Churchill casually. His men had shouted at him to run but, he said, he was simply too tired. He won his first Military Cross during the retreat to the Channel, when he hitched six trucks together to salvage a disabled British tank; although in the end he could not save the tank, he did rescue a wounded British officer.
His close call did not seem to impress Churchill in the least. Then and afterward, he seemed to be one of those extraordinary men who thrive on danger and fear it not at all. Some fellow soldiers are said to have called him "Mad Jack," and the nickname was not altogether undeserved.
Becoming a Commando
Churchill made it to Dunkirk, allegedly by bicycle, his bow and arrows hanging from the frame. From that terrible beach he was lifted back to England—so was his Manchester friend—courtesy of the gallantry of the Royal Navy and a horde of civilian boats and ships, and it was there he heard of a new organization being formed. It sounded like precisely the sort of outfit Churchill was cut out for. Requests for volunteers for this new duty were somewhat vague, but they promised aggressive service at least, and that was good enough for Churchill. Whatever a commando was, he would be one.
His training in Scotland produced an unexpected dividend for Churchill. There he met Rosamund Denny, the daughter of a Scottish ship building baronet. They were married in Dumbarton in the spring of 1941, a happy marriage that would produce two children and last until Churchill's death 55 years later.
Churchill took to Commando operations like a duck to water, including the icy water of Scottish lochs. He was at home on the steep hills, in the rain and the mud. He lived and breathed training, leading, driving, setting the example, praising excellence, and damning sloth and carelessness. His ad hoc lectures to his soldiers were couched in the plain language his men understood and liked, for instance: "There's nothing worse than sitting on your bum bottom doing nothing just because the enemy happens to leave you alone for a moment while he has a go at the unit on your flank. Pitch in and support your neighbor any way you can.… "
Sword and Pipes Always At-Hand
There was also a bit of a downside to Jack Churchill. On those happy occasions when the Commandos were not in the field at night, he was sometimes given to awakening everybody in the billet hotel at Largs, Scotland, shattering the night with pipe music. No piper could possibly understand why some of the world would rather sleep than listen to martial piping however expert, and he was no exception. His comrades could only grit their teeth and hope that he would soon tire or think of something else quieter to do.
The Commandos' eternal training ended on December 27, 1941, with the brilliantly successful assault on the German garrison at Vaagso, the Norwegian town on Nord Fiord. Churchill commanded two companies in the attack, charged with taking out the German shore batteries on Maaloy Island, which lay in the fiord opposite Vaagso town. In vintage Mad Jack fashion, he stood in the lead landing craft as it forged in toward the shore, his pipes screaming The March of the Cameron Men.
He then waded ashore at the head of his men, sword in hand, and charged ahead, as one account put it, "into the thick smoke, uttering warlike cries." Maaloy and its battery fell quickly. Churchill and his men killed or took prisoner the garrison, including two women who, as one account of the raid genteelly put it, "might be described as camp followers." While heavy fighting continued for a while in Vaagso itself, the landing force would not be troubled by the cannon of Maaloy. Jack Churchill's signal to the raid commander was terse: "Maaloy battery and island captured. Casualties slight. Demolitions in progress. Churchill."
Earning His Second Military Cross
The Commandos had stung the Germans badly. In time the Norwegian garrisons would be heavily reinforced with troops critically required elsewhere. The German garrison at Vaagso had ceased to exist, and the raiders took back with them some 100 prisoners and about 70 volunteers for the free Norwegian forces. The expedition had also sunk about 15,000 tons of shipping and destroyed not only docks and warehouses but the vital fish oil plants so important to German ammunition production and to dietary supplements for the German armed forces. And German troops near any coastline would not sleep quite as well as they had before Vaagso.
As the raiders prepared to leave Vaagso and Maaloy, a British demolition charge exploded so close to Churchill that it "blew him up," in the words of one account. Another story says that a demolitions man "thoughtlessly blew down a wall he happened to be leaning against." Still another version, which sounds eminently Churchillian, relates he was celebrating the raid's success with a bit of liberated Moselle wine when the charge went off and a chunk of broken bottle slashed into Churchill's forehead.
Whatever happened, Churchill had another wound—or at least a sort of wound—to show for his successful leadership at Maaloy. As he himself joked later, "I had to touch it up from time to time with Rosamund's lipstick to keep the wounded hero story going." He also had his second Military Cross.
"Commando!"
Commanding Number 2 Commando in the autumn of 1943, Jack Churchill won the Distinguished Service Order for an astonishing exploit during the Salerno landings. Ashore in command of No. 2 Commando (also present were some other Churchills—his brother Tom and Captain Randolph, son of the Prime Minister), Churchill led his men in heavy and confused fighting around the town of Marina. Their mission was to destroy German ability to place artillery fire on the western half of the Bay of Salerno. Churchill directed the final counterattack, which broke the last German attempt to destroy the Commando beachhead.
During the ferocious Salerno fighting, Number 2 Commando found itself fighting as line infantry, as did its American counterparts, the Rangers, in a role for which neither Commandos nor Rangers were designed. Casualties were heavy, but the Commandos beat back every German attack. For Churchill, the high point of the fighting was the night attack on a town called Piegoletti (sometimes Piegolelli). He organized his men into six parallel columns and, since the heavy undergrowth ruled out any chance of a silent advance, sent them charging through the darkness shouting "commando!" The yelling not only minimized the risk of Commandos shooting each other in the gloom, but also confused the German defenders, to whom this fierce shouting seemed to come from all directions in the blackness of the night. The attack carried all its objectives and bagged 136 prisoners.
"A Bit Errol Flynn-ish"
Churchill himself was far in front of his troopers. Sword in hand, accompanied only by a corporal named Ruffell, he advanced into the town itself. Undiscovered by the enemy, he and Ruffell heard German soldiers digging in all around them in the gloom. The glow of a cigarette in the darkness told them the location of a German sentry post. What followed, even Churchill later admitted, was "a bit Errol Flynn-ish."
The first German sentry post, manned by two men, was taken in silence. Jack Churchill, his sword blade gleaming in the night, appeared like a demon from the darkness, ordered "Haende hoch!" and got results. He gave one German prisoner to Ruffell, then slipped his revolver lanyard around the second sentry's neck and led him off to make the rounds of the other guards. Each post, lulled into a sense of security by the voice of their captive comrade, surrendered to this fearsome apparition with the ferocious mustache and the naked sword.
Altogether, Churchill and Corporal Ruffell collected 42 prisoners, complete with their personal weapons and a mortar they were manning in the village. Churchill and his claymore took the surrender of ten men in a bunch around the mortar. He and his NCO then marched the whole lot back into the British lines.
Mad Jack to the Adriatic
As Churchill himself described the event, it all sounded rather routine: "I always bring my prisoners back with their weapons; it weighs them down. I just took their rifle bolts out and put them in a sack, which one of the prisoners carried. [They] also carried the mortar and all the bombs they could carry and also pulled a farm cart with five wounded in it….I maintain that, as long as you tell a German loudly and clearly what to do, if you are senior to him he will cry 'Jawohl' and get on with it enthusiastically and efficiently whatever the … situation. That's why they make such marvelous soldiers…"
Churchill's next assignment took him to the Adriatic, where British units and Tito's Yugoslav partisan forces struck at the German garrisons along the Dalmatian coast. In January 1944, Churchill, leading No. 2 Commando, about 1,000 Yugoslav partisans, and some antiaircraft and machine gun attachments became commandant of the island of Vis, the last Dalmation island not in German hands. From Vis, the campaign against the German-held Adriatic islands was carried on at sea by the Royal Air Force and by small boats of the Royal Navy. Ever ready for raids and excursions, Churchill sent some of his Commandos along with the Navy as boarding parties, to swarm over the side of any ship carrying supplies to the enemy.
Small groups of Commandos also landed by night to harass the German garrisons on other Dalmatian islands. The commander of one such party, Lieutenant B.J. Barton, discovered that the German commandant on the island of Brac was much given to mistreatment of the island population. Barton, disguised as a Yugoslav shepherd, hid his Sten gun in pieces inside a load of wood on a donkey, slipped into the German headquarters village, erased the commandant, and got away clean.

Who were the badasses of history you haven't heard of?
Check out our all-time list of
The Men & Women Who Turned the Tide of War