Collecting Dog Tags and Other Military IDs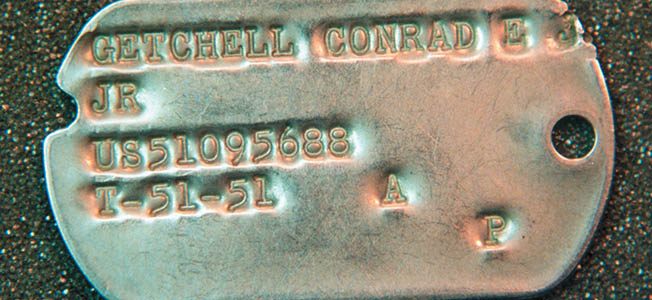 Paul Braddock, author of Dog Tags: A History of the American Military Identification Tag 1861-2002, talks dog tag collections and the history of military IDs.
by Paul F. Braddock
The hobby of collecting identification tags, or "dog tags," has in the past 10 to 15 years become increasingly popular. When I started collecting dog tags 39 years ago, as far as I could determine I was the only person openly advertising for tags from all services and time periods starting with the American Civil War. Now dog tags are genuine military collectibles.

The historical figures you're familiar with, featuring the exploits seldom talked about...
Get your copy of Warfare History Network's FREE Special Report,
Tolkien to Hitler: Famous Soldiers of World War I
However, collecting identification tags is not what it was before the Internet; eBay has added a whole new dimension. Now collectors bid against one another and prices have risen as a result. Common Civil War discs now start at $500 each and Spanish-American pieces, when found, can cost from $75 to $100 each. World War I tags with a unit stamped on them cost from $10 for a single tag to $20 for a matched pair. World War I Navy and Marine tags can cost from $25 to $55.
Tags from Various Eras
World War II Navy and Coast Guard singles and sets run from $5 to $25, depending on information and if a fingerprint is on the tag. Marine Corps tags are very popular, with prices for singles running from $40 to $70 each; sets go for $100 or more. Tags from Korea to the present day cost $5 to $10 for a single tag and at most $15 for a set.
Buyers should note that fakes work their way into the market. As with any hobby, once items become popular, the greed of a few creates genuine problems. As the old saying goes, "If it sounds too good to be true, it probably is." World War I Air Service tags and Marine Corps tags are especially popular and so should be looked at with greater care. Tank Corps tags should also be examined closely. Recent articles in newspapers relate tales of Vietnam period tags being produced for mom and pop stands in Vietnam then sold to travelers who bring them home in hopes of finding a veteran who had lost his tags many years ago. Personally, I have not run into this problem of fake tags being brought back to the United States.