How Did Stonewall Jackson Confound the Yankees?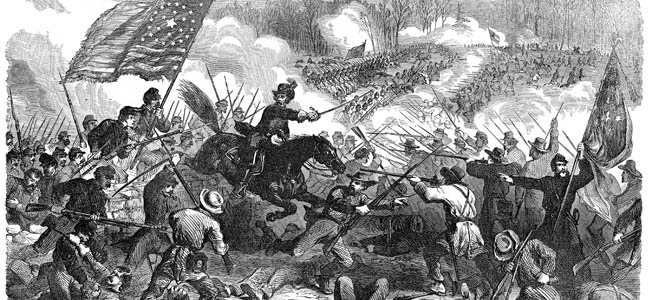 Arguably the most celebrated campaign feat of arms of the American Civil War is that of Stonewall Jackson in the Shenandoah Valley in May and early June 1862.
by Brooke C. Stoddard
Arguably the most celebrated campaign feat of arms of the American Civil War is that of Stonewall Jackson in the Shenandoah Valley in May and early June 1862. Others might vie for honors: Grant's risky marches and battles to invest Vicksburg from the east; Sherman's dislodging of Johnston down the Western & Atlantic Railroad to Atlanta in 1864. These and others have their adherents, but Jackson's accomplishment remains an acme. He was surrounded by larger armies, but at every point of attack he possessed numerical superiority; he used geography superbly; and he exceeded almost beyond hopes the strategic aspirations of his commanding officer and national president.
Jackson's Radical Approach
Stonewall Jackson was by turns crafty and lucky. Most of his Shenandoah Valley campaign was improvised; his genius was in devising shrewd solutions to shifting problems. He made mistakes, but he learned from them, and if he did not put the lessons he learned to use in the valley, then he did so during the year that remained to his life. The chief brilliance of his spring valley campaign was that he saw inaction and the status quo as defeat. He would not accept the situation as it presented itself. He had to change it, and radically. In this, he was like Ulysses S. Grant across the river from Vicksburg, or Robert E. Lee behind fortifications at Richmond in June 1862. The prevailing condition would only lead to frontal assaults, great loss of life, and no guarantee of success. The remedy was movement, to win battles not by the breasts of men presented in line of battle but by marching feet. And like Grant and Lee in their own situations, Jackson was faced by commanders who expected their opponent to accept the prevailing condition, who were not expecting movement, or at least of the radical kind Jackson—or Grant and Lee—set into motion.
Get to know the stories behind the statistics... Get your copy of Warfare History Network's FREE Special Report, The Battle of Gettysburg
No one can now "get into" or discern Stonewall Jackson's mind. For that matter, no one really could in 1862 either and not a few observers, including many of his footsoldiers and some immediate subordinates, thought he might literally be insane. Certainly he was odd, and extremely secretive about his plans. But he could understand like no one else—with the exception of Robert E. Lee—the battles in Virginia as a whole and how one part was not disconnected from the others, but instead strategically linked. He could see the Shenandoah Valley as a whole and how the varying military units in and near it were not isolated forces but rather more like pieces on a chessboard, each not only holding its own power but gaining or losing power depending on its position and all having an overall power depending on their positions taken together.
The Shenandoah Valley Chessboard
Indeed, no other field in the American Civil War lends itself more to the analogy of chess than the valley in the spring of 1862. The valley is the chessboard and the various Confederate and Union armies the opposing pieces. This valley has different definitions, but for our purposes it stretches from Staunton in the south to Williamsport and Harper's Ferry in the north, a total of 120 miles. Stonewall Jackson's valley campaign was a campaign of distances. The distance from Winchester to Strasburg is 18 miles, from Strasburg to New Market, 30 miles. Even more important, Washington, DC, was 50 miles from Harper's Ferry.
From Strasburg nearly all the way to Staunton runs 55-mile-long Massanutten Mountain, dividing the valley down the middle into two parallel valleys. The western valley is about 9 miles wide and had much open country by way of farms. It also enjoyed the best road, the Valley Pike. The eastern, or Luray Valley, is about 6 miles wide, was largely wooded and had an inferior road. Only one road traversed Massanutten Mountain, running roughly east-west from New Market to Luray. Massanutten is a key feature on the chessboard. Armies marching up one side might not be detected on the other, and whichever army held the road that passed over its midpoint could control a good many possibilities for movement up and down the valley as a whole ("up" always meaning in the southerly direction owing to the northerly direction of the flow of the Shenandoah River). Conceivably, a Federal force could be marching up the western valley while a Confederate one marched down the Luray Valley to seize Front Royal.
The Advantage of Cavalry
But the Luray Valley could also be a trap. A strong Federal presence in Front Royal matched with Federals at the Massanutten crossing would require that a Confederate force abandon the Luray Valley by way of any of several gaps (from north to south—Thorton's, Fisher's, Swift Run, Brown's, and Rockfish) over the Blue Ridge and into the Piedmont area of Virginia, or remain bottled up in the southern Luray Valley, or retreat farther south.
Several other points need to be made in advance of a discussion of Jackson's valley campaign. One is cavalry. Jackson was fortunate to have men who not only loved to ride but who did it very well and, even more important, knew the valley as well as the backs of their horses' heads. The Federal cavalry was not nearly so good and had the disadvantage of being on foreign ground. Jackson's cavalry under the dashing, often brilliant, sometimes irresponsible Turner Ashby could hold an effective screen in front of the Union armies, keeping them nearly blind to any movement of the Confederate infantry beyond the riders. Several times Jackson's army "disappeared" so far as Union commanders could discern, an extremely dangerous state of affairs for them.
Stonewall's Own Ground
And, of course, Stonewall was working "on his own ground." He had been a professor of natural and experimental philosophy and of artillery tactics at the Virginia Military Institute in Lexington, up the valley 35 miles from Staunton. He knew the territory, and he could rely on a populace working on his behalf and against those of the "invaders." They would tell him of Federal movements while, if discoursing to Federals at all, disguising those of Jackson. These Jackson all put to his advantage.