Major Sam P. Bakshas woke up that morning with the secrets in his head…
Bakshas was one of the men flying B-29 Superfortress bombers from three South Pacific islands—Guam, Saipan, and Tinian. A writer dubbed these men "the thousand kids." There were actually several thousand, and they were giving heart and soul to bombing the Japanese home islands—what they called "the Empire"—with no success. They were dropping bombs from high altitude and not hitting much. The air campaign against Japan was failing. But Bakshas believed the situation could be turned around.
He would be one tall guy among many in a B-29 that was named Tall in the Saddle because no one in its regular crew was less than six feet in height. Bakshas was not a regular crewmember, but would command Tall in the Saddle, relegating airplane commander Captain Gordon L. Muster to co-pilot duty.
"There was a wonderful urgency and an exhilarating secrecy about the B-29 outfits in the Marianas," wrote St. Clair McKelway in a perspective. Even after other crewmembers began learning the two key secrets—low level, no guns—Bakshas kept them locked up, much like his buttoned-up expression, as his morning unfolded.
The time was 10:30 AM, Chamorro Standard Time (Guam time), March 9, 1945: the morning of the great firebomb mission to Tokyo. The B-29s would arrive over the Japanese capital in tomorrow's early hours. It was the mission for which the 21st Bomber Command audaciously changed tactics in hopes of finally changing the war against Japan.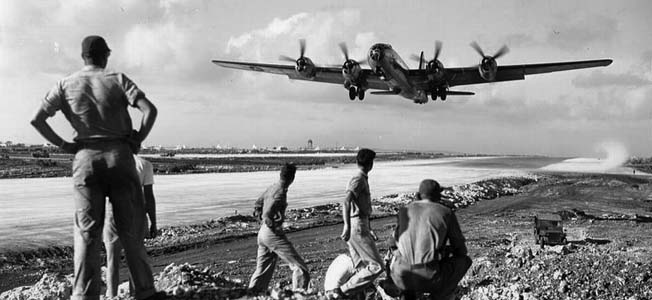 "Low Level, No Guns" is just one of the many absorbing features you'll find in the current issue of WWII Quarterly. Each 98-page edition brings a specific segment of the war to life in a way that's quite different form the rehashed "war stories" or accounts that you've read many times over.
And it's all brought to you by authors who have been specifically recruited for their ability to bring you the real taste and feel of the battles: the strategies, the tactics, the weapons, and the technology that made it all happen.
So don't delay; see for yourself what this second-to-none chronicle of the Second World War has to offer. You can either choose to receive your first volume as a handsome hardback edition, or as a digital download you can start enjoying immediately!