Alexander III became King of Macedon at the age of 20 in 336 B.C., upon the assassination of his father, Philip II. In the spring of 334, having spent the last two years settling things in Macedonia and Greece, Alexander set out for the Hellespont to fulfill his father's plan to bring war to the Persians. The undertaking was made possible by the standing army Alexander had inherited from Philip.
In 334 B.C., at age 22, he met the Persian army at Arisbe, marched east to defeat the Persians in bloody hand-to-hand combat at the Granicus River, and then turned south along the coastline, taking the coastal cities. The Macedonian king then wanted to visit the temple of Jove to see the famous Chariot of Gordion.
There, he made history.
Allegedly, the yoke of the chariot was tied with an intricate knot, as the Gordion legend held that whoever could loosen the knot would become the ruler of Asia. Alexander looked at the knot for a minute or two, and then brutally hacked it to pieces in a show of controlled savagery, calculated to impress his onlookers that he had indeed fulfilled the legend. It was to prove he was the man for the job of ruling Asia, and that anyone who thought otherwise would end up like the knot itself.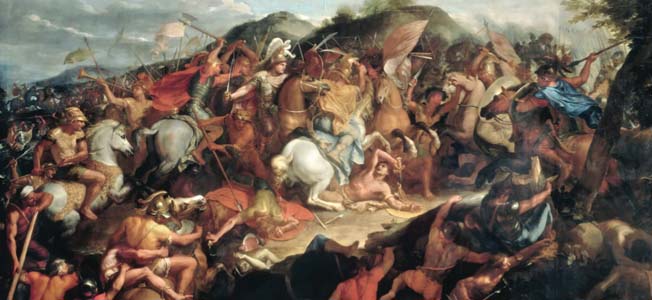 So how did Alexander plan to win the day at Assus? You'll have to read Charles Hilbert's bold new feature inside our September 2014 issue to find out.
But of course, this is just one of many riveting stories you'll find inside. Others include:
Showdown in the Aleutians
When Japanese forces gained a foothold in the Aieutian Islands in June 1942, a major commitment of U.S. forces was needed to oust the invaders.
"Many Gallant Men Were Lost"
General Richard Ewell's troops tried repeatedly to drive resilient Yankees from the high ground at Culp's Hill on the Union right flank at the Battle of Gettysburg, but failed each time.
Cannonballs, Grapeshot, and Profanity
In 1745, a rowdy army of New England militia set its sights on the French-held Louisbourg, the most forbidding stone fortress in North America.
Victory at a Dreadful Cost
On August 18, 1870, the Prussians fought a savage battle with the French at Gravelotte-Saint-Privat. Despite a series of blunders, the Prussians' superior numbers and artillery enagled them to carry the day.
What do you think about Alexander's conquests? Were they worthy of the praise they currently receive at this point in history? Please let us know what you think about these and other stories in our most recent issue in the comments section below.